WOOphoria: A Night of Discovery
Summer kick-off highlights local cultural destinations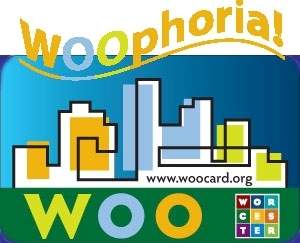 Worcester, Massachusetts
- The Worcester Cultural Coalition's WOO Card program will host its third
WOOphoria
celebration -
A Night of Discovery
- at the
EcoTarium
, 222 Harrington Way, Worcester on
Wednesday, June 6th from 5-7 p.m.
The event will showcase a variety of participating WOO venues offering guests a night of discovery and fun to kick off the summer season!
Festivities will include after-hours exploration of new EcoTarium exhibits, a complimentary Planetarium show, along with light refreshments from the Flying Rhino Cafe and Watering Hole, cupcakes from CocoBeni Confections, and a cash bar.
Other participating WOO venues include: Worcester Academy of Music, The Hanover Theatre, Worcester Historical Museum, Joy of Music Program, Worcester Airport Limousine, Seven Hills Symphony, Pakachoag Music School of Greater Worcester, MA Audubon Broad Meadow Brook Wildlife Sanctuary, Old Sturbridge Village, Worcester Art Museum, Higgins Armory Museum, Worcester Sharks, Opera Worcester, DCU Center and All Points Limousine.
Admission to WOOphoria is FREE for WOO Card holders and EcoTarium Members
. All ages welcome. WOO Cards will be available for purchase at the door. RSVP requested to
culture@worcestermass.org
The Worcester Cultural Coalition's WOO Card is a program designed to open the door to Worcester County's vibrant creative community. Card holders receive discounts and special offers for cool concerts, thought provoking theater, unique museums, great music, street festivals, outdoor adventures and more - throughout Worcester County, throughout the year. WOO Cards are available for purchase online at www.WOOCard.org or at the box offices of either The Hanover Theatre or DCU Center.
WOO Card is sponsored in part by The Fred Harris Daniels Foundation, George I. Alden Trust, Greater Worcester Community Foundation and the Adams Arts Program of the Massachusetts Cultural Council.