Taking it to the Street
Worcester Windows Community Gallery
offers spring 2012 exhibition
Terri Preist:Vermeer The Guitar Player, c. 1670, oil on canvas
Worcester, Massachusetts -
The Worcester Windows Curatorial Committee is delighted to announce its upcoming exhibition entitled Taking It to the Street! Curated by Worcester State University alumns Howard McGinn and Anne Seuthe, the newest cycle of Worcester's Community Gallery will include works by 36 artists working in painting, sculpture, drawing and photography.
To launch the exhibition, an opening reception will be held on Thursday, April 12th from 5-7 p.m. at The Hanover Theatre, 2 Southbridge Street, Worcester. Worcester artist Terri Priest, whose paintings will be on view at the theatre, will open the event with a brief talk. The curators chose Priest for the high caliber of her paintings, for her lifetime achievements as an artist, and for her long standing commitment to the artists of Worcester.
Following Priest's talk, guests will be invited to take the walking tour that starts at The Hanover Theatre on Southbridge Street, proceeds on to Franklin, Portland and Front Streets and ends up at the City Hall Gallery, 455 Main Street, where the Worcester Alliance of Photographers will be showcasing works by 25 photographers in an exhibition titled The People of Worcester County.
Taking It To The Street! will give a nod to the days of window shopping when a stroll through city streets was an enjoyable pastime in itself. The Worcester Windows program also underscores the contemporary practice of artists showing their work in alternative venues. What better way to find new audiences for their work than to go public! In Taking It To The Street!, both the artists and the community are enriched.
The Spring 2012 Worcester Windows exhibit features the following artists and organizations:
-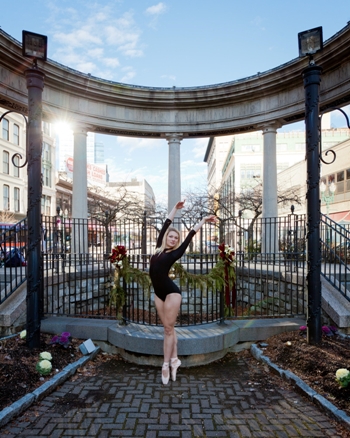 Worcester City Hall, 455 Main Street: featuring People of Worcester County, works of photography by the Worcester Alliance of Photographers. People are what make Worcester County a better place to live, work and visit. This collection of images shows the many different and diverse people that can be found here in Worcester County. The people represented here have very different backgrounds, jobs, and some may be history makers. Photographers were tasked with seeking out and capturing images of people that can be seen throughout the county. This cross section of imagery from around the City really does showcase - through the photographers eyes - just who can be found here. We hope you'll enjoy the images and perhaps you'll see someone you know.
Participating photographers include: Bayda Asbridge, Tina 1; Dagmar Dankova, Teammates 3; Frank Jansen, Shared; John Preves, Dr. Gonzo; Luke Whalen, Love 2; Don Ricklin, Major Taylor and His Bike 3; Marla Zenesk, Preacher; Melissa Borgesen, White Green Hill; Michelle French, The Owl Shop; Mike McCool, Jodi; Mike Nyman, Kelly 3; Molly Harrington, The Spice of Life; Scott Erb, Chefs of the People's Kitchen; Norm Eggert, Linda Dagnello and Worcester Art Museum; Andy Davis, Looking Back; Russ Garre, Billy 1 and Bianca 3; Sharon Freed, Downtown 1; Sonja Johnson, Ice Storm 1; Susan Rollins Daige, B24-2; Trisha Barry, Rodeo 2 and Veteran's Day; Troy Thompson, EcoTarium and Tower Hill.
The Worcester Alliance of Photographers is a place where both amateur and professional photographers meet to talk about technical aspects of photography, be create and share ideas.
- Telegram & Gazette, 20 Franklin Street: featuring soft sculpture sewn dolls by Terry Jenoure
- Baystate Savings Bank, 32-36 Franklin Street: featuring oil paintings on canvas by Jennifer Tibbetts and Allan Small
- 60 Franklin Street: featuring paintings on panel by Sarah Bliss
- 60 Franklin Street - corner of Portland Street: featuring paintings by Joyce Conlon, Catherine Carter, Alicia Hunsicker, Matt Armen, Janine Schmitt, and Lisa Maillett, and drawings by Jeff Stauder.
- Hanover Theatre for the Performing Arts, 2 Southbridge Street: featuring paintings on canvas by Terri Priest
- 24 Southbridge Street: featuring photographic works on paper by Kristin Nason
- 44 Front Street: featuring sculptural installation by Kait Brink
- Nu Cafe, 335 Chandler Street: featuring paintings on canvas by Deborah Garner
Worcester Windows is a community gallery program which uses storefronts throughout downtown Worcester as exhibit space to enhance the City's downtown and to provide display opportunities for local emerging and established artists. Originally intended simply as a means to provide exhibit opportunities, Worcester Windows has grown dramatically, successfully raising the awareness of Worcester as a Creative City by not only bringing artwork to the public and showcasing local talent, but in also establishing itself as a true community gallery through which many of the exhibiting artists have sold works.
Worcester Windows is funded in part by the Worcester Cultural Coalition, the City of Worcester, and the Greater Worcester Community Foundation.
** Please note: jpeg images from participating artists available upon request