"Proudly Serving Those Who Have So Proudly Served"
Volume 10
May 25, 2012
MEMORIAL DAY GREETINGS - OVA DIRECTOR
Remember Our Fallen This Memorial Day
Memorial Day is a day of remembrance for those who have died serving our country.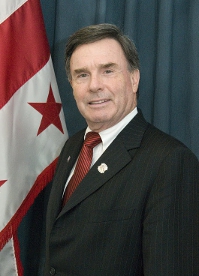 To Our District Veterans:

Memorial Day is a day of remembrance for those who have died serving our country. It is a dedicated time provided each year for veterans and their families, and all Americans to honor those who have made the greatest sacrifice in defense of our Nation's security, interests and ideals.

What may be most noticeable to Americans today, are those troops who have recently fallen in Operation Iraqi Freedom, Operation Enduring Freedom and Operation New Dawn. Daily an American gives his or her life in this Global War on Terrorism so that the rest of us may be safe here at home.

Of course, Memorial Day provides many of us with a long weekend. The extra time is often used for relaxation and/or fun. And that is great! But in the midst of the jet skiing, barbeques and family vacations, please don't forget those men and women who died for our country.

And, if you have family or friends coming to the District, take them to the National Mall to honor our outstanding military heroes by visiting the monuments in Washington, DC!

Thank you for your Service,
Matthew J. Cary
Director
MEMORIAL DAY WEEKEND ACTIVITIES

Memorial Day is a day of remembrance for those who have died serving our country. This is a great time to honor our veterans and famous Americans by visiting the
monuments in Washington, DC
Here is the 2012 Memorial Day event schedule:

Sunday, May 27, 2012, 8 p.m. Gates open at 5 p.m.
PBS sponsors a FREE concert on the West Lawn of the U.S. Capitol. The concert features actors Joe Mantegna and Gary Sinise, and other guest artists along with the National Symphony Orchestra.
Monday, May 28, 2012, beginning at 2 p.m.
The parade of Marching Bands and Veterans units from all 50 states steps off at the corner of Constitution Avenue and 7th Streets, NW and proceeds along Constitution Avenue, past the White House, ending at 17th Street. The National Memorial Day Parade is sponsored by the World War II Veterans Committee and includes patriotic floats and helium-filled balloons.
Sunday, May 27, 2012. Departure from the Pentagon at 12 p.m. Speaker Program and Musical Tribute 1:30 p.m. at the Reflecting Pool across from The Lincoln Memorial. Thousands of motorcycles ride through Washington in an annual demonstration seeking to improve veteran benefits and resolve POW/MIA issues.
Flags-In. Soldiers from the 3rd U.S. Infantry Regiment (The Old Guard) will be joined by service members from the U.S. Marine Corps Ceremonial and Guard Company, U.S. Navy Ceremonial Guard, U.S. Air Force Honor Guard and the U.S. Coast Guard Ceremonial Honor Guard in placing more than 250,000 grave decorating flags at Arlington National Cemetery. The flags will remain through Memorial Day.
Monday, May 28, 2012, 11 a.m. A wreath-laying ceremony and concert will be held at the Tomb of the Unknown Soldier in honor of Memorial Day. See Photos of Arlington National Cemetery.
Monday, May 28, 2012, 4 p.m. The Women In Military Service For America Memorial, located at the gateway to Arlington National Cemetery, will hold a ceremony that includes formal military honors, a keynote address, wreath-layings and the Memorial's signature event, the scattering of rose petals in tribute to departed comrades. Members of the public are invited to join in the personal tribute segment of the program.
Saturday, May 26, 2012, 11 a.m. Rolling Thunder visits the Navy Memorial and holds a wreath-laying ceremony featuring special guests and live performances.
Monday, May 28, 2012, 10 a.m. Fleet Reserve Association Wreath laying, 12 p.m. U.S. Navy Band Concert, 1 p.m. Naval District Washington Wreath laying.
Monday, May 28, 2012, 1 p.m.
This year's annual Memorial Day ceremony includes Presentation of the Colors, remarks by a special guest and wreath-laying service.
Monday, May 28, 2012, 9 a.m. The National Park Service and the Friends of the National World War II Memorial will sponsor a wreath-laying ceremony in honor of our veterans. Guest speakers will give remarks. The theme for the commemoration is "Honoring our Fallen Warriors." Many surviving WWII veterans will be in attendance.
Monday, May 28, 2012, 9 a.m. wreath laying ceremony is open to the public. Activities include the national anthem, invocation, speeches, the laying of the wreath and the sounding of Taps.
Monday, May 28, 2012, 11 a.m.-3 p.m. Take a free guided tour of the USSAH National Cemetery (predecessor of Arlington National Cemetery) at 11:30 a.m. and 1:30 p.m. Wreath laying ceremonies will also take place at the Soldiers' Home at 11:15 a.m. and at the Cemetery at 12:15 p.m. Tours of the Cottage will be available from 10 a.m.-3 p.m. at the regular price of $15 for adults and $5 for children. Visitors are encouraged to bring a picnic lunch. Advanced reservations for Cottage Tours are strongly recommended.
OVA Remembers one of our Own....Wesley A. Brown
FYI - Memorial Day Flyover
In honor of Memorial Day there will be a ceremonial flyover in the area of the Vietnam Memorial. This is expected to present low flying aircrafts starting at approximately 2:50pm. Please take precaution.
DDOT Personnel assisted with the pick up of over 1000 pieces of furniture to be used to replenish the Furniture Donation Program.
Contact Information
phone: 202-724-5454