LETTER FROM
COUNCILMEMBER
BROSSETT
Our district has celebrated major milestones over the past six months. The historic Nora Navra Public Library is set to reopen in March 2018. The existing 2,700-square-foot library will be demolished and replaced with a new, $3 million, 7,900-square-foot building. The library's design is scheduled to be completed in September 2016, and construction will begin in December 2016.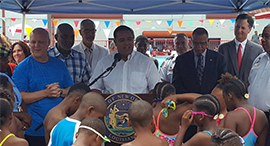 St. Bernard Recreation Center
Re-Opens after $1.1 Million Renovation
This summer is projected to be extremely hot in New Orleans, but citizens can escape the summer heat at the newly renovated St. Bernard Recreation Center, located at 1500 Lafreniere Street. The $1.1 million project includes a complete redesign to accommodate additional space for arts and crafts, a fitness center and a new teen center.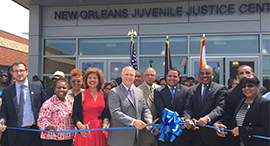 Juvenile Justice Center
Set to Open in Gentilly
Last month, Councilmember Brossett joined city leaders to open the new $47 million New Orleans Juvenile Justice Center in Gentilly. Located at 1100 Milton Street, the new facility will house the parish's juvenile court. In addition, it will serve as home for the city's secure detention facility for boys and girls under 18.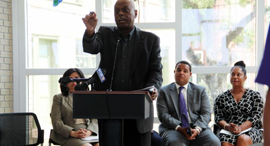 HUD and Justice Department Award $100,000 to help local youth find jobs and housing
In an effort to help young people involved in the justice system find jobs and housing, the U.S. Department of Housing and Urban Development (HUD) and the Department of Justice (DOJ) awarded a $100,000 grant to the Housing Authority of New Orleans (HANO) and Southeast Louisiana Legal Services to address the challenges that justice-involved youth face when trying to find work and a place to call home.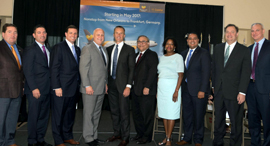 New Non-stop Seasonal Service Between New Orleans and Germany Beginning May 2017
Condor, a premier leisure airline, will begin seasonal service from Frankfurt, Germany to New Orleans from May 3, 2017 to September 27, 2017. The bi-weekly flight is New Orleans' first non-stop flight to Europe in over three decades.
City of New Orleans Prepares for 2016 Hurricane Season




The 2016 Hurricane Season started on Wednesday, June 1. The National Weather Service has predicted an average hurricane season, but it only takes one storm to cause substantial damage.

Citizens are encouraged to "Get NOLA Ready" by visiting ready.nola.gov. Tools are available on the website to help citizens develop a plan, gather supplies, sign up for emergency alerts and much more.
New Orleans City Council




District "D" Councilmember and Transportation and Airport

Committee Chair Jared C. Brossett