Hot Tip For Managing Your Calendar
Having a hard time managing all of the events and networking opportunities you attend? Well, there may be an easier way to populate and update your calendar using the resources already posted on Retirement Connection's website - here's how:
Go to the

Networking Page

Click on the button for the

Events Calendar at the top of that page.

Once the calendar opens, on the bottom right, click the button for "Google Calendar".

This will add this calendar and all supporting info to your calendar page if you use Google Calen

dar.

You can then also sync Google Calendar with Outlook, smart phones and other applications.
What's so great about this? As meeting locations or topics change- your calendar is automatically updated as we receive the updated details. We also provide a web link to more information for your calendar. The networking calendar remains independent from your personal entries for quick viewing.
(you will need a FREE google email account to do this)
We are happy to assist you in setting this up - call Amy
Job Postings
SPOTLIGHT
The following positions have been posted in the last month:
- Blood Drive Team Members
- Handy Man/Woman
- Community Outreach Intern
- Weekend Staffing Coordinator
- Director of Community Relations
- Care Management Support
- Caregiver/CNA
- Registered Nurse
- ALF Administrator
- Marketing & Sales Associate
- Activities Director -Memory Care
- Business Planning Intern
- Registered Nurse
- Assistant Administrator
- Registered Nurse
- Sales Director
- RN - Home Care and RCF
Retirement Connection has a section of our website dedicated to Job Opportunities for the NW Region? Most postings are a professional or management level position.
Take advantage of this free exposure and post your open positions today.
Local Senior News
Retirement Connection
April Marketing Update - Salem


(Serving Marion, Polk & Yamhill Counties)
Greetings!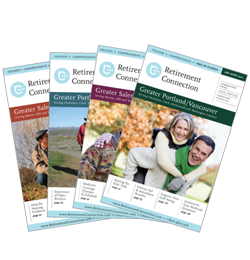 We hope to see you this Thursday, April 11 for the Salem Release Party at Willamette Heritage Center
(Dye House).
RSVP
today. We have several exciting announcement to share about the new changes with the guide.
Visit the new Education page on our website, a suggestion born from the last Sponsor Breakfast. (more details below)
The page includes the CEU poster and contact information that has been shared at recent Hospital Resource Fairs.

and "like" our page to receive weekly reminders about community events, articles, and other announcements for seniors in Oregon.


to connect with other referral sources and stay up to date on upcoming professional events, Long Term Care related news, and
pictures from events.

But enough about us, here's the Networking Info:
In this newsletter, you will find information about: networking, CEU training, Event Sponsorship, Web Advertising, and more.
Remember, at any time, you may Unsubscribe, Update Your Preferences or Forward to a Friend.
Build your referral network
with Retirement Connection
!
April Network Meetings
Meeting info available on the

"
Networking
"

page
Greater Salem Groups


April 10, 9am
Senior Lifestyles

Location: Davenport House
Address:

930 Oak St - Silverton, OR
April 18, 9am
Yamhill County Networking Group
Location
: Hillside Retirement Community
Address
: 300 NW Hillside Pkwy - McMinnville, OR
Topic
: Marketing to Baby Boomers
April 24,
9am
Senior Service Network of Salem (SSN-Salem)
Location
: Salem Hospital
Address
: 890 Oak Street SE, Salem, OR 97301- Bldg. D
Meeting Room:
Creekside Dining Overflow- first floor
Topic
: Using Google to show a virtual tour of your business.
Save the Date for Bi-Monthly Meetings
May 15
, 9:30am
Senior Network

Location:
TBD
Address:
TBD

Topic
: Estate Planning and Elder Law Issues
Marketing & Development
The following is a preview of some of this month's upcoming professional events, check the Professional Events page for complete details and information on other future events. UPDATED DAILY. Visit the Contact Us page, to submit events for posting.
April 11, 4 - 7pm
Retirement Connection Salem Release Party
Location: Willamette Heritage Center - Dye House
Address: 1313 Mill St SE - Salem, OR
Please join us in celebrating the release of the newest issue of Salem Retirement Connection Guide and enjoy great wines, networking, and hors d'oeuvres. This is an open event and all are welcome to attend so please feel free to invite your referral sources and other guests. Flyer RSVP
April 16, 9am - 3pm
OHCA In-Home Care Conference
Location: Oregon Medical Education Foundation Conf. Center
Address: 11740 SW 68th Pkwy - Portland, OR
April 18, 7:30am-5:00pm
15th Annual McGinty Conference
Location: DoubleTree by Hilton Portland
Address: 1000 NE Multnomah St. Portland, OR 97232
April 25, 11:30am-1:30pm
OMCMG Event
Location: Salem Hospital
Room: Kaisen Classroom, Bld B, 2nd Floor
Topic: Case Management & Medical Home
April 25, 6 - 9pm
Affair to Remember
Location: Willamette Heritage Center - Spinning Room
Address: 1313 Mill St SE - Salem, OR
SAVE THE DATES
May 8, 9am-4pm
OHCA/MSN Marketing Symposium
Location: Oregon Medical Education Foundation Conf. Center
Address: 11740 SW 68th Pkwy - Portland, OR
Community events that are open to the public:
New Education Page on the Website
Insight from our Sponsors...
At the last Retirement Connection quarterly sponsor breakfast, many people shared their interest in partnering with other sponsors and providers to gain staff training material, or to provide educational marketing resources. Last year Retirement Connection coordinated 10 hospital resource fairs from Salem to Vancouver. our Sponsors had created 50+ CEU approved educational posters. We have now added those posters to an Education page for others to access and reach out to our sponsors for collaboration.
Visit the new Education page on RetirementConnection.com to view thumbnails of each poster, and a contact list. The posters can be viewed full size with a click and you can reach out to the sponsors for additional resources.
We are continuing to update and improve the Education web page, but wanted to get a link to you as soon as possible.
Nuggets of Knowledge
Telling the Truth


There are only two mistakes one can make along the road to truth; not going all the way, and not starting
- Buddha
In a meeting with all seemingly agreeable perspectives, it can be challenging to share a dissenting opinion. It is then rewarding when you find others felt the same way- but were not ready not to speak up, but happy you did. Then it gets tougher, because now there is less control of where the conversation moves. It was easier and cleaner when everyone seemed to agree; but will there be as much discovery?
Choose discovery, listen to all opinions, and be willing to change yours.


- Amy
Thank you for your continued support, we are truly grateful. You are the reason we continue to grow with each edition. Let us know if you would like a media kit sent to you.
Please contact us if you need additional copies of the Guide. They are available at no cost, and are the perfect resource for health fairs, workshops and your marketing packets.
Sincerely,
Amy Schmidt
Retirement Connection
503-505-5865
amy@RetirementConnection.com