AmeriCorps VISTA Job Opportunity

NAPT and NSAIE have an opening for an AmeriCorps VISTA member. The position is responsible for the development of radio and television series that advance traditional Native values in society. Dedicated to the further development of a serial radio drama and a television series, this NSAIE AmeriCorps VISTA job opportunity is located at NAPT in Lincoln, Neb. Duties include maintaining partnerships with program partner organizations and individuals, coordinating an advisory committee, research, grant writing, funding and additional resources, research health information and provide capacity building organizational support, as needed.
To find out more, or to apply, visit: www.americorps.gov
DEADLINE to apply is June 1, 2011
Internship with Prairie Public & NAPT

Prairie Public Broadcasting (PPB) and NAPT are pleased to offer a paid television broadcast internship for the summer of 2011 for undergraduate or graduate students. With major funding from the Corporation for Public Broadcasting (CPB), the purpose of the internship is to increase the production and producing skills of the intern. One of the goals of the internship will be the production of a feature on Native American history or culture to run as part of PPB's monthly broadcast magazine series "Prairie Mosaic."
To find out more, or to apply, visit: www.prairiepublic.org
Download the application form.
DEADLINE to apply is April 29, 2011.
AIHEC Workshop to Feature the Newly Released Documentary Good Meat

NAPT's Executive Director, Shirley K. Sneve (Rosebud Sioux) is heading ou

t to Bismarck, North Dakota, for the 2011 American Indian Higher Education Consortium (AIHEC) Student Conference. At the event, Sneve will present a screening and workshop on

Monday, April 18 from 3-4:30 p.m. CT. After the screening of VisionMaker's latest release Good Meat, Sneve will provide insight on how you can use multimedia in the classroom.

About Good Meat:
Once a star athlete in his community, Beau LeBeau (Oglala Lakota) now weighs 333 pounds--an unhealthy weight which has triggered the onset of Type II Diabetes. His mother's untimely death from complications due to diabetes and cancer motivates him to drop the excessive pounds. Enlisting the help of physician Dr. Kevin Weiland and nutritionist Kibbe Conti (Oglala Lakota), Beau starts exercising and takes up a traditional Lakota diet of buffalo meat and other Native foods. He rapidly sheds pounds and encourages others to do the same, but can he maintain his weight loss amidst the poor diet options and naysayers on the Reservation?

To find out more about the student conference, visit: aihec.sittingbull.edu


Executive Director Attending the National Conference for Media Reform

NAPT Executive Director, Shirley K. Sneve (Rosebud Sioux), is attending the 2011 National Conference for Media Reform (NCMR) in Boston, Massachusetts, April 8-10.
The event features over 300 movers and shakers in media, technology and democracy, and over 2,500 people to network with. This year's presenters list include: House Democratic Leader Nancy Pelosi; FCC Commissioners Mignon Clyburn and Michael Copps; Nobel laureate Joseph Stiglitz; Democracy Now!'s Amy Goodman; and Tony Award-winning playwright and performer Sarah Jones.
To find out more about NCMR, visit: conference.freepress.net
FRONTLINE's The Silence to Screen in Anchorage, Alaska, and Be on Native America Calling
FRONTLINE's The Silence will have a screening in Anchorage, Alaska, at the Bear Tooth Theatre on April 28 at 8 p.m. This evening event is open to the public. Don't miss this opportunity to hear first hand from the producer and experts in the field of trauma, healing and the process of making the documentary.
The Silence will also be discussed on April 18's Native America Calling (NAC). To find out more about NAC, visit: www.nativeamericacalling.com
About The Silence:
Saint Michael is a village of 370 residents on the southwest coast of Alaska, 200 miles south of the Arctic Circle. It is isolated and remote--there are no roads in or out--anytime of the year. Christianity has had a presence in Saint Michael for over a century. Catholic missionaries came to the Alaskan wilderness to bring education, medicine and teach the word of God. Priests became trusted elders in the community, but weird things would start to happen upon their arrival in 1968 when Father George Endal, Deacon Joseph Lundowski and Brother Anton Smario arrived at the Catholic Church. For the first time, a small group of survivors will confront the very institution that devastated their village.
The Silence is the second of two magazine segments airing Tuesday, April 19, 2011, at 9 p.m. ET on PBS' FRONTLINE.
To find out more about The Silence, visit: www.pbs.org/wgbh
Project Assistant to Attend the 2011 Gathering of Nations Pow Wow
NAPT Project Assistant, Tobias Grant (Omaha, Navajo, Sioux and Cherokee), will be attending the 2011 Gathering of Nations Pow Wow in Albuquerque, New Mexico, April 28-30.
"I am definitely looking forward to this fun, annual event. Last year's event was fantastic! It's a great way to welcome in Spring," said Grant.
To find out more about the Gathering of Nations Pow Wow, visit: www.gatheringofnations.com
NMAI's Call for Indigenous Artists

The National Museum of the American Indian announces its call for proposals for the Indigenous Artists: Artist Leadership Program.
The program targets mid-career indigenous artists from the Americas. Selected artists go to Washington, D.C., to do research in the Smithsonian collections, then return home to lead either a youth community art project, or an artist workshop. Artists in the program receive a $7,000 contract award to cover project costs, supplies and materials.
For more information, visit: americanindian.si.edu
DEADLINE to apply is May 1, 2011.
Producer Profile:
Sande Zeig
Sande Zeig is the producer and director of the new documentary Apache 8. The film unveils the unique and untold history of Apache 8, an all-women wildland firefighting crew from the Fort Apache Indian Reservation in Arizona. Throughout the documentary, the lives of four Apache 8 crew members are woven into the film's narrative, revealing captivating stories from their lives both on and off the fire line.


To find out more about

Apache 8

and Producer/Director Sande Zeig, select any of the following links below:
Are you a Friend?
April 10-16 is National Library Week
April 10-12 is the 52nd Anniversary of National Library Week.

Newly Released Titles from VisionMaker: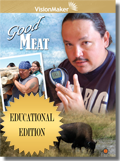 NAPT Receives Funding from