NAPT's Executive Director heads to Park City, Utah, for the Sundance Film Festival
Be sure to stop buy Sundance's Filmmaker Engagement & Outreach Table on Wednesday, January 26 from 1-3:45 p.m. to meet with Executive Director Shirley K. Sneve (Rosebud Sioux) to discuss how NAPT may help you fund your next documentary film.
NAPT's Executive Director Shirley K. Sneve (Rosebud Sioux) is heading to Park City, Utah, for the Sundance Film Festival. One of the most intense and prestigous film festivals for media makers, Sundance is sure to bring filmmakers and film goers alike to this one-of-a-kind event. During the Festival, one of NAPT's upcoming film offerings, GRAB will be taking the stage for multiple screenings.
Shirley will be attending the Festival January 25-28. If you are unable to attend, please visit us online to find out more about the 2011 NAPT Public Television Program Fund funded by the Corporation for Public Broadcasting.
Congratulations on Your Official Sundance Film Festival Selection!
Congratulations to Director Billy Luther and the production crew for the
documentary film GRAB which was announced as an official selection in the 2011 Sundance Film Festival.
GRAB is about three families from the Laguna Pueblo
Tribe who prepare for Grab Day--where they throw groceries from a rooftop to the community waiting below them. Grab Day is an annual community-wide prayer of abundance, thanks and renewal.
GRAB Screening Schedule at Sundance:
- Saturday, January 22 at 3 p.m.; Temple Theatre
- Sunday, January 23 at 4 p.m.; Redstone Cinemas 7
- Tuesday, January 25 at 9 p.m.; Broadway Centre Cinemas VI
- Wednesday, January 26 at 9 a.m.; Temple Theatre
- Friday, January 28 at 9 p.m.; Screening Room, Sundance Resort
- Saturday, January 29 at 6 p.m.; Temple Theatre
View the full schedule
Executive Director to Attend the 2011 NETA Conference and a Board Meeting for Working Films
Shirley K. Sneve (Rosebud Sioux) will attend the 2011 NETA Conference in Nashville, Tenn. The event, taking place January 11-13, will offer numerous workshops designed for programmers, media makers, membership coordinators and fundraisers in public broadcasting. Bennie Klain (Navajo) will attend NETA to promote his upcoming documentary, Columbus Day Legacy.
Sneve will be visiting Working Films in Wilmington, N.C., for a meeting of the Board, January 13-15. Working Films is a national non-profit that connects documentaries to social change through a variety of services.
New Year, New You! VisionMaker DVD Ideas to Spark Your New Year's Resolution.

Walking into the Unknown


A Perfect Gift for a Healthy New Year's Resolution!



This Emmy(R)-nominated documentary traces the intimate journey of a middle-aged, Native American physician as he makes his way through the health care system, gaining a deepe

r understanding of himself and the health risks he faces.





Save 20% Off This Month Only


Home Version | Educational Version

Find

out more about Dr. Arne Vainio (Mille Lacs Band of Ojibwe) with AIROS' Native Word podcast.



View the article | Download the podcast



Nineteen-year-old Andy Payne had a vision of what he hoped the new year to bring...



The Great American Foot Race

Nineteen-year-old Andy Payne (Cherokee) was hoping to win enough money to marry his girl and keep the family farm so he ran a grueling

3,422 foot race designed to bring attention to the newly constructed Route 66 Highway. This Emmy(R)-nominated documentary showcases one of the wildest promotion schemes in history.



Home Version | Educational Version


NAPT Marketing Director Heads to Houston for the American Marketing Association
NAPT's Marketing Director, Jessica Kinser, is currently the Vice President of Communications for the Lincoln, Neb., chapter of the American Marketing Association. She was recently invited to attend a regional retreat in Houston, Texas, January 14-15.

"I'm very eager to learn and take home tangible ideas that may be implemented to increase membership amongst the organization and sponsorship commitments, but more importantly, I hope to elevate the potential of the Lincoln marketing community by bringing in nationally tested ideas that had a successful return on investment that we can use in our own marketing fields through a wide-array of guest speakers at program events and special interest group gatherings," stated Kinser.

Producer Profile:
Sam Hurst
Good Meat, a new film co-produced by Sam Hurst, captures a glimpse of the obestiy epidemic faced by Native Americans today. "Forty percent of the Oglala Lakota people are already struggling with obesity, diabetes and heart disease," says Hurst. "This is not a marginal issue for them." Part of this statistic--and star of Good Meat--is Beau LeBeau (Oglala Lakota).
LeBeau is remembered on the Pine Ridge Reservation as one of the best high school star athletes to ever come out of South Dakota. After years of poor diet options and exercise, LeBeau decides to lose weight by choosing a traditional Indigenous diet centered around buffalo. The lean, high protein buffalo meat allows LeBeau to rapidly shed pounds while consulting with a physician and nutritionist.
Hurst has worked extensively in the television industry and as a documentary

filmmaker for almost 30 years. "I was a producer for some time with NBC bas

ed in Los Angeles," stated Hurst. Recently, he is more involved in writing, especially for his website, dakotaday.com.
To find out more about Good Meat and Sam Hurst, select one of the following links below:
VisionMaker Honors African American Heritage in Honor of Martin Luther King, Jr. Day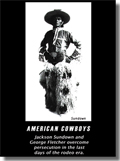 American Cowboys
The story of a Native American cowboy, Jackson Sundown, and an African American, George Fletcher, who overcame racism and other
barriers in the early 1900s to become the best cowboys in town.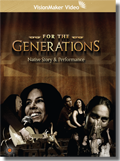 For the Generations: Native Story & Performance
The efforts of contemporary Native performers to recast themselves in the 21st
Century are examined in this documentary. Among the performers is R&B songstress Martha Redbone (Choctaw/Shawnee/Cherokee and African American).
Find out more
NAPT Receives Funding from