Greetings!
Don't miss your chance to hear from the experts and learn about these exciting technologies offered by CNP Technologies.

Register Today and forward the invite to others in your organization who may want to attend as well!

While other cloud-communications companies have added voice service as an afterthought, voice is the core of M5's business. Because it is so important, we engineered our own phone system software. Owning our own technology enables us to innovate and respond to customer needs without relying on any third party.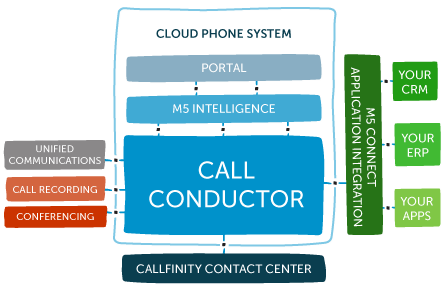 Traditionally, businesses deployed systems and applications by installing software on hardware located in their offices. Cloud Computing (which is also often called "Hosted" or "Software as a Service") is a new paradigm in which systems are located in secure datacenters, and vendors can take responsibility for owning, configuring and managing them. Businesses connect to these applications through the Internet or private connections. The benefits of the cloud phone systems are plentiful.

A well-managed phone system feels easy. It just works. We've discovered that a fully managed cloud phone system is what users need to get real impact out of the complexity and power of VoIP services, especially for changing, growing, dynamic companies.

Come learn more about ShoreTel Cloud Services from M5- ShoreTel's Cloud Division and why see a Cloud based phone system may be the right solution for your business!

July 10, 2012
1:00pm - 2:00pm
Click Here to register to attend!


Connectivity to the network, either the public internet or a private network, is expected everywhere today in business, in school, at the golf course, and especially in coffee shops across the country. Apple, Samsung, Dell, Amazon, and a host of others are manufacturing and selling at record rates iPads, iPhones, slates, tablets, eBooks, eReaders, netbooks, and smart phones. Consumers are reading and watching the news, connecting with friends, and getting their work done in ways very different from even just a few years ago.


As business owners and managers, how do we provide network connectivity securely, safely, and as inexpensively as possible? Is it possible to manage users and the process when we don't know or control what device they will be using? And wouldn't it be great if we could simplify connectivity throughout the whole process? WiFi is quickly becoming the choice for primary connectivity to the network. WiFi can be secure, inexpensive, simple to use, and simple to manage.

With WiFi, schools are able to lower their investment in books, speed up the testing process, and increase teaching time. Hospitals are simplifying their information capture processes by securely connecting patient records with doctors' orders, pharmacy, and radiology. And businesses are connecting employees and customers, and keeping track of their assets via RFID tags, all wirelessly.

Please join us for a look at WiFi and BYOD. Come prepared to add your views on managing connectivity to the network and to discuss successfully deploying a BYOD (Bring Your Own Device) WiFi network.

July 19, 2012
10:00am - 11:00am
Click Here to register to attend!
Don't miss these opportunities to help your business work smarter, faster. Please register to attend these events today!
Sincerely,