ArtWorks in the News
Check out some of the media buzz on ArtWorks:
"ArtWorks employing artists for summer murals" -Soapbox
Are You 14 to 21?
Summer is approaching. Our murals don't make themselves. Apprentice Artist Job Opportunities Coming February 2012 to an Inbox Near You.
Where Are They Now?
Latest Intelligence: Our sources have it on good authority that Mr. McNertney is currently working for Applied Imagination of Alexandria, KY. The former Eagle Scout would be perfectly suited for this type of work, which involves designing and building garden exhibits and displays out of all-natural materials.
Additional Notes: The ArtWorks staff is super excited for Mr. McNertney and wishes him nothing but future success.
Attention ArtWorks Alumni!
We want to hear your story! Tell us what you've been up to since your time at ArtWorks. E-mail us at info@artworkscincinnati.org with the scoop!
Greetings!
Don't let your Valentine hog all of your love this month! Companies like Business Backer, Legg Mason Investment Counsel, the Bill and Joy Fotsch Family Fund for Therapy Pets, and the Art Academy of Cincinnati have already signed on to show their sowport of the Big Pig Gig. If you've been thinking about getting involved, what better way to get off of the pigpen fence than by coming to the Big Pig Gig: Do-Re-Wee Sponsor/Artist Match Party?
This hogfest will bring schools, nonprofits, sponsors, and potential sponsors together with artists who are eager to show off their porkfolios. Cocktails and hors d'oeuvres will be served - we promise it won't be a boar!
---
Big Pig Gig: Do-Re-Wee
Sponsor/Artist Match Party
Thursday, February 16th
5:30 to 7:30 pm
ArtWorks Offices
20 East Central Parkway
Please RSVP to Marie by February 13th
There will be more than 100 artist designs from which to choose and many artists will be present to discuss design options and ideas.
The event is open to all individual, corporate, or non-profit representatives who are sponsoring or are interested in sponsoring a Pig, artists who have submitted designs, and schools or community organizations who have committed to sponsoring a Pig.
---
Professional Artists Needed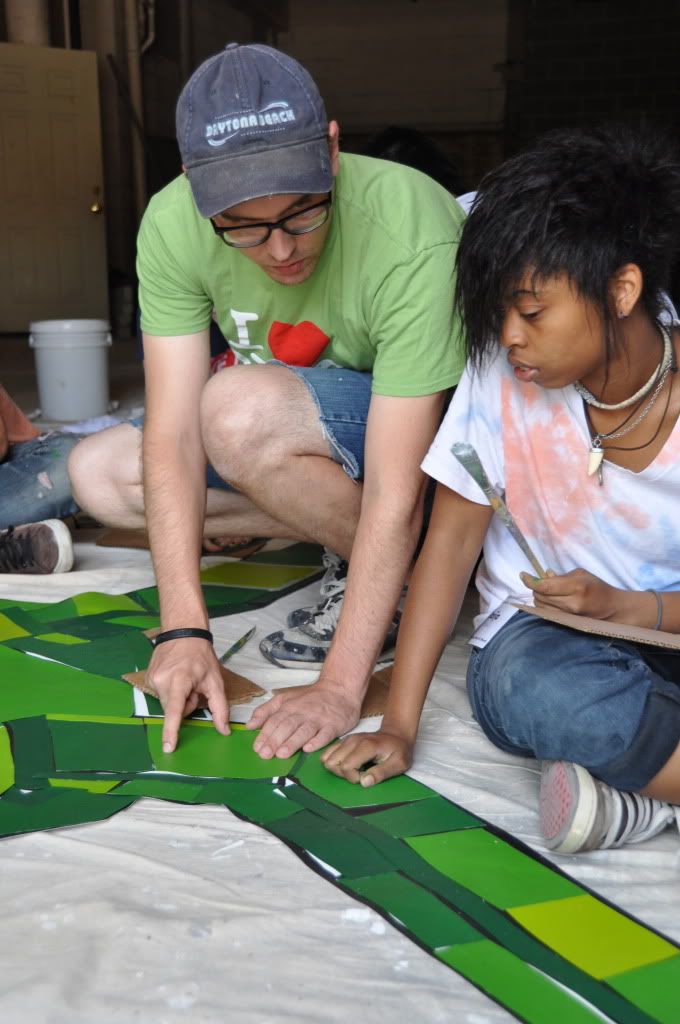 Are you a professional artist or art educator? ArtWorks is currently hiring Project Managers and Teaching Artists to lead teams of Apprentice Artists this summer.
Project Manager applications are due February 17th.
Teaching Artist applications are due March 30th.
Click here to read the job descriptions and to learn more.
Click here to apply.
Be sure to sign-up for our Artist Registry e-Newsletter to get weekly updates on artist jobs and opportunities from ArtWorks and other Greater Cincinnati organizations! Just click on the Update Profile/Email Address link at the bottom of this e-mail.
Register for SpringBoard
Hey you creative entrepreneurs! Registration for the next session of SpringBoard closes on February 15th. Click Here to Sign Up Today!
Want an insider's perspective on SpringBoard classes? One current SpringBoard student will be blogging about her experience for Soapbox.
"My first Springboard class was very similar to the time I signed up for the Flying Pig Half Marathon the day before the race, with no training. As I walked to ArtWorks, I was overcome with mixed emotions. Nervousness due to my general lack of preparation, anticipation of the unknown, and an excitement I always seem to get whenever I do things that put me out of my comfort zone." Click here to read more.
Save Your Seat!
The wheels on the ArtWorks bus will be rolling again as a part of the Macy's Arts Sampler 2012! Join us on Saturday, March 10th for a guided bus tour of a few of our murals. So grab a camera and a friend and hop aboard the bus! We'll bring the refreshments and the inside scoop on some of Cincinnati's largest works of art.
When: Saturday, March 10th. There will be two tours: one from 11 am until 12 pm and another from 12:30 pm until 1:30 pm.
Where: ArtWorks at 20 East Central Parkway
RSVP to Kristin (Kristin@ArtWorksCincinnati.org or 513.333.0388 x18) with the number of people and the time you will be touring. Seating is limited and offered on a first come, first served basis - so make your reservation today!
Own a Print of CF Payne's "Singing Mural"
Didn't get a chance to buy your own "The Singing Mural" print? You can still own the design that was painted this past summer on our West End Mural at CET.
Signed Prints: $150 Unsigned Prints: $75
To buy a print or to learn more, contact Marie@ArtWorksCincinnati.org.
About ArtWorks: Founded in 1996, ArtWorks is a non-profit arts organization that connects artists of all ages with opportunities in the arts through inspiring apprenticeships, community partnerships, and public art. ArtWorks hires teen and professional artists to make innovative public art to enrich the Greater Cincinnati community. To date, ArtWorks Summer Program has provided job opportunities for more than 2,500 teen Apprentice Artists and 500 professional artists. ArtWorks is funded by the City of Cincinnati, Carol Ann and Ralph V. Haile, Jr./US Bank Foundation, ArtsWave, and the Ohio Arts Council. To learn more, visit ArtWorksCincinnati.org.