THANK YOU, TAMPICO TERRACE!
Tampico Terrace
has become the $10,000 King Crab Sponsor of our
25th Annual Crab Dinner Fundraiser!
THANK YOU!
WELCOME NEW VOLUNTEERS
Meals on Wheels
Maureen Allison
Marc Ayala-Bass
Diane Criner
Willie Criner
Eileen Dickson
Helen Essenwanger
Nicole Gee
Sue Laws
Sue Le Guluche
John McDermott
Laurel McDermott
James Stack
Friendly Visitors
Betty Jazmin
Nathaniel Liggins
Lena Vinson
Anita Goodyear
WORDS WE
LIVE BY
"Dear Meals on Wheels,"
"For over three years, I have been receiving your wonderful, nutritious meals, delivered by compassionate, dedicated volunteers. I have been fed, cared about, and enlivened on a daily basis. It seems like when I am anguishing, you always show up!"

Julia Linde
Rossmoor Resident
UPCOMING EVENTS
"Mature Drivers and the Healthy Brain"
Presented by
Dr. Patrick Arbore
Jefferson Award Winner
Center for Elderly Suicide Prevention, Founder and Director
&
"Take Control of Your Driving Future"
Presented by
Rosemary Robles
Senior Driver Ombudsman, DMV
Friday,
October 23
*10:00am-2:30pm
John Muir Medical Center, Walnut Creek
Free Box Lunches will be provided
Parking available
RSVP to Carol Louisell at
*please note corrected time
~~~
C.C. Cafés
Halloween Lunch
Friday, October 30th
To make a reservation:
Bay Point: 925-458-2662
Concord: 925-825-1488
Crockett: 510-787-1341
Pittsburg: 925-439-2136
Walnut Creek:
925-280-7310
~~~
Diabetes Health Fair
John Muir Health
Free
Saturday, November 7th
11:00am - 3:00pm
John Muir Medical Center
2540 East Street, Concord
~~~
Meals on Wheels and
C.C. Café Veterans Honored
Tuesday, November 10th
Lapel pins will be provided to veterans on our MOW routes and C.C. Cafés along with letters of gratitude and American flag picks in all home-delivered meals.
Thank You to all of our
Veterans!
~~~
Fall Prevention Home Safety Techniques

Friday, November 13th
9:30am-11:00am

John Muir Medical Center, 2540 East Street, Concord

RSVP
925-941-7900
~~~
25th Annual MOWSOS Crab Dinner and Fundraiser
Friday, January 29th
5:30pm - 9:30pm
Centre Concord
Buy your tickets and sponsorship package
NOW
!
MEDIA
Listen to our KUIC PSA for volunteer drivers.
SFBay.ca gives front page press to MOWSOS.
See our article in the
Available Resources
VA Northern California
Flu Vaccinations for Veterans
Click here for locations
(some are drive thru)!
~~~
Contra Costa Health Services
Homeless Dental Services
925-646-5016
~~~
Contra Costa Senior Citizens Resource Directory
~~~
John Muir Health Senior Services
www.johnmuirhealth.com or 925-947-3300
~~~
La Clinica
Health Coverage and Enrollment Assistance
1-888-494-4658
~~~
Calendars for Seniors
Beginning this month, we are collecting 2016 wall calendars to distribute to home bound seniors.
Calendars cheer up isolated seniors and give them a place to jot down reminders and appointments. The gift of a 2016 calendar connects home bound seniors to people and places.
Contact your insurance agent, veterinarian, realtor, or anyone who traditionally gives out calendars. Ask for 10, 20, or even 100. Our goal is to collect enough for every Meals on Wheels client -- nearly 800!
Calendars may be dropped off at the Meals on Wheels and Senior Outreach Services office at 1300 Civic Drive, Walnut Creek, any weekday from 9:00am to 4:00pm by Thursday, December 10th.
| | |
| --- | --- |
| Issue 3, Volume 9 | |
No longer being afraid, enthusiastically working together, standing up to raise awareness -- all stories about how people made a difference. As we move into the season of "thankfulness" and celebrations, consider your story. How will you touch someone's life, make a difference?
Volunteering, donating time, talent, and treasure can all be used to engage and uplift. Every day 10,000 people turn 65 years of age n the United States. In Contra Costa, seniors are the fastest growing population, soon to be 20%, and in some cities, like Walnut Creek, 30% of the population.
We need your help to sustain our efforts to help seniors age in place for as long as possible. Read the stories below and get inspired. Attend a C.C. Café, volunteer to deliver meals, or simply donate financially. The good news is that we are aging together. And together we can make a brighter future.
Sincerely,
Chevron Comes to the Rescue
"Many hands make light work!" A team of enthusiastic Chevron employees helped transform the MOWSOS
over-crowded storage room into a pristine storehouse through their participation in the Volunteer Center of the East Bay's (VCEB) Corporate Caring Volunteer Week.
"It was a very successful week," says Dee Dee Robillard,
Program Coordinator, VCEB. "2400 volunteers participated in more than 230 projects from almost 100 nonprofits."
"Our storage room is like my garage at home," says Nelly Salgado, Client In-Take/Receptionist, MOWSOS, "everything but the car gets parked there!" "We can't thank VCEB and Chevron enough."
Chevron employees transform storage room from clutter to clean.
No Longer Afraid
In 2011, Julia Linde lost her husband, Al. "I didn't realize how much I counted on him to guide me through the day," says Julie. And, after taking four falls after his death, she became anxious and afraid in her own home.
Julie Linde at home in Rossmoor

.
The medication Julie takes causes severe dizziness, dehydration and other unwanted side effects. She uses a walker and takes utmost precaution when traveling between rooms in her home. She is unable to stand for more than a couple minutes, making cooking difficult.
Julie has been receiving home-delivered meals since 2011 and says, "t
he volunteers are my friends. They know my habits, which is fundamentally reassuring to me! After Meals on Wheels started visiting, I stopped living in fear. MOWSOS is a real asset in my life."
For information on becoming a Meals on Wheels volunteer driver, please contact Carol Louisell at
clouisell@mowsos.org
or 925-954-8736.
Sit2StandChallenge
This year during Fall Prevention Awareness Week, MOWSOS participated in the first annual "Take a Stand to Prevent Falls
®,"
#Sit2StandChallenge.
Created in the likeness of the ALS ice bucket challenge, a colossal social media success that raised over 100 million dollars for the cause, the #Sit2StandChallenge is another way to raise awareness about how muscle strength and balance are key to preventing falls for older adults.
Participants were asked to sit, stand, and repeat as many times as comfortably (and safely) possible in 30 seconds, and to verbally challenge a friend, co-worker, relative or neighbor to do the same with the intention of donating to a local Fall Prevention Program.
Watch MOWSOS volunteer, Bruce Palmer, as he takes the #Sit2StandChallenge and check out our
Facebook Page
to view more challenges that were caught on tape.
MOWSOS volunteer, Bruce Palmer, takes the #Sit2StandChallenge
For more information or to donate to the Fall Prevention Program, please contact Alayne Balke at
abalke@mowsos.org
or 925-937-8311.
Enjoying Life at the Rodeo C.C. Café at age 91
You wouldn't guess that Dorothy is 91 years old! Just look at her picture below. She's thriving and attributes it to her friends at the Rodeo C.C. Café.
"I am the thirteenth of fourteen children," says Dorothy, "and all of my siblings have lived into their late 80's and early 90's."
Dorothy at the Rodeo C.C. Café.
Ready to play BINGO.
Born in North Dakota in 1924, Dorothy moved to El Sobrante in 1943 and was married in 1945. She volunteered at her children's schools, and worked at Payless Pharmacy, among other jobs, for sixteen years.
Dorothy has attended the Rodeo C. C. Café since 2003.
"I can honestly say that the Rodeo C.C. Café has helped me stay healthy and happy," says Dorothy. "It gets me out of the house and the food is very nourishing." "My favorite meal is the pulled
pork!"
Join Dorothy and others at the Rodeo C.C. Café on Tuesdays and Thursdays. Reserve your lunch by calling 510-799-2706 by noon the day prior.
For more information, please contact Michelle Gee at
mgee@mowsos.org
or 925-937-8311 x108.
Companionship at Stoneman Village
In 2011, a wonderful partnership was formed. Barbara Williams, Service Coordinator for Stoneman Village, a retirement community in Pittsburg, and then MOWSOS Friendly Visitors Program Manager, Susannah Meyer, had an "Aha Moment." Why not model the Friendly Visitors Program for the Stoneman Village residents?
Susannah Meyer, former MOWSOS Friendly Visitors Program Manager.
"At the time, we had a lack of Friendly Visitor volunteers in Pittsburg ," says Susannah," and many of the Stoneman residents were seeking companionship."
"When during a meeting, Barbara said 'many of our residents are social and active and would make great volunteers themselves,' the concept was conceived," says Susannah. "Stoneman Village residents would be matched with one another."
The program has flourished since, with many success stories. "One story I remember in particular," says Susannah, "was about a bedbound resident named Eloise." "Eloise had never left her bedroom until she began her visits with her friendy visitor, Virginia Mason (pictured below). It was a big day when Eloise joined her first Stoneman Village event," says Susannah.
Sitting from left: Cynthia Black, Division Manager, Health and Wellness Division, MOWSOS; Javier Perez, Senior Visitor; Virginia Mason, Senior Visitor. Standing from left: Barbara Williams, Service Coordinator, Stoneman Village; Jane Giffen, Senior Visitor.
After many years with the program, Barbara Williams will be heading to new adventures and will be sorely missed by all!
Meals on Wheels and Senior Outreach Services wishes you the best, Barbara!
For more information on the Friendly Visitors Program, please contact Cynthia Black at cblack@mowsos.org or
925-937-8311.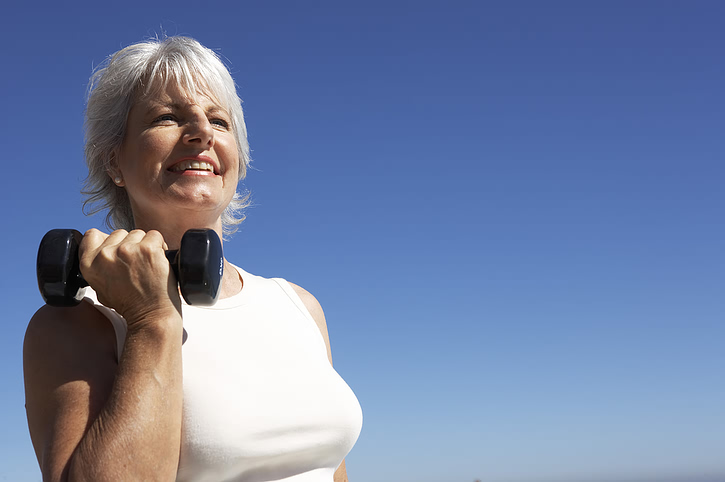 One pot meals are the "new casserole" and who doesn't love an easy meal?
Click the picture for this One Pan Chicken Burrito Bowl recipe and for more great crockpot meals.
Check out our favorite recipes on our
JFK University students and professors are working on projects with MOWSOS to evaluate the effects of companionship on seniors and expose younger people to the needs of older adults.
| | |
| --- | --- |
| Mia Bishop wins the pancake flipping contest at the Pancake Breakfast on September 13th. | Lori Franzke, Physical Therapist and Care Manager, Hillendale Home Care, demonstrates the proper use of a gait belt on Dawn Mendivil, an attendee at the September 29th Caregiver Workshop. |
If you have suggestions for our newsletter or would like to contribute a quote, photo, or story, please contact:
Leigh Shughrou
Public Affairs Specialist
Meals on Wheels and Senior Outreach Services
925-937-8311 x133
lshughrou@mowsos.org
This institution is an equal opportunity provider and employer.
1300 Civic Drive, Walnut Creek, CA 94596
925-937-8311 mowsos.org