...in the BAKING of the bread
Any bakers out there?
If you would like to bake bread for communion
, please pick up a recipe in the narthex or check it out at
ssje.org/symbols.html#2.
Betty Williams Memorial Service

Betty Williams, one of St. Martin's most senior members, died on May 30th in Denver, Colorado, where she had been living near family for the last year or so.
We are planning a memorial service at St. Martin's for Sunday afternoon, July 8 at 2pm. Please hold her and her family in your prayers.
May Betty rest in peace and rise with Christ in glory!
Directory Update in the Works
There's an update of the St. Martin's Parish Directory in the works and we need your help.
Next time you're at St. Martin's,
take a look at the draft of the directory located in the Narthex (entryway) near the guestbook.
If you have any
corrections to your information
, simply write them in on the draft.
If you're not in the directory and you'd like to be
, just fill out one of the family information forms next to the draft and leave it in the box marked "Information Forms" or email or call Beau Surratt in the parish office with your information (
beau@saintmartinschurch.com
or 847-824-2043). You can also contact Beau with any questions about the directory.
SCIPP 4th of July Drive
We are preparing for our next Soldier Comfort Item Package Program drive. Pam Jost has several items left over from previous drives such as deodorant and toothpaste, however, we are short on home comfort items that really put a smile on a soldier's face. Please consider donating tuna-cracker kits, beef jerky and snack bags (cookies, chips, nuts, crackers, and candy). There will be a white cooler in Strauss-Betker Hall for items. Shipping costs is an ongoing expense with each package costing approximately 14 dollars to send. If you'd like to make contributions to cover shipping costs, checks can be written to St. Martin's with SCIPP in the memo line. We have streamlined our recording processes, so please be assured your donations will go towards shipping costs.
We will pack boxes sometime in July. If interested in helping, please contact Darlene Norton at darlenenorton@yahoo.com.
Nursery Volunteers Needed
We are currently in need of some additional volunteers to spend time with our fun and entertaining children on Sunday mornings in the nursery.
As a nursery volunteer you'd typically be in the nursery from 9:45-10:45am (you'd have the opportunity to go up to receive Communion). You'd never be alone- there are always two adults in the nursery. And, you'd have the opportunity to get to know some of the amazing children of St. Martins'.
Keeping God's Children Safe training is required for all volunteers working with children and youth and St. Martin's will provide this training for you if you haven't already had it.
For more information, or to volunteer, contact Amanda Vandervort at (630) 946-7931.
Community Meal July 13
Our Community Meal is the 2nd Friday of each month, now through September. The next meal is coming up on July 13 at 6:30 pm in Strauss-Betker Hall, preceded by an optional celebration of the Eucharist in the church at 6:00. We've enjoyed wonderful crowds in recent months and expect even greater ones at future meals. Please sign up in Strauss-Betker Hall to bring food and/or help with setup and cleanup. For more information, contact Tim Pickett
(847-561-9467)
Youth Group
Information & Activites
St. Martin's Youth Group Meetings are typically 11:30am-12:30pm on the first and third Sundays of the month. We meet in the lower level Sunday School room. Contact Darlene Norton (630-726-0098).
Upcoming Activities
Saturday, June 30th: Ronald McDonald House Service Activity: We will be making dinner this time, so we'll meet at St. Martin's parking lot at 2:15PM. Estimated return time is 7:30PM. Volunteer drivers needed. Menu: baked ham with a salald and potato bar. Sweet breads and cookie donations appreciated.
Please RSVP to Darlene at
darlenenorton@yahoo.com
by June 29th. We are limited to 10 youth, so please RSVP and, if you haven't already, provide a signed permission slip (
download here
). Permission slips are good for YG activities until December 2012.
The youth group and a bunch of youth wannabes had a great time at Laser Quest!
Men's Night Out- Thursday, June 28
Guys will gather at 6pm at the Elks Lodge, 495 Lee Street, Des Plaines, for dinner and socializing. Call Dick Dohnke (847-638-4852) if you plan to attend.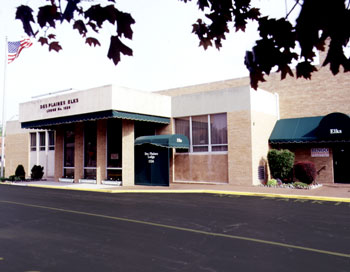 Ladies Night Out- Tuesday, July 10
Ladies Night Out is the second Tuesday of each month. The ladies meet at 6pm at House of Szechwan on Northwest Highway in Des Plaines. Contact Judy Brouillette at 847-299-0767 if you are interested in attending.
Visitation Request Card
If you would like to request a visit from our Healing Ministry staff to bring communion, healing prayers, church news or smiles and sympathetic ears for a loved one, please fill out a
Visitation Request Card,
which can be found in the Prayer & Visitation Request Folder on the table in the church's narthex (entryway).