SAVE THE DATE - September 19
2011 Nonprofit Montgomery Annual Meeting:
SHAPING OUR FUTURE
Join Nonprofit Montgomery for an interactive discussion on the changing demographics of Montgomery County, and what it means for the work of nonprofits. Click here for more information.


Nonprofit Energy Alliance: Learn how your organization can save 10-15% on energy costs through. Register for one of our informational webinars today!


July 27 Anybill Webinar Learn how you can seamlessly automate your entire accounts payable process with Anybill. Click here for more information.




The Roundtable welcomes Sterling Martin Associates as a Corporate Member. David Martin and his team work
hand-in-hand with nonprofits from a variety of sectors to recruit talented leaders excited about the organization's mission.
Our Twitter Member feed has the latest news on members.

Arlingtonians Meeting Emergency Needs was selected as a Friday's Hero WUSA9.

The Arthritis Foundation is focusing awareness on recognizing signs of juvenile arthritis during July, which is Juvenile Arthritis Awareness Month, according to a press release.


The Audubon Naturalist Society's summer camps for children were featured in The Gazette.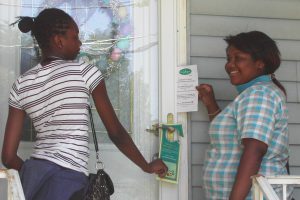 The Capital Area Food Bank and the LAYC recently partnered to spread the word about free summer meals for children and teens, according to the CAFB blog. In other news, the Food Bank has launched a one million dollar fundraising campaign to offset rising food costs, according to Silver Spring Patch.

CASA de Maryland's Kim Propeack said that CASA is planning to educate citizens about the Maryland DREAM Act, which was blocked from going into effect by a petition
drive, according to The Frederick News-Post. Separately, CASA is training people to be aware of instances of police abuse and intimidation in Prince George's County because "any contact with police can now lead to a deportation or a potential separation of family," CASA's Gustavo Andrade said on WTOP.

The DC Fiscal Policy Institute's Elissa Silverman commented on the renewed budget battle in The Washington Examiner.


DC Scores' Amy Nakamoto was recognized for her dedication to youth by The Century Council, according to WUSA9.


DC Vote's continued push against social policy riders in a fiscal year 2012 appropriations bill was mentioned in The Hill. Separately, DC Vote's major advocacy efforts on Capitol Hill, including twenty separate meetings with Congressional staffers, were detailed in a press release.

Fight for Children's exemption from DC's anti-smoking law for its annual fundraiser Fight night was mentioned in The Washington Post.

The Girl Scout Council of the Nation's Capital honored a local Girl Scout who earned a Girl Scout Gold Award, the highest Scouting honor, according to The Fairfax Times. In other news, GSCNC announced its 2011 Women of Distinction, reports The Journal.

IMPACT Silver Spring's Frankie Blackburn and the Latino Economic Development Corporation's Manny Hidalgo commented positively on Walmart's entrance into the District in The Washington City Paper. Another story on the community reaction to Walmart can be found on WAMU 88.5.

The Literacy Council of Northern Virginia was featured as one of Friday's Heroes on WUSA9.

Miriam's Kitchen was highlighted as a great volunteering destination for travelers coming to DC on AOL Travel.


Planned Parenthood of Metropolitan Washington's Laura Meyers said that being able to use Medicaid to pay for abortions gave the low-income women who needed them dignity in The Atlanta Journal-Constitution.


Reston Interfaith's and Volunteer Fairfax's volunteer opportunities for teens were mentioned in Herndon Patch.


The Washington Area Women's Foundation has partnered with Miss Maryland Tiffany Parker, who performs outreach work for the organization and contributes to the Foundation's blog, reports The Gazette.


July 14-15: TransitionGuides presents the Next Steps Workshop.


August 12: HomeAid Northern Virginia hosts a "Night at the Park" for homeless children and their families, sending 200 people to a Washington Nationals game in Woodbridge, VA.
September 15: Brainfood presents the Brainfood Grill-Off , which pits five teams of amateur chefs, professional chefs, and Brainfood students in a one-hour competition to raise funds for Brainfood's programs.