The vtTA represented our members and the Vermont tech community at the 11th annual Vermont Tech Jam last month. The vtTA has been an organizer and participant since the first Jam. We brought a handout with a listing of approximately 150 job openings from our member businesses on our Career Center

.

We talked to a number of job seekers, remote workers and entrepreneurs who were planning or considering a move to Vermont, including from Boston, New York City, Philadelphia, New Jersey, Connecticut and San Francisco. It was good to see a growing awareness and interest in Vermont tech opportunities from beyond the Green Mountains.

We were also pleased to present the sixth annual Vermont Tech Jam Awards, in partnership with Seven Days and BTV Ignite. The opportunity to select the winners from the deserving finalists selected by our judges drew a record number of votes, with nearly 3,000 ballots cast. The

award winners were announced

in a special event at Tech Jam.

And we want to thank our member businesses who participated in our Tech Jam Ad. In case you missed it, you can see the ad and the participating businesses

here

.

We're hosting a

Lunch & Learn on November 16

that should be of interest to all tech, start-up and other Vermont businesses that want to save money on their taxes - and who doesn't? Bret Hodgdon of Davis and Hodgdon, and Dave Fleischer of Business Resource Services, both vtTA member firms, will share insights into how businesses can take advantage of federal R&D tax credits to potentially save tens of thousands of dollars. Plan to join us to find out why these credits aren't just for large corporations.

Executive Director, Vermont Technology Alliance

We have sponsorship opportunities in our newsletter, for our Lunch & Learn and social events, on our website, and much more.

Click below to contact us!



Hinesburg Pop-Up Coworking Session
(November 14, 2017 - United Church, Hinesburg)
The emerging coworking community in Hinesburg, VT and surrounding areas are connecting again for the Thanksgiving edition of Pop-Up Coworking at the Osborne Parish House adjacent to the United Church of Hinesburg.
Smart Money: R&D Tax Credits for Vermont Tech Businesses and Startups
(November 16, 2017 - Community College of Vermont, Winooski)
T
his Lunch & Learn session will provide information on how Vermont tech companies and start-ups can qualify for federal R&D tax credits, saving tens of thousands of dollars in taxes. Businesses of all types can benefit from taking advantage of this opportunity.
Vermont Humanities Council Conference: The Double-Edged Sword of Technology
(November 17 & 18, 2017 - Davis Center, UVM)
The Vermont Humanities Council will consider many questions about technology and its role in society at its 44th annual fall conference. The conference will bring humanities perspectives to technology-past, present, and future.
Vermont Technology in the News

Ex-Google Exec Matt Dunne Has a Plan to Create a String of Tech Hubs Across Rural America
(November 9, 2017 - Source: Venture Beat)

Matt Dunne, Google's head of community affairs from 2008 to 2016, says that there's more opportunities for Silicon Valley and rural communities to work together than they might initially think. Dunne launched the Center on Rural Innovation (CORI), an organization that seeks to create a scalable model for rural economic development. Currently, CORI is conducting a pilot program in an undisclosed town of just under 10,000 people in Vermont.
Logic Supply Gets Grant to Add 83 New Jobs in Vermont
(November 9, 2017 - Source: Burlington Free Press)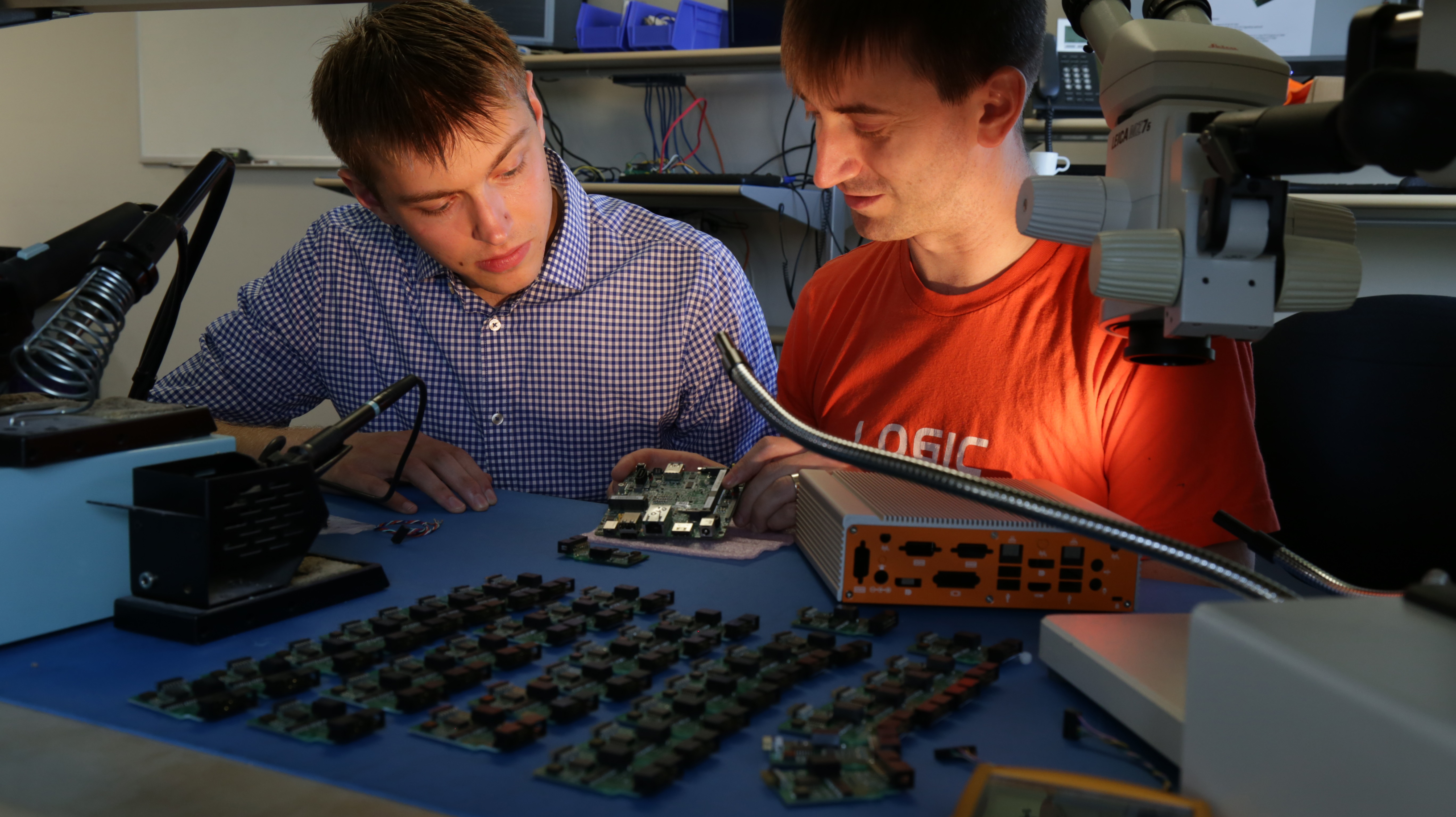 Logic Supply in South Burlington has earned financial support from the state in exchange for creating new jobs and investing in its Vermont operation. Logic Supply will earn up to $757,000 over five years, if it meets the conditions of creating 83 net new jobs by the end of 2020, and completes an $8.5 million capital construction project. The company employs more than 100 people in its Vermont headquarters in South Burlington, and is developing a new manufacturing and warehousing facility to expand its existing campus.
Norwich University Applied Research Institutes Announces $2.3M Cybersecurity Training Grant
(November 6, 2017 - Press Release)
Norwich University Applied Research Institutes (NUARI) has been awarded a Federal Emergency Management Agency (FEMA) training grant for $2,267,000 for cybersecurity training for first responders. NUARI is a member of the National Cybersecurity Preparedness Consortium, whose members have been developing and delivering training since 2004 through online and face-to-face courses.
Where the STEM Jobs Are (and Where They Aren't)
(November 1, 2017 - New York Times)
The national priority in education can be summed up in a four-letter acronym: STEM. And that's understandable. A country's proficiency in science, technology, engineering and mathematics is vital in generating economic growth, advancing scientific innovation and creating good jobs. Much of the public enthusiasm for STEM education rests on the assumption that these fields are rich in job opportunity. Some are, some aren't. What recent studies have made increasingly apparent is that the greatest number of high-paying STEM jobs are in the "T" (specifically, computing).
Top 5 Myths on Why Manufacturing Websites Can't be Awesome
(October 30, 2017)
After Bluehouse Group members attended the Made in Vermont manufacturing show in September, they were surprised to hear the low expectations that some manufacturers had of their corporate websites. This blog highlights ways in which manufacturing (and other) businesses can improve their web presence.
Valt wins $5,000 in Vermont Business Pitch Contest
(October 27, 2017 - Burlington Free Press)
Valt Inc. and CEO Brent Heeringa took home the grand prize of $5,000 in the FreshTracks Capital Vermont Road Pitch final competition. Road Pitch is a multi-day motorcycle tour around the state by a group of investors led by Cairn Cross of FreshTracks. The riders stop in small towns to listen to entrepreneurs pitch their business concepts, and pick a winner in each town. Valt is a technology startup that says it offers a new approach to online password management. Valt won the Bennington local Road Pitch.
How Vermont Became a Hotbed for Health Tech Companies
(October 20, 2017 - Seven Days)
Whether it's the healthy, outdoor lifestyle, culture, technical experts, large "anchor" businesses or the influence of UVM and Dartmouth-Hitchcock medical centers, Vermont has become home to a thriving health-tech sector.
A Coding Academy Prepares to Launch in Burlington
(October 20, 2017 - Seven Days)
Entrepreneurs Ben Boas and Alex Horner plan to launch the Burlington Code Academy next June. The for-profit startup will offer intensive 12-week training in writing code for software development. They promise the full-immersion curriculum will ready grads to work as junior-level software designers, web developers and data-storage geeks. Such programs have sprung up around the country, but not yet in Burlington.
VT Officials Explore Use of Secure Blockchain Technology
(October 20, 2017 - Seven Days)
"Blockchain" is a decentralized ledger that records transactions - a transfer of money or a digitally signed document, for example - and distributes that information electronically, with a unique numerical identifier, to every individual who's part of the system. Because of its inherent security and decentralized structure, the technology offers a way to authenticate, protect and still make accessible an array of sensitive information. That's one reason the state's economic development leaders are embracing it. California has Silicon Valley; they want Vermont to be Blockchain Terrain.
State Launches "ThinkVermont" Economic Development and Marketing Initiative
(October 20, 2017 - Press Release)
In a press conference held at Vermont Tech Jam, Governor Phil Scott announced the launch of ThinkVermont.com, a new website that will connect existing and prospective Vermont businesses and workers to the resources and information they need to expand in or relocate to Vermont. ThinkVermont.com will highlight the state's many assets and advantages to living, working and doing business in Vermont.
65 coders and 18 teams participate in Seventh Annual HackVT
(October 20, 2017 - VTDigger/Press Release)
HackVT awarded $9,500 in cash to four teams at the seventh annual event in October. Teams from around Vermont, as well as teams from New York and Massachusetts, developed apps using geospatial data provided by the Vermont Center for Geographic Information. First prize when to "Hackers From the NEK" (VT), who designed an app called Vermont Cow Talk that lets you ask a local cow(bot) for suggestions on what to do in their area.
Featured Member: Institute for American Apprenticeships
at Vermont HITEC
The Institute for American Apprenticeships at Vermont HITEC is a non-profit organization with a mission to educate, train and employ Vermonters in a variety of fields.
They are a student-centered, distance learning institution designed to transform students through high-quality, education programs that directly lead to employment or advancement with the sponsoring employer-partner. The organization began with the idea that with the necessary resources and support, people who lack sufficient education, but have the desire and ability to learn, can be prepared for a suitable career.
Over the past 17 years, Vermont HITEC has partnered with more than 30 Vermont and New Hampshire businesses to employ over 1,400 individuals in the business services, health care, information technology and advanced manufacturing fields.
IAA currently serves employers in healthcare, information technology and advanced manufacturing industries, as well as the STEM (Science, Technology, Engineering and Math) related fields. IAA programs are open to the employees or invited guests of its employer-partners.
Useful Information & Links

DealerPolicy and Vermont HITEC Offering Train-to-Hire Program
DealerPolicy, an "Insurtech" company, and Vermont HITEC, a not-for-profit education center, are accepting applications for a no-cost accelerated Insurance Associate training program leading to guaranteed full time jobs with DealerPolicy upon successful completion. Up to 15 selected participants will attend an 8-week program starting January 2, 2018 with employment beginning February 27, 2018. No prior industry knowledge or experience is needed to apply, but candidates are required to have a High School diploma or GED. This session is the second offered by DealerPolicy and Vermont HITEC this year, with continued growth anticipated in 2018.
DoD Cyber Security Compliance Workshops Offered for Vermont Businesses
The Vermont Procurement Technical Assistance Center (VT PTAC) will be hosting free "DoD Cyber Security Compliance. Are you Ready?" workshops in November 2017.
All companies doing business with the Department of Defense must be compliant by December 31, 2017. Vermont companies attending this workshop will understand the areas with specific security requirements that must be implemented before year-end. Compliance tools and resources will be available. The sessions will be held November 15, 11 a.m. at the Opera House Rutland, November 16, 1 p.m. at the Green Mountain Tech and Career Center in Hyde Park, and November 29, 10 a.m. at the River Valley Tech Center in Springfield.
For more information and to register for the event, please https://vtptac.ecenterdirect.com/events or contact Leonarda Stewart by email
Leonarda.Stewart@vermont.gov
or phone (802) 828-5237. Space is limited.
vtTA Career Center
Vermont Technology Alliance member companies are hiring, and when you visit the
Career Center
on the
Vermont Technology Alliance website
you can browse and search for these job openings
. The Career Center features about 150 tech and non-tech jobs with Vermont Technology Alliance member businesses.

Jobs are listed in the Career Center at no charge as a vtTA business member benefit.