Preservation Action Alert!


Oppose DEMOLITION of California Theatre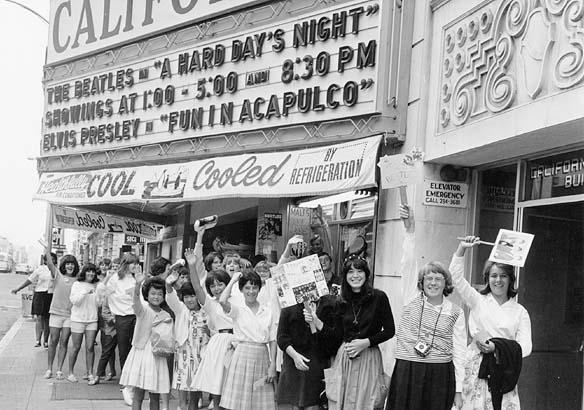 Please help SOHO stand up and speak out on January 26 against the complete demolition of the 1927 California Theatre, in downtown San Diego. Just how much is a historic resource worth? We would say priceless, because it is irreplaceable. Now Sloan Capital Partners, a venture capital firm is proposing to destroy the California Theatre, including the popular Agua Caliente Racetrack mural, to maximize and inflate its multimillion dollar profit. How? By disobeying and disrespecting the California Environmental Quality Act (CEQA).
According to CEQA, if a historic resource that is part of a proposed development project can be preserved onsite and still produce a profit, CEQA requires this alternative to be chosen. However, Los Angeles-based Sloan Capital Partners has fallaciously claimed economic hardship because their $24 million profit would be a "mere" $17.9 million if the project retains the theater for a proposed office tower (Alternative 2), and "shrink" to $14.4 million if they retain the C Street façade, where the 1960's Caliente mural appears (Alternative 3).
Furthermore, the Economic Alternative Analysis prepared by the London Group for Sloan Capital is seriously flawed. It does not evaluate additional profit potential through the use of historic and/or new market tax credits, reduced parking requirements (allowed by the Downtown Community Plan for keeping the theater), or any other historic preservation tool.
Then there's the EIR (Environmental Impact Report) ordered by the developer and prepared by AECOM
. As you may recall, this report on the Caliente mural was so deficient and poorly researched that the City's Historical Resources Board (HRB) sent it back to the consultant last year.
The HRB will discuss the proposed demolition at its meeting on January 26, which will begin at 9:30am. Board members will review the findings for a Site Development Permit, which would allow for demolition of the theater and several historic murals, and provide a recommendation to the Planning Commission. The staff report is very alarming because it supports demolition and acceptance of the mitigation measures, which include measured drawings and photographs, a task already completed by Heritage Architecture & Planning. We cannot allow the HRB to accept the staff recommendation and support the Planning Commission in violation of CEQA.
San Diego's historical resources and unique character are at great risk by the proposed demolition of the theater and Caliente mural, both of which have been cultural and social icons to generations in San Diego and the border region. Read more about this Spanish Revival building, hailed as the Cathedral of the Motion Picture, and mural, which appear on SOHO's 2016 Most Endangered List, HERE.
View gallery of historic and contemporary photos HERE.
Most importantly, plan to attend the HRB meeting at 9:30am on Thursday, January 26, in the North Terrace Rooms, City Councourse, 202 C Street.
Please act now by contacting the HRB and other officials to oppose this unlawful demolition of a grand San Diego landmark. We also need you to attend this crucial HRB meeting. Your emails and your presence at the meeting matter! At the meeting, you also can either speak or cede time to SOHO.
Finally, please share this message
on social media. Thank you for your help and for all that you do to support SOHO.