LR4G Stealth Acoustics Invisible Speakers
And Dolby ATMOS - Perfect For The "Z" Axis!

Every speaker manufacturer and integrator who provides surround sound theater solutions shouted a big Woo-Hoo the day that ATMOS came to market. More surround channels equals more speaker sales - sweet. Yet, with more speakers comes the potential for more bulky speaker boxes or unsightly grilles adding clutter to the aesthetic design of the room. This is exactly the wrong direction for dealers who want happy architects, interior designers and home owners who are just getting used to AV technologies becoming more hidden. Stealth has the answer with invisible speakers of the highest caliber available. Stealth's LR4G invisible speaker uses a patented combination of directly coupled mid/high tweeters and real cone woofer bass stage, leading to smooth and articulate response from 45Hz-18kHz all from a totally invisible speaker solution. Add in the near hemispherical coverage of Stealth speakers and you have a system that sounds spectacular from the front and rear "X" axis, side "Y" axis and the ceiling "Z" axis.
Take a look at this layout.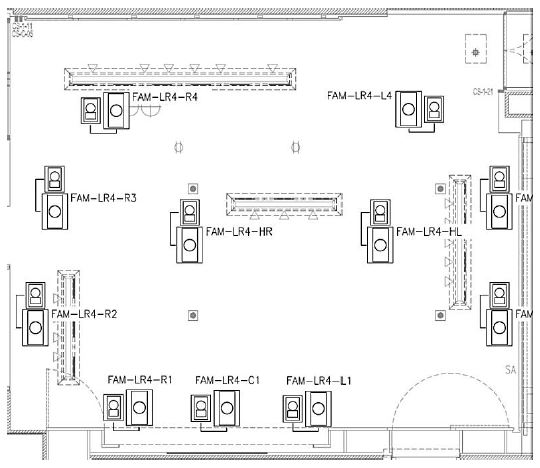 This is an ATMOS system designed with Stealth's LR4 speakers. The speaker location placements are flexible because there are no grills to visually align and Stealth's wide coverage angles spread the sound around smoothly and evenly from the speaker without the typical on- axis "beaming" found in traditional speakers.
Home theater surround sound fields benefit from the following three things, which Stealth Acoustics invisible speakers do very well:
A diffuse sound field with wide coverage angles.

This allows listeners who are off-axis of the surround speaker to receive the same full range of sound just like the on-axis listeners. All of which leads to more seats getting good surround sound. Stealth speakers offer wide and even responding coverage angles and minimize the "flashlight" effect of traditional speakers, which can be a real problem when you fire speakers down from the ceiling to listeners.

Directional information that is cogent throughout the coverage angles.

Stealth speakers sound the same virtually anywhere in their near hemispherical coverage making localization cues available evenly in the extremely wide pattern. This leads to bigger panoramas and better spatial cues for more seats. Traditional speakers change their sonic qualities quite a bit from different listening angles which can confuse spatial location details and response blend relative to listening angle.

The ability to be set to "large".

Yes, LFE should go to the subwoofers, but the more capable the surround speaker to carry lower program material the more options one has to properly tune the system - and the more realistic that helicopter sounds when it lands right on the listeners head. With typical surround speakers you need to expose a larger device into the mix to get bass extension. Stealth allows for extended bass without any visual impact because you can't see the speaker.
Stealth has a full family of invisible speakers to create great sounding ATMOS home theaters, all without impacting the visual environment. Nobody wants to see more ceiling clutter. Aesthetics and great performance is why Stealth speakers are just perfect for the "Z" axis.
Contact PAMrep
to discuss your next ATMOS theater design using Stealth Acoustics Invisible Speakers. Your customers and your bottom line will be glad you did!