Our Twitter Member feed has the latest news on Members. (Email Malcolm if we aren't listing your Twitter account.)

Act for Alexandria's new ACTion Alexandria website nearly doubled its fundraising goal for Carpenter's Shelter, reports The Washington Post.

Alternative House's Homeless Youth Initiative, which offers high-school age young people safe housing and services, was profiled in The Vienna Connection. The article also mentioned The Community Foundation for the National Capital Area and The Northern Virginia Community Foundation, both of which awarded the Initiative desperately needed funds so it could continue operating. Separately, Alternative House will be receiving a donation of Girl Scout cookies from a troop of Daisies, according to Patch.


American Red Cross, National Capital Region hosts the only official Academy-sanctioned viewing party of the Oscars this Sunday.

The Arthritis Foundation announced that arthritis affects 3 million Hispanic people in the US, according to a press release.


The Audubon Naturalist Society, along with the Cornell Lab of Ornithology and Bird Studies Canada, are holding the annual Great Backyard Bird Count, reports The Sydney Morning Herald.

Brainfood's work with the White House was featured in The Washington Post.

The Capital Area Food Bank and DC Central Kitchen are
sponsors of this year's Rooting DC all-day gardening event, reports The Washington Examiner.

CASA de Maryland's Susana Flores spoke about the importance of education to young immigrants and the Maryland DREAM Act in Southern Maryland Online. CASA's work to support the DREAM Act was also mentioned in The Washington Post and Maryland Reporter. Finally, CASA is raising funds to mobilize more than 1,600 immigrant students and their families to Annapolis for "Immigrant Action Night" on Mar 7 (no link).


Casey Trees says a tree needs 1000 cubic feet of soil volume to develop fully, according to The Washington Post.


CentroNia's BB Otero is interviewed in Bisnow about the upcoming transition to her new role of Deputy Mayor for Health and Human Services. (She claims the Roundtable's Chuck Bean is "generous.")

The Children's Law Center's Judith Sandalow commented on the importance of the DC Grandparent Caregiver Program in The Washington Examiner.


CrisisLink's CareRing program, which utilizes volunteers to make calls to homebound seniors, was profiled in The Arlington Connection.

The DC Children and Youth Investment Trust Corporation was mentioned in an article about continuing the DC school voucher program in TBD.



REPORT! The DC Fiscal Policy Institute released a report finding that DC residents pay less in taxes than Maryland and Virginia residents, according to The Washington Examiner.

DC Vote activists visited Speaker John Boehner's house to protest Congress interfering in local affairs, according to a press release, The Washington Post and The Huffington Post. Separately, DC Vote issued a letter from The DC Voting Rights Coalition to all members of
Congress urging Congress members to allow local government to decide local laws, according to a press release.
Deloitte is offering its accounting services to DCPS pro bono to look for savings and find new sources of money, reports The Washington Post.
The District Alliance for Safe Housing (DASH)
was joined by Verizon to open the Verizon Wellness Center for DASH's Cornerstone program, according to a press release.
The DC Fair Budget Coalition recently co-sponsored a briefing on public safety and victim services; Safe Shores: The DC Children's Advocacy Center was one participant, according to The Washington Informer.
FACETS welcomed First Virginia Bank partnership as a corporate sponsor for their May 10 Benefit Breakfast, according to a press release (with a Dean Klein photo and quote).
Friends of Guest House's Kari Galloway was featured their "An Afternoon of Laundry and Love" anniversary celebration, in CentreView.
Georgetown University's Center for Public and Nonprofit Leadership's Pablo Eisenberg spoke about small donations in The Philadelphia Inquirer.
The Girl Scout Council of the Nation's Capital
has just begun its Girl Scout cookie booth sales, reports Patch.
The Greater Washington Board of Trade's Jim Dinegar expressed concern over a possible government shutdown on WUSA9.
Higher Achievement students will be performing their original poetry at the Kennedy Center, according to a press release.
IMPACT Silver Spring's Maryland School Assessment Test Night was featured in Patch.
The Latin American Youth Center's ongoing struggle to
build housing for at-risk youth at the J.F. Cook School was mentioned in The Washington City Paper.
Metro Teen AIDS, Sexual Minority Youth Assistance League, and the Whitman-Walker Clinic were mentioned as organizations worthy of increased donations, especially as government funding is cut, in The Washington Blade.
Miriam's Kitchen has partnered with the Makes-Me-Wanna-SHOUT! Coconut Cake Challenge, according to We Love DC.
The Nonprofit Finance Fund has been awarded a grant to explore a new approach to social finance, the "Social Impact Bond," according to a press release. Separately, the Fund's Kristin Giantris spoke about Social Impact Bonds in Fast Company.
Northern Virginia Community College's Dr. Kenneth Rasmussen was awarded a Virginia Outstanding Faculty Award, according to The GovMonitor.
Planned Parenthood of Metropolitan Washington's government funding will most likely be eliminated, according to The Atlanta Journal-Constitution.
A Reston Interfaith benefit event, the Capitol Steps, was featured in The Reston Connection. Separately, a Reston Interfaith board member commented on the Reston Community Center's future, also in The Reston Connection.
The Salvation Army National Capital Area

was given a major donation by Giant Food "to make amends" after the holiday season, reports WTOP.
The Tahirih Justice Center's stance against mail-order brides was mentioned in My Fox Phoenix.
Tate & Tryon is moving to a LEED Platinum certified office building on L St., according to their newsletter.
United Community Ministries' "Stuff the Bus" food drive was featured in Patch.
United Way of the National Capital Area
is funding free tax preparation services for low-income residents, according to a press release.
A Venture Philanthropy Partners report from 2004, "High-Engagement Philanthropy," was mentioned in Just Means.
A Washington Legal Clinic for the Homeless blog post about a homeless mother who was told by a DC social worker that she either had to leave town or put her kids in foster care was featured in The Washington City Paper and on NBC Washington.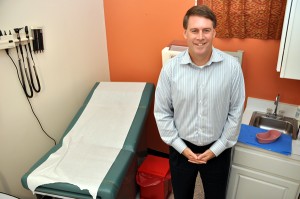 The Whitman-Walker Clinic's financial turnaround is due to restructuring, reports The Washington Blade. Metro Weekly also reported on the organization's success.