Stirling University Accommodation
Stay next to the historic Stirling Bridge!
If you are in group and looking for well priced group accommodation during Pipefest Stirling and Bannockburn Live, Stirling University have 26 flats at John Forty's Court, just next to the historic Stirling Bridge available.
John Forty's Court (pictured with the Wallace Monument in the background)
is a popular development offering 7 single bedrooms in each flat with a spacious open plan kitchen, dining and sitting area.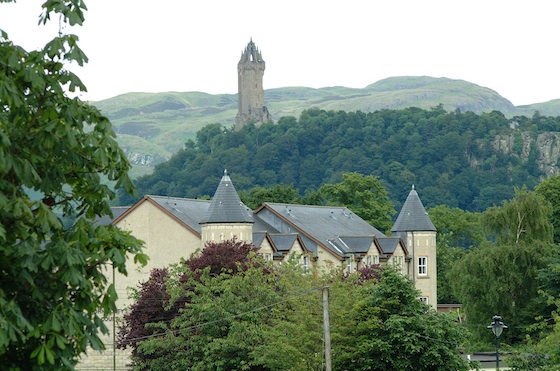 Standard bedrooms have their own wash hand basin, with shared shower and WC facilities (2 in each apartment). All kitchens were refurbished during summer 2012 and are equipped with cookers, fridges, freezers, microwaves and kettles.
The cost for this based on a four night stay from Thursday 26th June to Monday 1st July would be ?600 per flat . Each flat contains 7 single rooms - the cost over four nights works out at ?21.48 per person per night.
Booking: if you are interested at staying at John Forty's Court please contact Stirling University using the Pipefest REF provided.
+44 (0)1786 467140 or conferences@stir.ac.uk
PIPEFEST BOOKING REF: MC Pipe Fest14