Opening Reception
"Taking it to the Street!"
Worcester Windows Community Gallery
Spring 2012 exhibition
Thursday, April 12, 2012
5-7 p.m.
The Hanover Theatre,
2 Southbridge Street, Worcester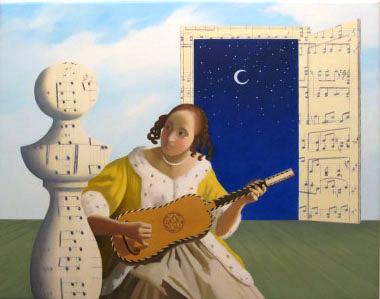 Terri Priest, Vermeer & Magritte, 2012.
Worcester Artist Terri Priest will open the evening with a brief talk, followed by a walking tour of the Worcester Windows Community Gallery footprint, encompassing Franklin, Front, Portland and Main Streets, concluding at the City Hall Gallery, 455 Main Street, where the Worcester Alliance of Photographers will be showcasing the works of 25 photographers in an exhibition titled
"The People of Worcester County."
Taking it to the Street, curated by Howard McGinn and Anne Seuthe,
features works by 39 artists
in painting, sculpture, drawing & photography.
Admission is FREE and open to the public.
WOO Card holders can swipe for Double WOO Points.
Worcester Windows is funded in part by the Worcester Cultural Coalition,
the City of Worcester, the Greater Worcester Community Foundation
and Worcester State University Gallery.