DFM Accepts
SNAP Benefits
The Durham Farmers' Market proudly accepts SNAP benefits. To use your EBT
card at the Market, please visit the Market info table
at the center of the Pavilion.
The Double Bucks Program allows SNAP customers to receive double the amount of money they spend on tokens for purchases up to $10.
The Market is working
closely with RAFI as our fiscal sponsor. Read more about
the program and our partnership
HERE
.
Thank you to everyone who donated to the Double Bucks program! We couldn't do it without you!
Farmer Foodshare Donation Station
The Donation Station
Program collects donations
of fresh food and cash from customers at the Durham Farmers' Market. The
money is used directly
at the Market to purchase food from farmers for
those who are hungry
in our community.
Farmer Foodshare's mission
is to connect our local
farmers with those
who need food! Please visit
or volunteer at our Durham Farmers' Market
Donation Station!
And don't forget to participate in the Donor Rewards Program. Give a suggested donation of $3-$5 and
receive a stamp on your card. Once you've collected enough stamps, you will proudly earn your Farmer Foodshare
T-shirt! Swing by the Donation Station for
more information!
SUPPORT YOUR FARMERS!
NOW AVAILABLE
AT THE MARKET
STRAWBERRIES
BLACK RASPBERRIES
SQUASH & ZUCCHINI
FLOWERS
CUCUMBERS
CAULIFLOWER
GREENHOUSE TOMATOES
PASTURED MEATS
GLUTEN-FREE BREADS
& PASTRIES
MUSHROOMS
SQUASH &
SUGAR SNAP PEAS
EGGS
ARTISAN BREAD
SOAP
CARROTS
GINGER
CHEESE
LAMB & SHEEP PRODUCTS
FERMENTED FOODS
SPRING ONIONS
GARLIC SCAPES
KOHLRABI & BEETS
PLANT STARTS
HERBS
SUCCULENTS
HOMEMADE PASTA
HOMEMADE JAM
HAND-DYED CLOTHING
HAND-WOVEN BASKETS
10% Campaign

The 10% Campaign is a project of the Center For Environmental Farming Systems (CEFS). The campaign encourages you to spend 10% of your existing food dollars to support North Carolina food producers, businesses and communities. Why 10%? In North Carolina, we spend $35 billion on food every year. If we spend 10% of our food dollars on local product, we can infuse over $3.5 billion into the local economy. As avid supporters of the Durham Farmers' Market, you already know the many advantages to shopping locally. So, why join the campaign? It will re-affirm your commitment to shopping locally and it sends a strong message to policy makers about the importance of local foods! For more information
visit: www.nc10percent.com
It's a magical time of year at the farmers' market where spring favorites intersect the beginning of summer produce. It's as if the offerings exploded overnight and our farmers are very excited to share their hard work with you! Swing by the Market to pick up your favorite spring fruits and veggies before they're gone and tantalize your tastebuds with the new flavors of summer. Also, please join us on our Market Tour tomorrow from 9:30-10 am. We'll start on the lawn and walk through the Market together, learning about our history, farming, vendors, and much more. We hope to see you there!
Finally, we need YOUR help to reach our goal for the week of $500 raised for the Sprouts Kid's Club! As a reminder, the Sprouts Club
is a weekly club for children ages 4-12 years old that educates them about healthy eating, environmental stewardship, where their food comes from and much more. Every week, children participate in an activity and sample a fruit and vegetable in the two-bite club. After completing these two activities, each child earns $3 in Sprouts Club Bucks to spend
only
on fruits and vegetables at the Durham Farmers' Market.
Please visit our crowdfunding page
for more information and help us get the word out by e-mailing friends and family, sharing the link on social media, and posting on your neighborhood listservs.
We cannot host the Sprouts Club at the Market without your help and appreciate your support in advance! THANK YOU!
***************
Running of the Bulls 8K Race
Please see the below message from Bull City Running Co. regarding the Running of the Bulls 8K race that will be held around Durham Central Park this Saturday, June 3:
Dear Friends and Community Partners,
The 9th annual Running of the Bulls 8K is happening on Saturday, June 3! This is an 8-kilometer road race that starts at 7:15 am on Foster Street and Seminary near the Durham Farmers' Market and finishes with a lap of the warning track inside the historic Durham Athletic Park. A course map that details all roads that will be impacted can be found here.
There will be some road closures and delays along the race course that will occur between 7:15-8:20 am. We apologize in advance for any inconvenience that this may cause and hope that this will allow you to plan in advance if you need to reach Durham Central Park that morning. There is a 15 minute per mile time limit for participants and the anticipated time-of-use for impacted roadways is detailed below:
Start Area: Foster St. and Seminary St. (6:00-7:20 am)
Mile 1: Main St to Buchanan Blvd (7:15-7:30 am)
Mile 2: Buchanan Blvd to Watt St. & Trinity Ave (7:20-7:45 am)
Mile 3: Trinity Ave to Washington St & Morris St (7:25-8:00 am)
Mile 4: Morris St to Downtown & Ramseur St (7:30-8:15 am)
Mile 5: Downtown & Main St to Morris St. & Corporation St. (7:35-8:30 am)
Thank you, in advance, for your understanding and support. If there are any questions, please contact us.
***************

Saturday, June 10
Join Erin for a home pickling demo and learn everything you need to preserve your favorite fruits and veggies!
Saturday, June 17
Chat with the Master Gardeners from 8 am-noon.
Saturday, June 24
Saturday, July 15
Save the date for Tomato Day, one of our favorite celebrations of the year!
VEGETABLES:
Arugula, Asian Greens, Beets, Broccoli, Cauliflower, Cabbage, Carrots, Chard, Cherry Tomatoes, Collards, Cucumbers, Dried & Fresh Herbs and Spices, Fennel, Garlic, Green Beans, Greenhouse Tomatoes, Kale, Kohlrabi, Lettuce (many varieties), Mushrooms, Pea Shoots, Scallions,
Spring Onions & Garlic, Squash, Zucchini, and more!
FRUIT: Black Raspberries, Strawberries, Raspberries and Blueberries
MEATS AND EGGS:
Pork, Beef, Lamb, Mutton, Bison, Chicken, Duck, Goat/Chevon/Cabrito, Veal, Duck Eggs, Chicken Eggs
FLOWERS:
Snapdragons, Dahlias, Sunflowers, and more!
CHEESES:
Fresh and Aged Goat and Cow Milk Cheeses
PLANTS:
Vegetable, Flower and Herb Starts, Bedding Plants
SPECIALTY ITEMS:
Pasta, Flour, Cornmeal, Baked Goods including Pies, Breads, Cookies, Pastries, Empanadas, Gluten-Free Baked Goods, Teas, Beer, Wine, Meade, Jams, Jellies, Pickles, Preserves, Fermented Foods, Vermiculture, and more!
CRAFTS:
Pottery, Woodwork, Baskets, Photographs, Hand-Dyed Clothing, Handmade Clothing, Body Butters, Lotions, Yarn, Roving and much more!
Produce availability depends on weather conditions.
Grillin' time this weekend - it should be PERFECT weather to cook a 1" thick, dry-aged ANGUS Ribeye on the grill. We have other steaks such as: New York Strips, Sirloin, Filet Mignon, Flank, Skirt, Hanger, London Broil, Flat Iron, and Denver steaks (chuck filets). Make patties for the grill from BEEF, LAMB, or Goat (Chevon).
We also have Baby Back Loin Ribs for the grill, assortment of Roasts, and SAUSAGES (you must try our Lamb Brats!).
Other cuts include: Brisket, Shanks, Short Ribs, calves liver, organ meats, DOG Bones, Marrow Bones, Leg of Lamb/Goat, Lamb or Goat Stew, Riblets, Bags of Soup Bones.
We have wonderful PORK sausages... Italian, Chorizo, Brats, HOT Country, and County X sage... from our happy pastured Berkshire X pigs. Smoked ham slices are great on the grill along with slabs of St. Louis style slabs of pork ribs!
Our USDA certified organic veggies this week include:
Tender heads of Romaine lettuce, few STRAWBERRIES, baby SQUASH, lots of Broccoli, Diakon radishes, Swiss Chard, etc.
Try our farm fresh eggs also.. big yellow yolks from our happy hens.
We look forward to seeing you
this Saturday
at the GREAT Durham Farmers Market... a community destination. Mario and his helpers, Tonya, Mark, and Melanie will greet you at the Market
this Saturday
. Stop by for a sample of Beef BRATS Sausage (perfect for the grill), and Pork Sausage ... with Mark doing the cooking!
Pamela Strand Photography
Welcome to Pamela Strand Photography!
I have a wide selection of photographic greeting cards featuring Durham, OBX, Flowers, Fantasy, Animals and Whimsy. Many of
these photos can be previewed on my website. I also have enlargements in several sizes up to 20x30." If you need a larger size printed to canvas, or want an image converted to black and white, that can be arranged.
We have fresh (unaged) cheese and aged cheese this week. Dairyland
Farmers which moist, unaged, and a little tart. We make it one day, salt it the second day, and it's ready to eat. Pick up our recipe for Market Salad which uses the carrots and red cabbage that are available now or add it to tacos with our Chorizo. Our Hickory Grove is aged about 7 weeks and is semi firm. It is our own recipe with a rich flavor for snacking or melting. Like most aged cheeses, you can taste more nuance and flavor when it is at room temperature. Use in a pickle and mustard sandwich, a grilled cheese sandwich, or an omelette. Carolina Moon is similar to a Brie and is made in the traditional style so that it softens over time. This ripening process enhances richer, mushroomy flavors. Our Pheta is another versatile cheese for salads, pizza or any dish with tomatoes, cooked or raw. It is a little sharp with undertones of our rich Jersey milk. Add it mixed greens, tabouili, or pasta salads.
We have bacon! Need I say more? It is smoked with no nitrates so pick some up while it lasts. We have many varieties of sausage back in to choose from
plus spare ribs, so it's time to pull out those grills! We have Bratwurst, Mild Italian, Chorizo, Smoked Andouille, Smoked Polish, Maple Sage Breakfast links, and Mild Country Breakfast plus ground pork. Our sausages are especially good since they come from our whey fed pigs and we use the hams, which give a great meaty flavor. We chose the spices that we think you will like. There is a little of our popular ground beef left for sale.
Come buy some fabulous produce, pick up one of our recipes plus some cheese and meat, and enjoy the weekend.
Portia McKnight & Flo Hawley
Lots of beautiful flowers coming y
our way! Geraniums and hanging b
askets on sale! Squash pickles
are finally here!!! Come check out our
jams and hot pepper jelly!
"Liquid coconut oil" also!
For orders call
919-837-2937.
Thank you for buying local!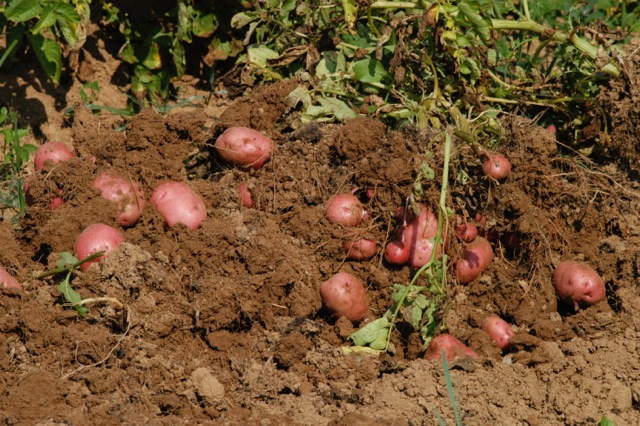 NEW THIS WEEK!

We are now digging more fresh potatoes and harvesting our spring cabbage. We will also have our beautiful orange lily stems.
STRAWBERRIES
The berries are about done for the season, so get our PESTICIDE-FREE strawberries while they are still available (very limited supply).
PRODUCE and EGGS
We will have beets, cabbage, sweet onions, potatoes, celery, green garlic and eggs.
GARDEN PLANTS and MORE
Last call for our starter plants (while supplies last). We will have tomatoes, peppers, herbs and blackberry plants for your garden.
FROM OUR KITCHEN
Jams and Jellies! We have our award-winning strawberry jam. Also available are apple jelly and peach mango and sweet onion jam.
All of Hurtgen Meadows produce, plants, fruits and flowers are naturally grown using sustainable practices - no synthetic pesticides, herbicides, or fertilizers are ever used on our farm. We'll see you at the Market!
Honeygirl Meadery is a small urban meadery in downtown Durham making an ancient craft beverage for modern days. Mead is essentially wine made from honey, with many different styles that include additions of fruits, flowers and herbs. Our meads are hand-crafted libations made in small batches, using both local and global true source honey, local fruits, herbs and flowers. They are naturally gluten free. Our downtown Durham Tasting Room is open on Saturdays from 1-6 pm and Sundays 1-5 pm.
This week we will be sampling our Strawberry Mead, made with local strawberries from McAdams Farm fermented with NC wildflower honey. This mead is like the strawberry season captured in a bottle, fresh and fragrant, light-bodied and dry, with a soft, lingering strawberry finish. Try it with champagne for a brunch mimosa.
We will also be sampling our
Orange Blossom Mead,
summery and lightly sweet traditional mead made with orange blossom honey; and
Spiced Apple Cyser
, our apple pie mead, made from NC cider and NC wildflower honey. We love it chilled in the summer and warmed in the winter - it's refreshing with crisp apple notes when chilled, perfect for a summer barbeque.
We will also have bottles available of our Wildwood Mead, an oak-aged traditional off-dry mead made from NC wildflower honey with notes of buckwheat, caramel and molasses; and Vanilla Mead, a vanilla-infused version of Orange Blossom mead that plays with the creamy-citrus combination of a creamsicle.
Diane Currier
919-399-3056
We all know that Durham is a fabulous place, a livable artsy town with great food, and a vibrant culture. (The Durham Farmers' Market is at the epicenter of all that, of course.) So as a nod to all that wonderful Durham-ness, we have come up with a T-shirt that celebrates the Durham spirit. We've used batik to create a starry night, and silkscreened a Durham design underneath. Trendy enough to wear to a Food Truck Rodeo in Central Park, hip enough to wear to a night out at DPAC or to a Bulls game. We've also got Durham-themed kids clothes. Because you're never too young to be cool.
Hand-dyed clothing from Terra Clotha. Allowing your wardrobe to reflect Durham's spirit.
Like our Facebook page
and while you're there, find a 10% off coupon to use with your next Terra Clotha purchase.
FOUR LEAF FARM will bring an amazing and colorful selection of produce to market this Saturday including cauliflower, cucumbers, carrots, beets, summer squash, kale, chard, pea shoots, cabbage, leeks, onions, garlic and new potatoes. For the gardeners we will have a limited selection of herbs and perennials. This has been a very busy week with preparations for the Farm to Fork Dinner on Saturday and the F2F Picnic on Sunday. If you have not gotten a ticket yet, there is still time to get one for the Picnic. I believe the Saturday dinner has been sold out. This event is a fundraiser for The Breeze Incubator Farm in Orange County that helps young farmers get started.
Please pre-order here
by Friday at 5:00 pm and we will hold your order at market until 11:30 am.
Fire up the grill! Smoked Sausage Special! 2 packages Polish and 2 packages Green Pepper & Onion = 16 links for $32!
We also have great tasting smoked boneless pork chops, ground beef, and hot dogs!
Let us know if you have any special requests for cuts we don't usually offer... we can get what you want within a few weeks!
Click here to see everything we have:
Free Range, Pasture-Raised ** CHICKEN ** Fed Certified Organic Feed

100% Grass Fed, Pasture Raised ** LAMB & YEARLING MUTTON **

Pasture & Woodland Raised, Free Range ** PORK **

100% Grass Fed, Pasture Raised ** BEEF **
Free Range, Pasture-Raised ** BRAISING DUCK **
Deli Meats: Salami, Bologna, Sliced Ham, & Hot Dogs
Free Range and Pastured Hen & Duck Eggs
Soup, Stew, & Stock ingredients
Never Sprayed Produce
Ground Pet Food
Pro-rated rolling
sign up
for our Warm Season CSA - Save 10%!
Receive
10% off purchases of $100 or more!
Visit our website!
Join us this Saturday at the DFM! We'll have:
Original and flavored chèvre (jalapeno, garlic + herbs, sour cherry and fig + honey)

Fleur verte (chèvre marinated in olive oil, bay leaves, pink peppercorns, garlic and herbs de Provençe)
Homemade crackers (sea salt, rosemary and fennel)
New!

Blackberry goat cheese mousse
Upcoming events:
Our next
farm dinner
will take place on
Saturday, June 10 at 6PM
. Get your tickets
here!
Volunteer opportunities:
Click here for more information!
Stay in touch!
Like us on
Facebook
and follow us on
Instagram
.
If you would like to receive our monthly newsletter, send a message to
sandra@elodiefarms.com
.
Visit our
website
for more information about our monthly farm dinners and other events.
Flat River Farm & Nursery
We will be at market with Greenhouse Tomatoes, Strawberries, Bedding Plants, Vegetable Plants, Hanging Baskets, Herbs, Potted Flowers, Ferns, and a few Greens.
We'll also have green Tomatoes to make your favorite fried Green Tomato recipe dish.
Sunset Ridge Buffalo Farm
Jack will be at the Durham Farmers' Market
on Saturday
with a great selection of delicious buffalo/bison meat.
Stop by and visit and plan for that family gathering and cookout!
Celebrity Dairy will be bringing our award winning chevre, delicious gelato to keep you cool all through Market, and many other products made with our goat's milk!
As for a breakfast item we will have Scotch Eggs.
Logs:
Plain, Asian Luv, Confetti, Currituck, Dillemon, French Kiss, Garbo, Paprika Garlic, Party, and Rosemary.
Serendipity Spreads:
Plain, Chipotle, Chocolate, Currituck, Dillemon, Garbo, Jalapeño, and Mango.
Aged:
Crottin, Blue Streak, and Silk Hope.
Gelato:
Chocolate, Nutmeg-Vanilla, Ginger, and Mango.
Fudge:
Dark Chocolate, Cherry-Pecan, Coconut, and Walnut.
Join us in the Inn/B&B for one of our 3 or 4 course Third Sunday Dinners this quarter:
Father's Day (June 18):

Beef Steak with Bourbon Sauce, etc.
Visit Zoila in our vendor spot for delicious samples and full Third Sunday Dinner menus.
Farmer's Daughter Pickles & Preserves
Farmer's Daughter will be at Market this Saturday! What's available?
Live-Culture, Barrel-Ferments - Raw, Probiotic-Rich, Made with local, organic produce
Daikon Radish Kimchi
Taqueria-Style Pickled Carrots
Award -Winning Ramp & Mustard Seed Kraut
Hot Sauce
Sweet Potato Habanero Hot Sauce
Peruvian Aji Limon Hot Sauce
Jams/ Preserves - Made with local fruit & organic sugar
Award Winning Strawberry Honeysuckle Preserves
Award Winning Strawberry Preserves
Ruby Red Grapefruit Marmalade
Orange Marmalade with Rye Whiskey
Muscadine Grape Marmalade
Sweet Pickles & Relish
Horseradish Bread & Butter Pickles
Thank you for shopping local & handmade,
Visit our website!
Find recipes & serving suggestions for Farmer's Daughter products on Pinterest.
We are a small, family-operated creamery in Cedar Grove making Italian-inspired Cow and Goat-milk cheeses. We hand craft all our artisan cheeses, packing each with love. We bring the whole family to the market so get ready to meet the kids and our cheese-makers!
Come taste all of our delicious cheeses including our Freshen (cow milk),
Pimento, Herb Garlic, and Chive flavored; our bloomy-rind cheese,
Cottonbell
(
cow milk)
; our lightly smoked, meltable fan favorite,
Campo
(cow milk)
; our decadent ash ripened and award winning,
Rocket's Robiola
(cow milk)
; our milder take on a beer washed Taleggio,
Lissome
(cow milk)
;
Nimble
,
beer washed
(cow & goat milk)
; and our aged, bees wax dipped, Winsome (cow
& goat milk)
.
For more about our cheeses, creamery, and us, please visit our
website
and join our newsletter mailing list. E-mail questions and special orders
or call 919-732-9079.
Austin

, Dani, Samantha, Alessandra, & Lily
Melina's Fresh Pasta will be at Market
this Saturday
with all of your favorite pastas and ravioli flavors. Ravioli - Spring Pea & Mint, Greek, 3 Cheese & Garlic, Spinach & Cheese, Fig Gorgonzola, Roasted Red Pepper & Feta, Mushroom, Pimento Cheese, Artichoke, Lemon Ricotta, Pierogi Cheddar & Onion, & our NEW Cheese Pizza Ravioli! We will also have cut pastas - spaghetti, spinach linguine, fettuccine; gnocchi, lasagna, pizza dough and our freshly made Tomato Basil Sauce.
We'll see you at the Market!
Parking & Street Information
The Market is located at 501 Foster Street in the Pavilion at Durham Central Park.
Parking can be found in the Ballpark Parking Lot on Corporation Street and in the Measurement Inc. lot, 423 Morris Street (look for the Durham Farmers' Market Parking sign). There is a path at the bottom of that parking lot that leads you to the Market. There are also public parking lots along Foster Street and on Morgan Street near the Carolina Theatre.
Handicap parking is available on Foster Street, right next to the south entrance of the pavilion.
Durham Farmers' Market Animal Policy
Please note that the Durham Farmers' Market does not allow dogs or other pets in the Market area during Market hours. Service animals are exempt from this rule.
Leashed pets are welcome elsewhere throughout Durham Central Park.