Andy:
I DO love you, man. Please chuckle, as I say this in reference to the funny movie titled the same...I don't even know you!
I do love your writing. Thanks
I am getting my things in order and am going to be converting more of my Schwab monies to bank vaulted real money, per Miles Franklin..I've been onboard this train since 2002 per Richard Russell, James Dines, Marc Faber, and Puplava...
I thought I would bring something to your attention, which you may not have seen:
"Ride The Divide" is a documentary about mtn biking the Continental Divide from Banff Canada to Mexico. Amazing stuff. Grown men cry.
Bears. Anybody who has ever done any endurance riding knows what these guys suffered through.
The silver rush seems to be on its way...I got up at 5:27...saw silver down 40 c. sigh. Last night my spidey sense thought, "those f-ers are going to report a horrible jobs number tomorrow.....why else would they be crashing silver like this? It's a set up." Even I was surprised at how bad the numbers were. Seriously messed up stuff. It must REALLY bad if the fiction they write can't begin to whitewash the truth. Then again....maybe Obama knows he will be re-elected so heck, lets make an even lower number now so it is easy to beat later........
check it out...
Doug
Doug,
I've heard about that crazy ride, which few people finish. Looking forward to watching the video.
As for last night, the attack was certainly "signaling" something, and now we know what.
At this point, I'd say the election is 50/50 - which is probably why Obama MUST have his QE fix next week. Last month, they fudged the numbers higher, and for all you know, they added some "secret negatives" - offsetting the countless "secret positives" - to ensure Bernanke's decision next week. Which they certainly DID!
Regarding your upcoming trades, we look forward to working with you. Please let us know if you have ANY questions.
Andy
____________________________________________________
Hi Andy,
I am a fan of what you write on SGT report. What a great web site. I have been following Max Keiser's, Mike Maloney's, and the Silver Doctor's sites for quite a while now. One of your articles the other day talked about getting out of debt and you commented on what Ann Barnhardt said. I have had several conversations with various people about the coming crash and often they say "good, when it happens I won't have to pay back my loans." As you know savers like us are being punished and borrowers get cheap rates.
Makes me wonder if the people that pay off mortgages, loans etc. are suckers and the people up to their neck in debt are going to be the winners.
Any opinion on this in an upcoming article would be appreciated.
Thanks for your time and your articles,
Bob
Bob,
I have more than an opinion, starting with Tuesday's RANT, "DEBT AND HYPERINFLATION," followed by commentary in today's RANT...
Before I get to today's markets, I want to discuss two disparate topics. The first, an email from a reader in response to Tuesday's RANT, "DEBT AND HYPERINFLATION." In it, I discussed the factors that could potentially help AND harm holders of mortgage debt during a hyperinflation. Most believe the only possible outcome is to have one's debt inflated away, but I opined otherwise - at least under certain circumstances. Sure enough, Reader "Tom" supplied some archaic historical data, sure to make people think twice about piling on debt, hoping for a "hyperinflationary reprieve"...
"One of your readers, Brian I believe, made the point yesterday that he suspects TPTB will find a way to prevent homeowners from being able to pay-off mortgages for a few ounces of silver in the event of a hyperinflation. The German government's response towards the end of the Weimar hyperinflation supports his conclusion. In 1924, the German government decreed the Third Taxation Ordinance whereby mortgages, among other things, were revalued at 15% of their original gold price. Since this didn't help the creditors whose mortgages had already been paid-off, the German government in 1925 passed a another law providing that extinct mortgages were to be reinstated at 25% of their original gold price. Like love, TPTB conquer all. For anyone interested in the subject, Adam Fergusson's book "When Money Dies, The Nightmare of Deficit Spending, Devaluation, and Hyperinflation in Weimar Germany" is a fascinating window into the Weimar era."
Hope this helps,
Andy
____________________________________________________
Andy,

Subject: Another day, another bank glitch: ANZ customers offline
More bank glitches for you!
http://www.smh.com.au/it-pro/business-it/another-day-
another-bank-glitch-anz-customers-offline-20120907-25j3n.html
Kerry
Kerry,
And MANY more to come.
Talk about a blaring SIREN of warning.
Andy
____________________________________________________
Hi Andy,
Are you advising that everyone should be liquidating all stocks, real estate, roth ira's etc??
Are you suggesting that we should be going all physical after liquidation? Considering that I paid taxes up front on my Roth, this is a difficult idea to contemplate. What are other alternatives for diversification other than physical metals?
I have invested in Central Fund of Canada as well as PHYS and PSLV. Do you consider these as safe or are you recommending only physical? I was confused about the discussion of real estate mortgages, I must have missed the earlier discussion.
All help is much appreciated. I cannot get my parents to contemplate any changes to their portfolios of stocks. I am seriously worried.
Thank you very much,
Debbie
Debbie,
This is EXACTLY what I am saying, and have done so vehemently for the past year, such as in RETIREMENT PLAN "CONFISCATION" and "OUT, OUT DAMN IRA"! In my view, there is ZERO benefit of holding a Roth IRA - compared to liquidating it, getting it OUT of the system, and converting its holdings to REAL MONEY.
As for CEF, PHYS, and PSLV, I have ZERO concerns about the funds' integrity, as they are run by good people. However, they still are PAPER assets, subject to countless risks not involved in PHYSICAL PMs.
I don't just recommend these things, but "walk the walk" as well.
Finally, you can only do so much to convince those you love. Nearly every reader on this blog has unsuccessfully tried to convince friends and family of how to PROTECT themselves. That's all you can do.
Andy
____________________________________________________
Dear Mr. Hoffman,

I have enjoyed and benefited from your commentary on Lemetropole cafe and at Miles Franklin.

The need for off shore/international storage in a non-bank storage location has been of increasing concern to me lately. The Miles Franklin website has a section discussing storage in Canada. At the same time, I recall seeing in some blogs a few months ago that storage in Switzerland and Hong Kong/Singapore via BFI and Via Mat will be available through your company this Sept.- is this still the case? And if not, will these locations be offered as options at all in the very near future?

If there is any printed material/brochure discussing your storage program in more detail than on the website, please e-mail or mail me this information. Thank you.
Stephen
Stephen,
Thanks for the kind words.
Regarding the Swiss/Hong Kong Storage program with BFI - via Via Mat - they are in fact available, starting a few months back.
The vehicle is BFI's subsidiary Global Gold, which can be read about at http://www.globalgold.ch/
If you have any questions, we are happy to answer them at your convenience.
Andy
____________________________________________________
Hi Andy,
Well - Are you the best of the PM soothsayers, or what!
By reading your blog since Jan this year I have become a convert to your philosophy and have been working a financial plan built around your sound advice. I had been in CDs that earned enough to preserve our wealth, but it goes without saying that now the "CD" plan has become worthless. I started purchasing PM (from MF, of course) in August as the CDs matured and now have 2/3 of our funds in PM bought at $1594 & $1616. The program was to continue to buy the insurance of PM with the balance of our CDs this month - September. These funds finally hit our checking account this week, just in time for the start of what appears, to the ultra-conservative me, as a market in a "frenzy". In my world, "frenzy", always means wait and let the dust settle before making a decision. Then today, I receive this advice from you, my trusted advisor:
"Remember, depleted PHYSICAL PM SUPPLIES will likely catalyze the END GAME of the GLOBAL FINANCIAL SYSTEM. Thus, when they run out - which could happen rapidly and dramatically, SOON - either you will have PROTECTED yourself, or be TRAPPED in collapsing fiat PAPER."
As I stated above, I planned to wait awhile before jumping in with my final buy, but your statement in today's blog is very straight forward, blunt and scary.
You also advise to purchase "vigilantly". What does "vigilantly" really mean in light of the urgency of action you
implore?
I am in need of your sage advice concerning this matter.
B
B,
Always a pleasure to hear someone "vigilantly" researching how to PROTECT themselves - and ACTING on their conclusions!
Frankly, one could easily have substituted "vigilantly" with "NOW", "ASAP", or "URGENTLY," if you get my drift.
Thanks for the kind words,
Andy
____________________________________________________
Andy,
Thanks for the reply, but there are other questions in there - Gold & Silver shot up $34.20 & $.98 on Friday, the very day I was to make my final purchase and, following your plan, be totally out of the bank. Due to this big increase, my cost would have gone up > $4,000 over the average gold & silver spot for the previous several days and this increase happened in only one (1) day. One (1) day - thus my view as a buying "frenzy".
So, my other questions are:
1. Do you believe this increase is permanent or an anomaly. I planned to wait a few days to find out the answer, but your statement that PM supplies could run out - SOON - is scary and gave me an entirely new time line to consider. If supplies do disappear rapidly, that will most assuredly cause prices to spike, making the additional $4K insignificant.
2. Are you insisting that time and product are so short that I should take the $4k hit and buy on Monday morning?
Bob
Bob,
There is no way of knowing when the "Big One" will hit, taking PMs to the stratosphere, never to return. It WILL happen, it's only a matter of time.
Care of the Cartel's attacks, we have been conditioned over the past 12 years to believe "they always win"; that is, they will always be able to simply short more PAPER PMs, and knock the PAPER prices back down. Sure that could happen, but given the rock solid technicals, fundamentals, and seasonals - let alone, what the PMs have taken during this past year of "suppression hell" already, it is difficult to believe they can do significant damage in the near-term.
Remember, securing SUPPLY should be your top priority, as it always has been mine. Whenever I've had funds - whether "DOLLAR-PRICED GOLD" has just surged or plummeted - I've bought more, and if I wasn't 100% invested already, I'd be buying more Monday morning. Or better put, trading my dying scrip for appreciating REAL MONEY.
Again, I believe the current equilibrium prices for gold and silver are $15,000-$20,000/oz and $1,000-$4,000/oz, respectively - numbers that go up with each dollar printed. Thus, do not worry about "price," but OUNCES! Supplies are not "short" this minute in time, but if gold runs past $1,800/oz (which it could conceivably do in a week) - and thus, within shouting distance of its ALL-TIME HIGH - let alone, as Euro Gold and Rupee Gold simultaneously surge through their ALL-TIME HIGHS (both within 1% as we speak), a massive PHYSICAL buying frenzy can potentially commence.
The key is to buy when supply is still there, as it can go very quick - as it did in late 2008, Spring 2011, and Fall 2011. I don't know what will happen next month, but I do know supply will one day - perhaps SOON - dry up.
Andy
____________________________________________________
Dear Andy,

Subject: What if you were not constrained to keep 5% in Schwab?
What changes would you make to your cash position / Schwab accounts if your wife began to genuinely fear for the safety of those funds and yielded that small % to your judgment, assuming you do not need more physical prepping (food, water, guns, ammo, generators, etc)? Would you devote yet more to PMs? Would you pull FRNs out of Schwab to hold outside the system for increased flexibility? How would you move toward becoming yet more unbanked and unbrokeraged? Prepaid debit cards? How would you pay bills, get cash, and deposit checks -- out of a smaller Schwab account? Your answer could benefit a number of your readership.
Thanks for your commitment to enlightening and protecting the teachable among us.
H
H,
Aside from my house, I hold 95% of my assets in PHYSICAL PMs, and 5% in cash in a Schwab cash (non-marginable) brokerage account - from which I simply transfer enough to a Schwab checking account to pay my bills.
As you say, the reason I hold that much at Schwab is because my wife feels more comfortable that way - lest, I would likely be holding 98% in PMs and just 2% at Schwab.
Andy
____________________________________________________
Andy,

Subject: Are Chinese Banks Hiding "The Mother of All Debt Bombs"? | The Diplomat
This is what we've been talking about.
http://thediplomat.com/2012/09/07/are-chinese-banks-hiding-
the-mother-of-all-debt-bombs/
Kerry
Kerry,
Thanks much, I hadn't seen this article.
Yes, payback is coming for China's centrally-planned strategy - then again, what economy is NOT centrally-planned these days?
At least they have the world's manufacturing base, and GOLD.
Thus, when FINANCIAL ARMAGEDDON finally passes, they will be the world's top superpower.
Andy
____________________________________________________
Hello andy,
I apologize for sending this. But, i recall you have some interest in "911 truth." these are some more recent videos, and are very good! This info apparently has the support of some 1500 scientists, engineers, and architects. There is a fair amount of "hype" here, as they are trying to raise money for pbs. So just delete if you have seen these. Lastly, your blogs and info have been even more spectacular than before! Thanks to your suggestions, i just sold all my precious metals "paper!"
Sincerely,
Roger (I'm also surprised PBS produced this "anti-government" info.)
New 9/11 truth documentary among 'most watched' on PBS this week
Posted Sep 3, 2012 by Victoria N. Alexander
"9/11: Explosive Evidence - Experts Speak Out" is getting public attention and casting doubt on the scientific validity of the U.S. government's investigation into the WTC tragedy. PBS is the first major network to air the program.
Just days away from the 11th anniversary of the World Trade Center tragedy and months away from the U.S. presidential election, a game-changing 9/11 documentary is ranking number three among "most watched" documentaries on PBS and number one among "most shared." Available for free online August 18th - September 4th, the documentary could have a significant effect on public opinion. [Update: PBS has extended viewing indefinitely.]
Roger,
Thanks for the compliments, they are much appreciated.
Actually, I attended the Denver premier of this film - hosted by Richard Gage personally - in June; actually, it was the night the Mets got their first-ever no-hitter.
It is another fine film, and I wrote about it in the following day's RANT.
I am happy to re-post it in my Mailbox.
Andy
____________________________________________________
Andy,
Great article...
By Chuck Baldwin
September 6, 2012
Matt
Matt,
Thanks, great article - from which I quoted Chuck in my "QUOTES OF THE DAY."
Andy
____________________________________________________
Dear David (and Andy),
Subject: Lesser of Two Evils
In the Friday, Sept. 7 newsletter you stated; "I will vote Republican - another in a long line of elections where I vote for "the lesser of two evils."

Similarly, Ranting Andy stated in his Mon, Aug. 27 newsletter; "I don't know who I'll vote for November 6th, but I ASSURE you it will be based solely on my search for the "lesser of two evils."

I assume that the two evils mentioned are the candidates of the major political parties.

The problem with this, is that you will still be voting for an evil. I'm not even sure when I stopped subscribing to this mindset myself, but I find that I sleep easier since I did stop(a similar effect to when I got completely out of the market and into PMs). I suppose that I can say with a little bit of pride that I have never voted for a successful Presidential candidate, and I have voted in every election since I turned 21(that was the age back then).

Get it out of your head that you only have two choices.

Ralph Nader once said: "If you don't vote for what you want, you're never going to get it." Like him/hate him(I have a few issues myself), he is right. And it is difficult to argue with Ralph's dedication, record of public service, intelligence and heart.

I have had it put to me that not voting for one of the parties sure to get into office is throwing away my vote. Not so. Voting for a heartless puppet is throwing away your vote.

Sometimes, alone in the voting booth with the pressure of a line behind you, it is quite difficult to figure out how to enter a 'write-in' vote. But, often that seems to be the only real option to voting for people that I would not trust to pick up my garbage. It is worth the extra time and effort. And, it gets easier with practice.

Last time around, I wrote in Ron Paul. I have yet to do my due diligence and research for this year's election, but I may do it again.

Rest assured, I will vote for somebody that I trust and has a big heart.

I could see myself casting a vote for David Schectman. He's smart and has heart. We could do worse.

Andy? Not yet. I think that he needs a more little seasoning. But, witnessing a RANT delivered from behind the podium in the Rose Garden would have a certain appeal.

Regards, thanks, and keep up the good fight,

Al
Al,
Your position is passionate, and well-thought out. However, I find it a bit utopian, and unrealistic.
The reason I have built my following - and thus far, navigated the minefield that is the RIGGED financial system - is because I am a 100% pragmatist. And having known David for just over a year, I can comfortably say the same for him.
Thus, the philosophical concept of whether my vote is "wasted" or not, is meaningless to me. What matters is how to PROTECT myself, as there is a 0.0% chance that ANYONE other than Obama or Romney will be President. That is why I must realistically choose between the two, and why choosing neither is as destructive as choosing between them. Not that the nation will be any better off with either, but the fact is, it is easy to imagine it being "worse off" with one rather than the other. David clearly believes Romney is the lesser of the two evils, but I have not yet decided. And the fact that I haven't yet made this choice tells you just how bad the choice is.
As for my voting life, only twice in the six elections I have participated in - this will be number seven - has a third party been a meaningful factor; Ross Perot, who garnered 19% of the vote in 1992 (I voted for him) and 8% in 1996. Before that, the only other material third party candidate in my lifetime was John Anderson in 1980, who received just 7% of the vote. Perot, who I voted for the first time - when he actually had a chance to win - was not a real factor the second time, which is why I passed him up in 1996. In our lifetimes, we will NEVER again see a serious third-party candidate, as inflation has made it too expensive to run. Even Ron Paul - who has publicly stated he is not really a Republican - would only run as one, as it was the ONLY way to raise funds.
As for my voting history, the candidate I voted for has won three of the six elections I participated in; although honestly, my record should be 2-4 - not 3-3 - because Gore had the 2000 election stolen from him (I voted for Bush). There is simply no way of knowing what a newcomer to the scene will do - such as Bush in 2000 and Obama in 2008, both of whom turned out to be monsters - but in my mind, it is difficult to vote for who I already believe to be a monster. That is why I voted against Dole in 1996 and McCain in 2008, and why it would be extremely difficult for me to vote for Romney in 2012.
Frankly, I cannot remember an election in my lifetime where I hated both candidates so much; which again, should tell you just how dire America's situation has become.
And finally, I take exception to the "seasoned" comment, as I already know as much as I'll ever need to know about what's wrong with this nation. I may be just 42 (actually, in two weeks), but 9% of presidents have taken office in their 40s, including Obama. BTW, the youngest were Teddy Roosevelt (42) and JFK (43). And no offense to David - who just celebrated the big 7-0 - but 0% have assumed office in their 70s. Which, BTW, makes the concept of a 77-year old Ron Paul running for President during the most stressful time in U.S. history - tied with the Depression and World War II - seem quite ludicrous, irrespective of advanced medical technology.
Andy
Andy,
Utopian? Nah. Not until the human race evolves a bit and that will take time. I do, however, still cling to some of my youthful idealism. It comes in handy when the choice between two candidates is choice between who is the better looking and the better lier. The choice that we are being presented with is unrealistic. Screw em.

Online Free Dictionary defines seasoned as: "To render competent through trial and experience". Time is necessarily a component of this, age is not.

My issue with Andy Hoffman's current qualifications for the Presidency has nothing to do with the man's heart or experience or knowledge. It has to do with the perceived makeup of his personality. Bear in mind, that it is easier to disqualify than to qualify, and that I only know you through your own writing, not through the writing of others who know you or of news reports. I am not comfortable making a decision as important as this depending solely on a one sided view.

Referring to yourself, you frequently use the the words 'angry' and 'hate'. I have no idea to what extent these negative emotions are a part of your life(that is my issue-a lack of knowledge). 'Seasoning' is what led me out of my personal problem with anger. It took about half a decade to get to where I was comfortably in control of this emotion once I realized it was controlling me, but it still affects me from time to time. I am not a real fast thinker, and when getting into a disagreement or argument, I will sometimes find myself getting hot. That is when decide play the game by my rules, and go for a walk. I'm pretty sure that this is not an option that one can always exercise when living in the White House.

I am not comparing you(or me!) to this by any means, but an extreme and frightening example is John McCain's temper, when he pushed down Jessie Helms at the age of 92. While I am sure that Mr. Helms is having a lovely time in whatever circle of Hell he was consigned to, that is just plain wrong. Not unless the 92 year old in question is coming at you with a knife. He almost became President.

And, as President, one has to consider the example one sets for the next generation. The kids in the schools(at least when I was there) are taught to look up to, respect and emulate the President. Something that the last several men in office seem to have forgotten. It is not all about solving the problems, one has to set an example.


regards and peace
Al
Al,
I'm sorry that you have self-described anger issues, but I do not. And if you think writing in votes for candidates not running is not utopian, that's great - but entirely impractical.
Irrespective, I am too busy PROTECTING people to spend my time being insulted by readers about topics I have no interest in. I wouldn't want to be President in a thousand years; but if I was, I assure you I'd be a better one than the last ten combined.
And I really hope you don't believe Paul Ryan - the same age as I - is "seasoned" enough for the job.
This is my last response to this topic.
Andy
____________________________________________________
Andy,
I am sick of people saying Ron Paul wants to return to a gold standard, he never said that ever. He says gold and silver is money and the constitution says gold and silver is money and we should be able to use it as such along side fed notes. He advocates competition in currency. SHEESH
Ed
Ed,
You are correct, his official view is one should be able to use whatever currency one wants. That said, he has often highlighted the success of the previous gold standard, and I'm sure would support one done the right way - NOT another government controlled, manipulated version.
Andy
____________________________________________________
Andy,

Subject: Students say they are forced to work on new iPhone 5 -- Shanghai Daily
http://www.shanghaidaily.com/article/?id=511136
Sounds like America.
Kerry
Kerry,
Working for Apple is far more useful than attending college for 99% of American teenagers - even as the janitor.
Andy
____________________________________________________
Andy,
As a customer of your firm and avid reader of the daily blog I was concerned about your form of Swiss storage after listening to the Jim Willie interview below. How is your form of Swiss storage different than the stolen or encumbered form of allocated Swiss storage Mr. Willie's source talks about?
http://www.tfmetalsreport.com/podcast/4153/holiday-treat-grilled-jackass
M
M,
I am not sure EXACTLY what Jim Willie is referring to - or if he even has anything specific in mind. Frankly, I don't think he does, but is simply highlighting the VERY REAL concept of supposedly "segregated" PMs being stolen, encumbered, or double-counted. I cannot definitively vouch for our Swiss program, as I have not viewed the facilities personally. However, I do know it is managed by BFI - whom Miles Franklin has partnered with and thinks the world of - and operated by Via Mat, one of the most respected storage companies in the world. Irrespective, there is ALWAYS an inkling of doubt when someone else is handling your property, particularly someone you don't know, located overseas.
This is why my only true, heartfelt recommendation in the storage space is our International Precious Metal Storage Program in Montreal. Not only is it geographically close to both our headquarters in Minneapolis and the U.S. border, but WE created the program, and are very close with all its principals - to the point of being friends with the administrators and security officers. I have visited the facility personally - as described in my RANT, "CANADIAN BULLION STORAGE - THE SOUND OF SMART" - and spent time with all parties involved. Moreover, Andy Schectman - Miles Franklin's President - and Joel Kravitz - the creator of the Brink's program - fly to Montreal each quarter to personally audit client holdings, pallet by pallet. When there, you can see the monster boxes with name tags of the individual clients, on segregated pallets within impenetrable vaults, managed by dedicated, loyal, and TOUGH people with BIG GUNS.
Again, storage is not for everyone. However, for those that it makes sense for, one must reduce the risk of account theft as best as one can. And for me personally, ONLY our Brink's facility in Montreal gives me that 100% sense of security.
Andy
____________________________________________________
Andy,
Looks like Bill has info that JP Morgan is going to take it in their SHORTS !!! I believe he had a meeting with Bart Chilton last week !!!! Don't know what came of it....but he knows something IS coming !!!!!!! Time to spread the word and kill the Beast !!

Le Metropole Members,

I have been told the interview I did with Lauren Lyster
on Capital Account for Russia Today has gone viral on the
internet. The feedback I just received from one of the
show's producers confirms what I have heard.

Please keep in mind that Russia Today has a subscribership
of 200 million people around the world.

This is the time to seize the day! It won't be long now
before JP Morgan's role in the manipulation of the price of silver is exposed. The price of silver is going to go
ballistic.

The GATA request is to please send this Capital Account
interview to investors everywhere and to the financial
market press...

http://www.youtube.com/watch?v=sxVsosT3GAw

...

Hi Bill,
The show has certainly taken off! It has more than double
the views of the other shows this week-- people really love
to hear about GATA and the work you're doing!!
I hope your trip went well, and I look forward to your
next visit to DC!
Best,
Justine


David
David,
Thanks, I'll be highlighting Bill's request in my next RANT.
But don't hold your breath re: the CFTC. I'd place the odds of the government destroying its own operation at close to ZERO.
Andy
____________________________________________________
Andy,
A Buyer of physical Silver wants only to protect his life savings. By putting his life savings into physical Silver he hopes to reduce his exposure to risk by getting his savings out of the Financial System which he perceives to be unstable and unsafe. The Buyer of physical Silver entered into a transaction as a Buyer with a Broker of Silver and made full payment to the Broker for the Broker to acquire physical Silver for delivery to the Buyer. The Buyer did not give the Broker permission to use the Silver as collateral for a loan to benefit the Broker. However, the Buyer fears this is what the Broker did, since the Broker refuses to deliver the silver to the Buyer and refuses to transfer title of ownership of the Silver from the Broker to the Buyer, as required by law to complete the purchase transaction. The purchase transaction is not complete until the title of ownership has been transferred to the Buyer, and the physical Silver delivered to the Buyer.
The Broker is obligated by law to transfer title of ownership to the Buyer, and deliver the physical Silver to the Buyer since these are the terms of purchase. The Broker appears to have taken advantage of the fact that as an intermediary in the process of the transaction, he temporarily had legal title, and while he held title he used the Silver as collateral for a loan for his own benefit. The Buyer is not even aware that his Silver is at risk of being seized by the Creditor of the loan taken out by the Broker for the financial benefit of the Broker, who is only a temporary intermediary in the purchase transaction. If the Broker fails to repay said loan, then the Creditor of this loan can legally seize the Silver. The Buyer looses his Silver which represents his entire life savings, and he did not even know his silver was at risk. Once again the only reason the Buyer purchased the Silver is to reduce his exposure to risk and protect his wealth by getting his wealth outside of the Financial System which he feels is extremely risky and unsafe. The Broker refuses to complete the sales transaction. The Broker refuses to deliver the Silver and transfer title. The Broker is legally obligated to transfer title and deliver the Silver to complete the terms of the purchase agreement.
E
E,
This is a perfect description of the PAPER fraud that has destroyed PM markets for a decade, but will soon IMPLODE on itself.
Andy
____________________________________________________
A,
How do I gain custody of my Silver? The Custodian refuses to release it to me since the title is not in my name. Title is in the name of my Broker and he refuses to release the Silver I paid for into my custody. The Custodian also said the Broker requested 30kg of this be released into custody of Broker. Broker told me he intends to sell the 30kg to another Buyer. My Silver!
How to I stop this madness? I am in Manila, Philippines. My Attorney has no clue of the crimes being committed here. I need an Attorney in Manila that knows how to get me my Life Savings in Silver back from these criminals.
E
E,
I am sorry, but I don't know how to help you in the Phillipines.
Best of luck.
Andy
____________________________________________________
Hi Andy,
I regularly read them at the MF-blog.
I'm just back from a 7wk holiday in Spain, and that country is just FUBAR. Unbelievable.
T
T,
I can't even imagine what Spain will look like a year from now.
Very sad.
Andy
____________________________________________________
Hi Andy,

Subject: Theory On Fed Printing this week?
Over time I have abandoned all other newsletters in favor of just reading Ranting Andy and David Schectman. You guys are the best! Tell me what you think of the following theory? The Fed is supposed to announce on September 13th. whether or not they will print. I believe that if gold and silver trade sideways between now and Sept. 13th, then the Fed will NOT print and then on Sept. 13 the Cartel with trash the price of gold and silver after their announcement. But, between now and Sept. 13th., if the price of gold and silver experience waterfall declines, I believe the Fed will announce they are printing. As you say Andy, they have to trash the price so the increases have to start from a lower baseline. Once again, thank you for all you do.
Jack
Jack,
Honestly, you are overanalyzing. Gold soared through the ECB announcement and NFP number, all as Obama accepted the nomination.
I assure you, they aren't as calculated as you think.
If the Fed doesn't announce OVERT QE3 on Thursday, markets will crash. Gold and silver prices are going to do fine, in the fourth quarter, regardless of what happens Thursday.
DO NOT try to "time the Cartel," as you will lose either way.
Acquire OUNCES, and sleep well.
Andy
____________________________________________________
Hi Andy,

Subject: Gold / Oil Ratio

Since your US Dollar price projections are around $10,000/ ounce gold and $1500-$4000/ ounce silver in TODAY's dollars, and since the long term gold/oil ratio averages between 15-20 barrels of oil for an ounce of gold, do you see $500-$700/barrel oil also occurring at the same time? Or do you see more of a disconnect during a hyperinflation? Thanks.

Dane
Dane,
Fantastic question, particularly as I was an oil analyst for ten years.
However, I can't really answer it, as there are too many variables. First, you have demand changes; second, the end of "peak cheap oil"; three, GLOBAL ECONOMIC COLLAPSE; four, the end of the Petrodollar; and five, the collapse of fiat currencies, and re-installation of gold as MONEY.
I would not "bet" on oil, but I can assure you the long-term trend is higher, per below.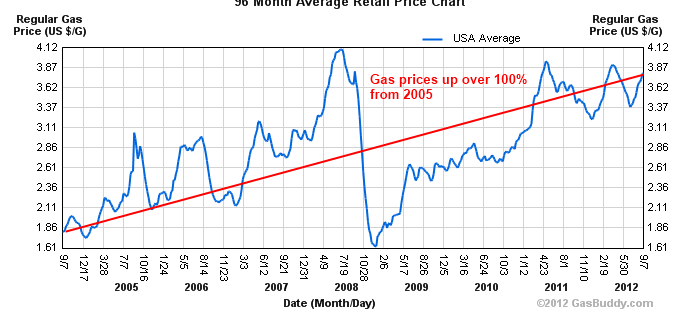 Andy
Hello Andy,
Subject: Confiscation???
I discovered this today on RT.
What are your thoughts? Is this an actual confiscation because of Roosevelt's decree????
http://rt.com/usa/news/gold-coins-pennsylvania-family-626/
Gary
Gary,
No, although it is very petty - and quite consistent how the government does anything.
Of course, the moral of the story is thus...DO NOT present coins to a government agency, of ANY type!
Andy