Our Twitter Member feed always has the latest news on members.
Did you miss our earlier Roundup? Read it online!
FANNIE MAE HELP THE HOMELESS WALK-A-THON
Many Members are engaged with the Fannie Mae Help the Homeless Walk-a-Thon on Nov 19 but, of course, there aremany mini-walks going on around our region between now and Nov 6 including:
KUDOS TO POWERFUL WOMEN
The Washingtonian Magazine (print only; p. 48) highlights several Members in their '100 Powerful Women' feature including: Rose Ann Cleveland (Cafritz), Carol Thompson Cole (VPP), Terri Lee Freeman (CFNCR), Nicky Goren (WAWF), Julie Rogers (Meyer), and Vicki Sant (Summit).
On Oct 19, the Women's Foundation convenes many of these and more powerhouses (and a few men) at their Leadership Luncheon. There are still sponsorship opportunities and individual tickets. Rep. Donna Edwards is their keynote - and she's on that Washingtonian List of 100.
NEWS ROUNDUP
The Audubon Naturalist Society's educational program on bees called "Bee Aware" was featured in the Huntington-Belle Haven Patch.
Bright Beginnings celebrates their Workforce Week from Oct 11-14, ending with a Job Fair for their homeless parents on the 14th. Add open positions for the job fair online.
The Capital Area Food Bank was mentioned in an article about local philanthropist Bill Conway, who has recently donated to the Food Bank and is pledging to give away 50% of his wealth before he dies, in The Washington Post.
Childhood Poverty Among Hispanics Sets A Record and Leads The Nation was the conclusion of a news stark study by Pew this week. "More Latino children are living in poverty-6.1 million in 2010-than children of any other racial or ethnic group." CASA de Maryland's Gustavo Torres talked about the increase in the number of people seeking help from his organization, in a related A1 story in the Washington Post.

Casey Trees released their 1-page Autumn Almanac with info on how to properly care for trees during the cooler months, according to their blog TreeSpeak. Separately, they plan to plant 380 trees at 28 sites in the District, according to The Washington Post.
La Clinica del Pueblo has been awarded a grant from the CDC to expand its HIV/AIDS prevention services for gay and transgender men of color, reports The Examiner.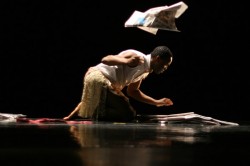 Dance Place presented the performance "iWitness," by VTDance, reports The Washington Blade.
The DC Fiscal Policy Institute's Elissa Silverman commented on the DC Council's "last-second
decision" about the bond tax, in The Washington Examiner. Separately, DCFPI's figures on the budget required to keep the MLK Library open on Sundays was cited in Greater Greater Washington.
DC Vote's Ilir Zherka participated in a panel on DC statehood held during the Congressional Black Caucus's Annual Legislative Conference, according to The Washington Informer and The Washington City Paper.
FACETS' Amanda Andere wrote an op-ed on the role
partnerships play in their work to provide food and shelter to the area homeless population in The Fairfax Times.
Goodwill of Greater Washington announced that their e-commerce division, which sells donated goods online, recently celebrated its biggest month ever, in their newsletter.
REPORT! GuideStar released the free report, "What You Need to Know about Nonprofit Executive Compensation," according to a press release. They also released the "first-ever" Directory of Nonprofit Contractors, according to a press release.
The Latino Economic Development Corporation is taking part in a pilot program created by The Aspen Institute and Citibank's Citi Foundation designed to help individuals build good credit through secured credit cards, according to Fast Company.
The Literacy Council of Northern Virginia's Patti
Donnelly said, "there are over 129,000 adults living in Northern Virginia who are functionally illiterate. LCNV is the only organization in Virginia that offers one-to-one tutoring for adults at the lowest literacy level," according to The Arlington Connection. Check out thieir video on their work.
The Living Classrooms Foundation was named 'Best Nonprofit' by The Baltimore City Paper. Separately, the their Maritime Magic benefit was featured in Baltimore Magazine.
Sasha Bruce Youthwork's mentoring program was featured in NBC's David Gregory, in an op-ed in USA Today. David Gregory and Steve Cherenfant, mentor and mentee, talk about their relationship in Washington Life.
The Sitar Arts Center-produced documentary "Life as a Collage" was featured on ABC7.
REPORT! The Tahirih Justice Center recently released the first-ever nationwide survey of forced marriages in the US, which found at least 3,000 cases of forced marriages over the past two years. Layli Miller-Muro says, "We've already learned enough from the survey to tell us we're just hitting the tip of the iceberg," according to a press release, Newsweek and NPR.
Voices for Virginia's Children's Margaret Nimmo-Crowe talked about new safeguards to prevent fraud and misuse in the Virginia Medicaid-funded children's mental health program, in The Richmond Times-Dispatch.
Volunteers of America Chesapeake's Courtney Shirley said the latest poverty data from the Census Bureau "wasn't shocking," since it mirrors what the organization has been seeing for the past year, in Leesburg Today. Separately, VOA Chesapeake has earned a spot on InformationWeek's 500 List of Top Technology Innovators, according to a press release.
Whitman-Walker Health joined with the Mautner Project to
create a new program focusing on LGBT seniors called PALS, according to a press release and the Washington Blade.
Separately, their Oct 29 AIDS Walk has a YouTube Campaign that includes videos from NBC's David Gregory, DC Mayor Gray - and maybe
you! (NBC4 and Radio One have joined as presenting partners, according to a press release.)


PARTNERSHIPS & HONORS
ACTS (Action in the Community Through Service) and SERVE/NVFS partnered with the local bus company and passengers donated items in small collection boxes on the buses, according to Manassas Patch.
Alternative House's partnership with a local church celebrating the 75th anniversary was featured in The Sun Gazette.
The Capital Area Food Bank recently welcomed the Washington Mystics, who volunteered to help bag lunches for kids in need, according to a video on the WNBA website.
Class Acts Arts'
partnership with The Maryland Chapter of Young Audiences/Arts for Learning to present the artist showcase and family festival at BlackRock Center for the Arts was mentioned in
The Gazette
.
Compass' pro bono work with the nonprofit Theatre Washington was mentioned in a profile of the group inThe Washington Post.
Doorways for Women and Families partnered with the Clarendon Day street festival; proceeds from the festival will benefit the nonprofit, according to Ballston-Virginia Square Patch.
Reston Interfaith's partnership with local dentists to create Reston Smile Partners was featured in The Connection.
The Fairfax Library Foundation presented the Fairfax Prize to novelist Amy Tan during the book festival Fall for the Book, according toBurke Patch.
Fight for Children founder Joe Robert was honored with a Seton Award for his work to improve opportunities for District children by investing in K-12 education, reports The National Catholic Reporter.
Stop Child Abuse Now of Northern Virginia (SCANVA) is partnering with the Art on the Avenue arts festival, which will feature a pie baking contest to benefit SCAN, reports Del Ray Patch.
United Way of the National Capital Area is partnering with Bank on DC and the Mayor's Office on Latino Affairs to provide free financial counseling to DC residents, according to a press release.
Washington Empowered Against Violence (WEAVE) has partnered with District Sample Sales, which is donating the proceeds from its semi-annual Georgetown charity event to WEAVE, according to The Georgetowner.