Dear Handball Fan

,
Happy August! We hope you had a fun and safe weekend! Here is your Midweek edition of Court Shorts. Enjoy!

One-Wall Big Ball Nationals: Rookie Slams
BROOKLYN, N.Y. - Congratulations to John "Rookie" Wright and Tee
Tee Simmons! Wright slammed the Men's Open events and Simmons took the Women's Open Singles.
Karen McConney and Adrian Floyd won the Women's Open Doubles.
CLICK HERE for results and more info
3-Wall Nationals: Draws Available by End of the Week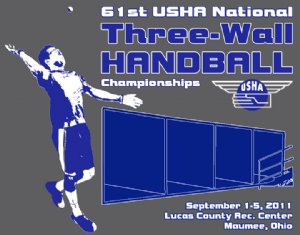 The USHA National Three-Wall Championships begin next week in Maumee.



The draws and start times are being finalized and will be available online by the end of the week!





Attention Pro Players:

A big thanks to Steve Dykes and the handball players of the USHA Mid-America Region who have committed to donating $2,000 to augment the prize money at this year's Three-Wall Nationals!
CLICK HERE to visit the official tournament site
UPDATE: The new 21 ball will be put into play for the first time in Maumee! A free ball is on the way to each and every participant so that you can hit the new ball around before tournament play begins.
Leave some room in your suitcase!!
The new 21 Ball will be available for sale
for the first time at the merchandise table in Maumee! Be one of the first people in the world to play the new ball!
Men's Open Singles Bracket Contest
September Sensation is a FREE and FUN bracket contest for the Men's Open Singles division at the USHA Three-Wall Nationals!

The men's open singles draw will be released by the end of the week. In Friday's edition of Court Shorts there will be a PDF file of the draw that you can print, fill out and fax/email to me or bring it with you to Maumee. I will also have copies of the draw in Ohio for people to fill out and give to me.

One entry per person. Must turn filled-out bracket into Matt Stamp by the first men's open singles match on Thursday, September 1st.



Grand Prize

:

New "Always Compete" Handball Shirt, 1 New 21 ball and a customized Handball Magazine cover with your picture.

2nd place: 1 New 21 Ball!

Got Questions? EMAIL ME or call, 520-795-0434. Let the fun begin!

*Men's Open Singles participants are not permitted to enter the contest.
WPH Royal Flush: Moreno Tops Little
The 34th Annual WPH Royal Flush Singles wrapped up on Sunday in Las Vegas.
Luis Moreno won his 2nd Open Singles title in the month of August, defeating Tommy Little, 12, 20. Moreno also won the Santa Fe Prairie Dog Classic the weekend prior to the Royal Flush.
Ref Corner: You Make the Call...
Last week's question:
The One-Wall Big Ball Nationals kick off in Brooklyn on Saturday! How many failed appeals are allowed in one big ball game?


Answer:
Three failed appeals are allowed in one big ball game.

Question of the Week:
What should you do if you want a contact hinder mid-swing?


Submit your answers to Matt Stamp!
CLICK HERE to post your own ref questions!
Blast from the Past

In this Court Shorts segment we will hit the handball archives to bring you a past handball feature or story. Enjoy!

Handball king true amateur - Milwaukee Journal, 1951