Southington Education Foundation, Inc.
Our Mission
The Southington Education Foundation, Inc. is committed to instilling a life-long love of learning in all children through innovative, creative learning experiences that expand upon existing educational opportunities. The Foundation will partner with the community to secure resources, inspire excellence and enrich student achievement.
Upcoming Events

Aug. 11
Exec Board Meeting
Sep. 1:
Early Bird Registration for Fan of the Foundation Gala ends

Sep. 8:
Exec & Directors Meetings

Sep. 25:

Fan of the Foundation Gala

Oct. 13:
Exec & Directors Meetings

Nov. 13:
Exec & Directors Meetings

Dec. 8:
Exec & Directors Meetings

Join SEF

We're always looking for members to help us achieve our mission of instilling a love of learning in our children. If you are interested in joining us, please contact Jan Galati.


Time is Running Out!
Don't Miss the "Early Bird" Savings
Do you like good food?
Do you like dancing?
Do you like to bid on some super auction items?
Do you like to save money?


Join us for SEF's 7th Annual Fan of the Foundation Gala

Date: Friday, September 25th, 2015
Time: 7:00 p.m. to midnight
Place: Aqua Turf Club, Plantsville
Register Early and Save!
Register from now until September 1st and take advantage of the reduced ticket price of
$65
per person or
$650
for a table of ten! After Sept. 1 the price increases to $75/$750.
CLICK HERE TO REGISTER
What to Expect
Guests are encouraged to dress in their favorite sports attire and enjoy a fun-filled evening with friends that will include a variety of food stations, open bar, dancing, and silent and live auctions.
The talented Max Reiss, political reporter for NBC Connecticut, will host the live auction. Among the live auction items will be a basketball autographed by Geno Auriemma, UConn Women's Basketball Coach. A variety of silent auction items from principal for the day to student art work to prime seating for the high school graduation ceremony, make this event unique. Additionally, a variety of experiential offerings will be auctioned including theatre tickets, Disney day-hopper passes, ski passes, get-away weekends, and so much more! Visit our Gala web page for an updated list of auction items.
Sponsorships are Available
Benefits include public recognition, preferred seating, premier event signage, program ads, and Website recognition.
Don't Wait - Register Now!
$65 per person.
$650 for a table of ten.
Remember, after Sept. 1 the price increases to $75/$750.
For More Information

2015 SEF Scholarship Recipients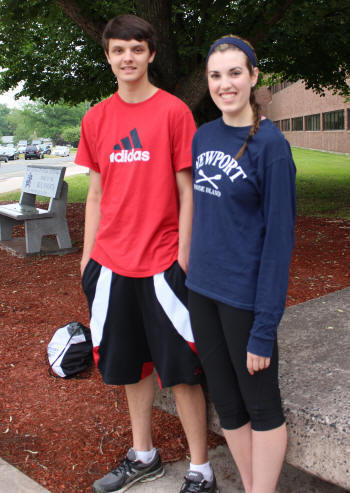 Erik Bergland and Madison Chapman have been named recipients of the Southington Education Foundation's two inaugural scholarships, providing $1,000 to each awardee.
Erik was awarded the SEF STEM (Science Technology Engineering Mathematics) Scholarship. Erik plans on studying applied mathematics at Rensselaer Polytechnic Institute in Troy, New York. In an essay Erik relates that his greatest wish is to have the opportunity to study applied mathematics and use it to unveil the greatest mysteries of science. Erik is the Class of 2015 Salutatorian and has been honored with many academic awards. As a junior Erik received the Rensselaer Medal awarded to the top mathematics student. He has also placed in essay contests displaying his skills in written expression. A well-rounded student, Erik has been involved in activities such as Urinetown, a recent Drama club presentation as well as community service; he also works as a math tutor.
Madison was selected for the SEF Joseph V. Erardi, Jr. Scholarship. This scholarship is awarded to a graduating senior who has shown his or herself to be civic-minded and who has demonstrated the desire to help school, community, and/or country. Madison has chosen to attend American University in Washington, D.C. with a double major in musical theater and either education or communication disorders. While at Southington High School, Madison attended the Greater Academy of the Arts and she has been honored not only for her theatre and vocal skills, but also for her academic achievement. Madison has committed many hours to a variety of volunteer and community service projects. Just to name a few, she has served as co-chair of the Winter Clothing Drive and been a continuing volunteer for the Salvation Army Benefit Performance. In her essay Madison shared the rewards of using her skills in vocals and choreography to connect with girls who struggle with communication skills.
Kelley Nolan-Maccione, SEF scholarship chair stated, "We had a large pool of candidates for these inaugural scholarships. However, we (the committee) felt Erik and Madison embody the spirit of the STEM and Joseph V. Erardi, Jr. scholarships, respectively." Erik is the son of Robert and Lori Bergland. Madison is the daughter of Christopher and Jill Chapman.
The SEF is a nonprofit organization founded in 2009 to support enriching and creative initiatives in education. The STEM scholarship is one part of a Five-Prong Commitment to Science, Technology, Engineering and Math. Past superintendent Joseph V. Erardi, Jr. was a catalyst for the formation of the foundation and during his tenure he encouraged many to be active in the Southington community.
Congratulations Eric and Madison!

Support SEF as you Shop Online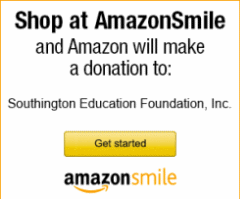 AmazonSmile is a website operated by Amazon that lets you enjoy the same wide selection of products, low prices, a nd convenient shopping features as on Amazon.com. The difference is that when you shop on AmazonSmile (
smile.amazon.com
), the AmazonSmile Foundation will donate 0.5% of the price of eligible purchases to the SEF! It's easy to sign up - just follow this link.