Southington Education Foundation, Inc.
Our Mission
The Southington Education Foundation, Inc. is committed to instilling a life-long love of learning in all children through innovative, creative learning experiences that expand upon existing educational opportunities. The Foundation will partner with the community to secure resources, inspire excellence and enrich student achievement.
Upcoming Events

Jul. 14
Exec Board Meeting
Aug. 11
Exec Board Meeting
Sep. 1:
Early Bird Registration for Fan of the Foundation Gala ends

Sep. 8:
Exec & Directors Meetings

Sep. 25:

Fan of the Foundation Gala

Oct. 13:
Exec & Directors Meetings

Nov. 13:
Exec & Directors Meetings

Dec. 8:
Exec & Directors Meetings

Join SEF

We're always looking for members to help us achieve our mission of instilling a love of learning in our children. If you are interested in joining us, please contact Jan Galati.


Register Early and Save $$$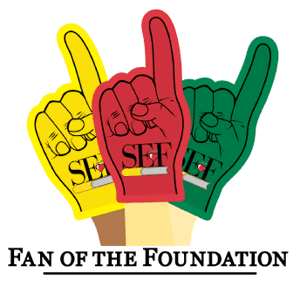 Join us for SEF's 7th Annual Fan of the Foundation Gala

Date: Friday, September 25th, 2015
Time: 7:00 p.m. to midnight
Place: Aqua Turf Club, Plantsville

Guests are encouraged to dress in their favorite sports attire and enjoy a fun-filled evening with friends that will include a variety of food stations, open bar, dancing, and silent and live auctions.
The talented Todd Piro of NBC News will once again host the live auction. Among the live auction items will be a basketball autographed by Geno Auriemma, UConn Women's Basketball Coach. A variety of silent auction items from principal for the day to student art work to prime seating for the high school graduation ceremony, make this event unique. Additionally, a variety of experiential offerings will be auctioned including theatre tickets, Disney day-hopper passes, ski passes, get-away weekends, and so much more! Visit our Gala web page for an updated list of auction items.
New this year: Early Bird Registration!
Register from now until September 1st and take advantage of the reduced ticket price of $65 per person or $650 for a table of ten! After Sept. 1 the price increases to $75/$750. CLICK HERE TO REGISTER
Sponsorships are also available. Benefits include public recognition, preferred seating, premier event signage, program ads, and Website recognition.
For more information, please contact: Jan Galati, SEF Chairperson (rg2331@cox.net; 860-628-0279) or the event's chairs Steve Proffitt (smproffitt@cox.net; 860-621-4212) and Michelle LeBrun-Griffin (griffin05@live.com; 860-628-8478)

Community Spelling Bee Spells
S-U-C-C-E-S-S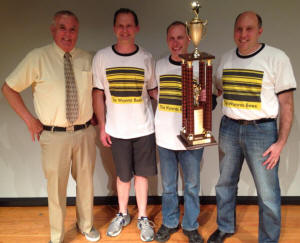 The WannaBees ("Brothers from Other Mothers" Dave Pestillo, Joe Peccerillo and John Zimmerman) took home the coveted trophy for the second year in a row at the Fifth Annual SEF Community Spelling Bee, Thursday, April 30 at Southington High School.
With 28 teams participating, SEF raised close to $9,000 to benefit education in Southington.
Bee Master for the evening was Mike Magnoli, FoxCT News. Judges were Superintendent of Schools Tim Connellan and Stephanie Lawlor, Language Arts Coordinator. The Referee was SEF Board Member Beth Pestillo. Emcee was SEF Board Member Bill Lutz.
Special thanks to our corporate sponsor, the Hospital of Central Connecticut, for their financial support of $1,000!
Visit our Spelling Bee web page for more information and to see photos from the event.

CHOMP!
Another Successful Showing of "JAWS"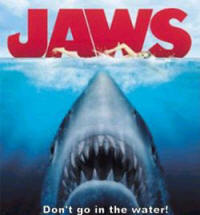 Thanks to all SEF members (and their families) and to the Key Club volunteers who came out to support the SEF's viewing of JAWS, June 13, at the Southington Drive-In.
It was a very busy night! The gates opened early due to the long line of cars that reached out to the street; the parking was filled to capacity, leaving only tickets for walk-ins.
The night featured free popcorn made by none other than our own Dawn Micili and Dave Zoni. The talented Eric Korp was on hand to once again entertain the children. This year Michelle LeBrun-Griffin had SEF Fan of the Foundation flyers on hand for distribution for the September 25th event.
As Paula Knight commented, "This was a fun night and such an easy way to make money for the SEF."
Click here for the 2015 Southington Drive-In movie schedule.

SEF Announces New Offices and Organizational Changes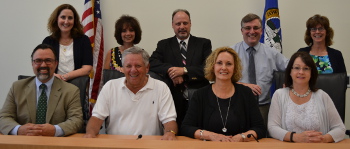 Introducing your 2015-16 SEF Executive Board. Seated: Richard Veilleux (Treasurer), David Monti (Vice-Chairperson), Jan Galati (Chairperson), Gail Duffy (Secretary). Standing: Kelley Nolan-Maccione, Michelle LeBrun-Griffin, Jerry Belanger, Steve Proffitt and Beth Hosmer.
The SEF Board evaluated the current and future needs of the Foundation in retreat sessions during this past winter. The Board determined core values, wrote action work plans, and developed a means to measure evidence-based results. The SEF mission statement was revised to better reflect the direction of the organization.
The revised Southington Education Foundation's
by-Laws
were accepted at the Annual Meeting in April. The revisions reflect a number of changes in structure. All members are now denoted as Board Members, replacing the previous 'Board at Large'. The role and expectations of Board Members have been clarified. The Executive Committee which includes four officers governs the Foundation; five standing committees focus on specific goals and objectives. For additional information consult the revised by-laws on the SEF website
here
.
Meeting schedules have now changed. Full Board Meetings are held monthly following the Executive Board meeting. Board members are encouraged to attend both meetings. A meeting schedule is available on the SEF website at
www.southingtoneducationfoundation.org/calendar.htm
.

3rd Grade Artist in Residence Program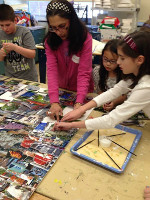 The Community Foundation of Greater New Britain and the Southington Education Foundation teamed up to provide a cultural art experience for every third-grader.
All 475 students from the eight elementary schools visited the New Britain Museum of American Art in the spring and also experienced in-school, hands-on art lessons by an artist in residence from the museum. Students created Connecticut landscapes, which ties into the third grade curriculum.
"The New Britain Museum of Art is just a gem in our back yard," said Jan Galati, chairman of the Southington Education Foundation. "Our mission is to expand learning experiences for students with things that are exciting, creative, and hands on."
Click here to more info and to view photos from the program.

Scholarship Recipients Announced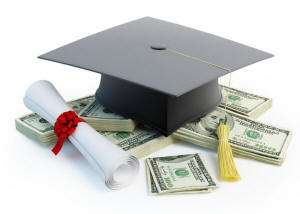 The Southington Education Foundation is proud to offer two scholarships to graduating Southington High School students. These scholarships were offered for the first time this year.
The SEF Dr. Joseph V. Erardi, Jr. Scholarship in the amount of $1,000 was awarded to Madison Chapman.
The SEF STEM Scholarship in the amount of $1,000 was awarded to Erik Bergland.
Congratulations to our first scholarship recipients!
Support SEF as you Shop Online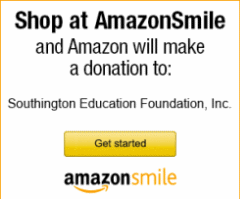 AmazonSmile is a website operated by Amazon that lets you enjoy the same wide selection of products, low prices, a nd convenient shopping features as on Amazon.com. The difference is that when you shop on AmazonSmile (
smile.amazon.com
), the AmazonSmile Foundation will donate 0.5% of the price of eligible purchases to the SEF! It's easy to sign up - just follow this link.