Southington Education Foundation, Inc.
Our Mission
The Southington Education Foundation, Inc. is committed to instilling a life-long love of learning in all children through innovative, creative learning experiences that expand upon existing educational opportunities. The Foundation will partner with the community to secure resources, inspire excellence and enrich student achievement.
Upcoming Events

Mar. 8:
Exec & Directors Meetings

Apr. 21:
6th Annual
Community Spelling Bee

Join SEF

We're always looking for members to help us achieve our mission of instilling a love of learning in our children. If you are interested in joining us, please contact Jan Galati.


Save the Date for the Bee!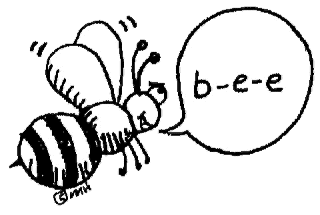 Help the Southington Education Foundation spell
E-X-C-E-L-L-E-N-C-E
for the community's school children.
The 6th Annual SEF Community Spelling Bee will convey bragging rights to the team that wins the coveted title of SEF Spelling Champion. Last year, the 'Wanna Bees', with Dave Pestillo, Joe Peccerillo, and John Zimmerman won that honor. It is now time to put them to the challenge. Who will win the trophy this year?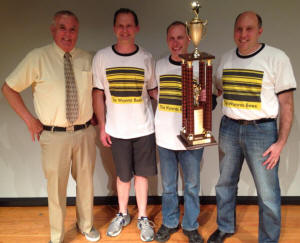 Join our our Bee Master, Steve Proffitt, on Thursday, April 21, at 7 p.m. as teams made up of local citizens, politicians, businesses, educators, police, fire, and other public officials compete.
The event will be held at the Southington High School Auditorium and the proceeds will help foster educational excellence for our town's public school children.

Each team will consist of three spellers. Costumes, themes, and mascots are encouraged! Participants will write their words on a white board. There will be no microphone for participants.

Participation is $100 per person or $300 per team. Entry fees are fully tax deductible.

Spectators: Admission is free, however, we ask that you bring a nonperishable food item as a donation to Southington Community Services.

Since its inception in 2009, the Southington Education Foundation has awarded over $170,000 in grants. Money raised from this Spelling Bee will continue to support grant opportunities and the mission of the SEF.

So organize your team today! Be part of the fun!

For more details and to register, visit our website at
southingtoneducationfoundation.org/spellingbee.htm

If you have any questions, or if you would like to help plan the event, contact our Spelling Bee Chairperson, Donna Gilewski at Gilewski2@aol.com.


Grants-R-Us
The SEF provides educational programs to educators in the Southington Public schools. The grants allow educators to improve the quality of public education above and beyond the conventional curriculum, identifying and addressing needs, challenges, and concerns unique to their students. The educational program should reflect the SEF mission statement as well as coordinate with existing curricula.
To date we have awarded more than $170,000 in grant funding, ... and we would love to award even more, and applications are accepted any time of the year.
All grant application information including Eligibility, Grant Funding, Primary Grant Criteria, Grant Timeline, Grant Process, Grant Policies, Grant Guidelines, Application Forms and Evaluation Forms can be found on our website at southingtoneducationfoundation.org/grants.htm.
Any questions or concerns on the grant process or application can be directed to committee chair, Beth Hosmer, at sef.inc.grants@gmail.com (please include "SEF Grant Question" in the subject line). Questions are encouraged!

Support SEF as you Shop Online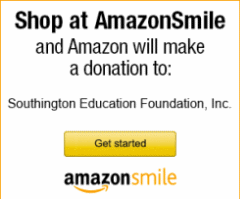 What is AmazonSmile?
AmazonSmile is a website operated by Amazon that lets customers enjoy the same wide selection of products, low prices, and convenient shopping features as on Amazon.com. The difference is that when customers shop on smile.amazon.com, the AmazonSmile Foundation will donate 0.5% of the price of eligible purchases to the charitable organizations selected by customers.

How do donations go to SEF?
When first visiting AmazonSmile, customers are prompted to select a charitable organization from almost one million eligible organizations. Simply enter "Southington Education Foundation" and you're good to go. But, we make it even easier - click the "Get Started" button above or follow this link:
http://smile.amazon.com/ch/94-3480746
Will products cost more? Will the donation be added to my purchase price?
No. Your shopping experience on AmazonSmile is exactly like it is on Amazon.com and the prices for products are exactly the same. When you make your purchase, AmazonSmile Foundation will donate 0.5% of the price to the Southington Education Foundation.