Lettuce Enjoying Some Sun
Corn
Fennel bulb
Last Basil of the Year!
Lettuce
Savoy Cabbage
Beets
Delicata Squash
Green Beans
Corn
Hot Peppers
Fennel
Yellow Onion
Basil
NEWS AND VIEWS
I

t's raining, it's pouring and the sheep at Shone are snoring
The rain has touched down and fall is in full effect here at
| | |
| --- | --- |
| | |
| | The Crew Harvesting Brassicas in the Drizzle |
Shone. The sheep and other livestock are cozily snacking under cover of the hay barn as the storms pass. Meanwhile, the cows are enjoying the fresh sprouts of green grass springing up as they graze the hillside. Harvesting is in full force and the transition to winter crops has begun.
Just as most good things, certain crops are coming to an end. Strawberries, corn and summer squash are some of the last of the season and our bush beans are being cut and field dried. But as rain and cooler weather brings these crops to an end, others have been waiting for the sun to stop shining quite so strong because this is the weather they
| | |
| --- | --- |
| | |
| Bush Beans Strategically Cut and Placed for Optimum Drying | |
thrive in! Lettuce and greens love the extra spritz of water the rain clouds provide. The garden crew is also busy readying the hoop houses to make way for this winter's crops.
With that said, it's soup season! If you ever have a hard time deciding what to do for dinner, don't forget soups. This fall season, you can be looking forward to some savory, tasty, hearty and healthy soups in our recipe corner.
Open 12 PM to 5 PM
Wednesdays, Thursdays, and Fridays
Weather Permitting
Tips & Tidbits
Delicata Squash
Delicata (Italian for delicate) squash live up to their name. Unlike most other winter squash where you practically need a machete to slice them, delicata are renowned for their soft, edible skin. This heirloom squash is experiencing a dramatic revival thanks to its rich flavor and soft skin.
Some refer to it as the "sweet potato squash" for its brown sugar flavor.
First introduced in 1894, the delicata has a shorter shelf life - and smaller yield - that made it less commercially viable than the hardier winter squash like butternut, and as a result, delicata was nearly lost during the Great Depression. But we're bringing it back with vigor.
Delicata squash is most commonly baked, but can also be microwaved, sautéd or steamed, it may be stuffed with meat or vegetable mixtures and is known for its ease of cooking and creamy flavor and texture. The seeds of the squash can also be eaten, usually after being toasted.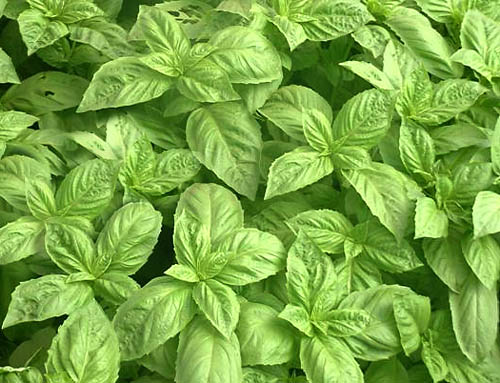 Basil loves the sun and as you can tell, after the first real rain this past weekend, we are getting less and less sun. So this week's basil, unfortunately is the last of it for 2016. However, we've got a great tip for making it last!
Basil is great in Italian dishes, and a
recipe having a widespread reputation, usually of a favorable nature; renowned; celebrated; is the one and only, Basil Pesto!
Your basil is beautiful, so to maintain its intense green color, blanch basil quickly in boiling water and then dry on towels before using it in your Nonna's best pesto recipe.
Pine nuts are used in classic recipes but can be pricey or hard to find at times. So we found a great alternative, especially with us being in the heart of pepo season (hint, hint). Did you guess it? Roasted squash/pumpkin seeds is right! They're just as tasty and can be used for many other recipes.
You can put your pesto into small bags and freeze it to make it last. The bags work well because they lay flat in the freezer to save space. It may seem grainy once frozen but once thawed will be smooth. You can portion it out in each bag too so you only take out what you need for pizzas, pastas, sandwiches and much more.
Hot Peppers!
With the amount of hot peppers in our fields, you'll receive a generous amount of peppers this week. The red and green ones are both serranos. Why the different colors? Just like bell peppers, hot peppers change color the longer they hang on the vine. Bell and hot peppers like jalapeno and serranos start out green, then they go to yellow, then orange, then red. The yellow hot peppers are Hungarian wax peppers, which are slightly less spicy than the serranos, but still pack quite a punch.
What to do with hot peppers?
All peppers will last a LONG time in your fridge (almost up to a month if kept in a brown or plastic bag), which gives you time to incorporate a pepper or two in soups or stir fries. Hot peppers are also great pickled and fermented in kimchi. They are also super easy to dry, as well as being a pretty decoration. Simply thread a string through their green stem "hat" and hang inside your house until dry. Once dry, store them in an airtight mason jar in a cool, dark place. To cook with dried peppers, later in the year, simply soak in boiling water until they plump back up. You can also grind them into a powder for recipes as well.
THE RECIPE
CORNER
DELICATA SQUASH WITH APPLES AND
1 Delicata Squash, cut in half lengthwise, and then cut into half moon shapes
1 medium Apple, peeled, seeded and cut into ½" dice
1 small Yellow Onion, diced
2 tbs Olive Oil
1 tsp Kosher or Sea Salt
½ tsp Freshly Ground Black Pepper
1/2 hot pepper, minced
½ tsp Cumin
Directions
Heat a large skillet over medium-high heat until hot, but not quite smoking. Add the olive oil and swirl to coat the bottom of the pan. Add the squash, apple, onion, pepper, and a splash of water. Reduce the heat slightly to medium and cover, stirring occasionally. Everything, including the squash, should soften very quickly, in under 10 minutes. Test the squash with a fork and remove the pan from heat once it is tender. In the last few minutes of cooking, add the salt, pepper, and cumin. Serve while warm.
Note: Leave the seeds IN the delicata squash. They are completely edible and will add a nice little crunchy texture to this salad.
Fresh seeds of a pepo (pumpkin/squash)
Table Salt
Any Seasonings You Want, Such As Cayenne, Curry Powder, Etc. (optional)
Spread the rinsed seeds out on a baking sheet.
Allow the seeds to dry several hours or overnight. And beware: they're quite sticky/slimy, so don't place them on paper towels! Just leave them on the baking sheet and they'll be fine.
When they're nice and dry, preheat the oven to 250 degrees.
Begin by drizzling the seeds with a couple teaspoons of fine olive oil.
Use your fingers to toss the seeds around to coat.
Then salt and season the seeds to taste.
Place them in the oven for about an hour or so. When done the seeds are light golden brown.
Let them cool for a few minutes before enjoying.
Pepitas need to be stored in an airtight container if they last beyond the first day.
Note: The seeds of ANY winter squash (delicata, pumpkin, butternut, acorn, etc.) can be used for this recipe.
http://fedandfit.com/2016/07/27/fennel-pesto-whole-chicken-zucchini-spaghetti/
1 cup packed fresh basil leaves
1 bulb fennel, trimmed
1/2 cup toasted pepitas (winter squash seeds)
2 small cloves fresh garlic (optional)
1/4 cup fresh lemon juice (about 2 lemons)
1/4 cup extra virgin olive oil
1/4 teaspoon fine sea salt
black pepper to taste
For the pesto, blend all the ingredients together in a food processor until smooth and creamy. Place half the pesto in a bowl for dressing the chicken.
Serve pesto at once or refrigerate for up to a week. Pesto also freezes well. Freeze in ice cube trays, and then store frozen pesto
cubes in plastic freezer bags in freezer for up to 6 months. Pesto may also be frozen in small jars or plastic containers for up to 9-12 months
GREEN CABBAGE FENNEL SALAD
Ingredients
2 Tbs. fresh lemon juice
1 Tbs. finely grated lemon zest
1/2 tsp. Dijon mustard
Kosher salt and freshly ground black pepper
1/4 cup extra-virgin olive oil
1/2 medium head cabbage, cored, halved lengthwise, and thinly sliced (about 6 cups)
1 apple, quartered, cored, and thinly sliced
1 medium fennel bulb, halved, cored, and thinly sliced (about 2 cups)
1/3 cup chopped pecans
Preparation
In a small bowl, whisk together the lemon juice and zest, mustard, 1/2 tsp. salt, and 1/4 tsp. pepper. Slowly add the olive oil, whisking to emulsify.
Put the cabbage, apple, and fennel in a large serving bowl. Just before serving, gently toss the salad with the dressing. Season to taste with additional salt and pepper, sprinkle the pecans on top, and serve.
SHAVED BEET AND FENNEL SALAD
Serves two as a side dish.
Ingredients
2 Beets
2 small or 1 large Fennel Bulb
1 Serrano Pepper
Coarse Salt
½ Lemon
Olive Oil
Parmesan Cheese
Preparation
Wash two beets and peel them with a vegetable peeler. Wash one fennel bulb. Using a mandolin, a very sharp knife, or a (thin!) slicing blade on a food processor, slice the beets and fennel bulb as thinly as you can. Put them in a medium bowl. Very finely chop a serrano chile and add it to the bowl. Sprinkle a generous amount of coarse salt over salad, squeeze half a lemon, and pour a glug of good olive oil. Add about ¼ cup thinly sliced basil leaves. Then gently mix with your hands. Using a vegetable peeler, shave some parmesan over the top. Enjoy!