Please enjoy this week's STEM Ed update

.



Coalition Update:
STEM Education and ESSA
BlogTalk Radio
This week, Julie Tesch from the American Farm Bureau Foundation and James Brown, the Executive Director of The STEM Education Coalition, interviewed with Larry Jacobs of Education Talk Radio on STEM career pathways in the agriculture sector and its implications for K-12 education.
Top Article:
Proposed ESSA Spending Rules Unveiled
EdWeek

After months of criticism from Republican lawmakers, state chiefs, and teachers' unions on its approach to spending rules for the Every Student Succeeds Act, the U.S. Department of Education Wednesday released a new proposal that appears to give districts and states some additional flexibility when it comes to ensuring federal funds for low-income students don't replace state and local dollars.
Read more here.
Stay in the Know:
Latest STEM Education Policy News Across the U.S.
U.S. State Department Tackles Gender Gap in STEM Participation
EdWeek
They have traveled from Tunisia and Algeria, from Lebanon and Palestine. One teenage girl wants to be an engineer, another to work in astrophysics. They are "TechGirls," participants in a summer program that brought them to the nation's capital this summer to nurture their passion for leadership and sharpen their technology skills. The U.S. Department of State-sponsored program is one of a growing number of efforts that are providing real-world, in-depth experiences to get girls more engaged in science, technology, engineering, and math, or STEM.
Read more here.
Computer Science Education Made Fun and Easy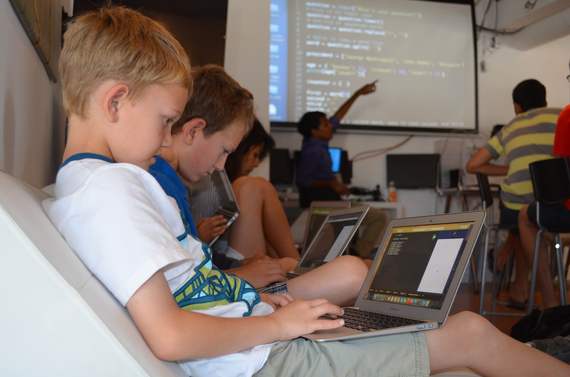 Knowing how to code is the wave of the future. Being able to code helps you to break down problems procedurally and think of new ideas in terms of processes. If you see something in the world that's inefficient, a knowledge of code allows you to come up with concrete solutions. Learning to code is empowering for kids because it gives them a platform to actively take on the challenges they want to solve.
2 in 5 High Schools Don't Offer Physics, Analysis Finds
EdWeek
Physics, as champions of the subject will remind you, is the cornerstone of many professions, including those in engineering, health care, aerospace, and architecture. And for students hoping to pursue those and other science, technology, engineering, and math fields during college, getting a jump on physics during high school is all but a requirement. Yet, across the country, 2 in 5 high schools don't offer physics, according to an Education Week Research Center analysis of data from the U.S. Department of Education's office for civil rights.
Around the Community:
ThinkZone Games Takes Top Prize in White House Edtech App Challenge

With a boost from the White House, a local developer is creating a game app that may help students flesh out their career choices. Last Wednesday, First Lady Michelle Obama
announced
ThinkZone Games, based in New York, won the grand prize in the Reach Higher Career App Challenge run by the White House and the U.S. Department of Education. The win gives ThinkZone some $100,000 in cash, plus access to additional software development and other services.
Read more here.

National Contest Challenges Transportation Students to Improve Roadway Safety
The American Traffic Safe
ty Services Association and the Transportation Research Board have partnered for the Traffic Control Device Challenge. Participants must be high school, college, graduate students and teams of students with an interest in transportation. The challenge will focus on how America's roadway system must change to accommodate human and "machine" drivers.
Read more here.
Health Professions Week

Is September 26-30, 2016
Health Professions Week (HPW) is a week-long event for high school students, college students, and advisors interested in learning more about careers in the health professions. HPW will include an online treasure hunt, on-campus events, and two virtual fairs. The entire event is free online for high school students, counselors, undergrads and advisors.
Read more here.
Join the Coalition!
We at the STEM Education Coalition hope you have enjoyed this week's edition of the STEM Ed Newsletter.
Any organization may join the Coalition, and there is no cost to become an Affiliate Member. Affiliate members are listed on our website, receive periodic communications on policy matters, and will be signed up for the weekly newsletter.
Your organization can also apply to join the Coalition's Policy Council, where they play an active role in setting the public policy agenda for the Coalition and are invited to participate in frequent interactions with policymakers.
If you would like to join the Coalition at any level, please read our message to prospective members or email us at info@stemedcoalition.org.
We appreciate your continued support and involvement.
Our Coalition's Co-Chairs
-------------------------------------------------------------
STEM Education Coalition
STEM Ed Newsletters
Archive:
Want to look up an old article?
All of the STEM Ed's previous newsletters are archived on our website for your convenience.
STEM Ed Coalition on Twitter