__________________



Mission of the PRA


The Mission of the Pensacola Runners Association is to promote, support and develop running and racing along the northern Gulf Coast. Our objective is to provide information, education, training, social and sporting events for competitive and non- competitive runners and walkers of all ages, races, genders and abilities.
__________________





Like Us on Facebook!





Follow Us on Twitter


From The Top
By Lewis Reddoch
The Fall running season is finally here. Temperatures are beginning to moderate and the PRA Race Calendar is packed with running, walking, and biking events. One click to
www.pensacolarunners.com
takes you there to see them all. Our very own Don McCloskey Seafood 5K Run/Walk is a "must do" so you will want to register today if you have not. It will be on September 28th. The high-quality tech T-shirt alone is worth the modest entry fee. This is a PRA signature race that promises to be a fun and competitive event with families welcome. Make a day of it by walking over to the Fiesta of Five Flags Seafood Festival after the post-race awards celebration.
The USMC 30th Semper Fi 5K Charity Run is September 21st onboard Pensacola Naval Air Station (PNAS). The proceeds are given back to local outreach programs, as the name implies. Join in and raise money for several very worthwhile causes.
The 18th annual Santa Rosa Island Triathlon is set for October 5th. The event is huge and has sold out. If you would like to find more details or to volunteer go to
www.santarosaislandtriathlon.com.
It's a lot of fun to be a spectator at this event on beautiful Pensacola Beach.
There are 24 events in September and October on our PRA Race Calendar as I write this article. It is also college and NFL football season, which can quickly turn into couch potato season. So if you're staring down a big plate of chicken wings by a TV the size of an end zone, hit the calendar, lace 'em up and hit the road!
Let's all give a big welcome to Sherry Readdy who has joined the PRA Board of Directors! Welcome aboard Sherry!!
Happy, safe running to all of you,
Lewis
Don McCloskey Seafood Festival 5K
Is September 28th
Every year the signature fall race in downtown Pensacola is the Don McCloskey Seafood Festival 5K. We expect well over 1000 runners for this classic event held in conjunction with the Seafood Festival. The course is fast and flat and includes the Community Maritime Park (the stadium) and Veteran's Park along the way. Race Director Randy Maygarden is offering high-quality tech shirts, amazing category awards and a great awards medallion along with a fantastic after-race celebration at Seville Quarter.
The race will begin at 7:30 AM on September 28th and we predict it will be an event to remember. For More Information Or To Register - Click Here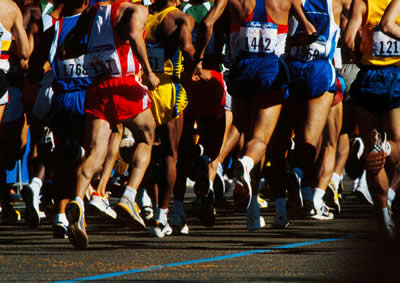 Head Coach Caleb Carmichael
UWF Cross Country Team
In early June, the University of West Florida (UWF) announced that UWF alumnus Caleb Carmichael had been named as the men's and women's cross country head coach. Carmichael was a three-time first-team All-Gulf South Conference (GSC) selection during his time as a UWF athlete.
Carmichael, a Tallahassee native, takes over for Dr. John Bergen, who coached both the men's and women's cross country teams for the last five years. As an assistant under Bergen, Carmichael helped lead the West Florida women's cross country team to back-to-back GSC titles, and the Argos reached the NCAA Championships for the first time in program history in 2011.
UWF CC Team At Gulf Coast Stampede
Carmichael competed for the Argonauts under former UWF head coach Matt Dobson from 2002 to 2005. In that time he had one of the most decorated careers in the annals of UWF cross country. He is one of only three Argonauts to earn four All-GSC honors, including three times on the first team. He also earned two selections to the NCAA Division II All-South Region team. Carmichael was recently honored as one of two men's cross country athletes from UWF to earn All-Decade honors by the Gulf South Conference. He holds the school record in the 10,000 meters (32:28) and was part of the school record distance medley team. Off the course, Carmichael was named to the 2004 GSC All-Academic Team.
Caleb continues to participate in some of the area races and ensures that the UWF teams give back to the community by volunteering at several events. Congratulations to UWF and to Coach Caleb Carmichael!
Volunteer Of The Year Award
To Be Announced At Seafood 5K
The Pensacola Runners Association (PRA) conducts nine races annually along with providing equipment, support, advice and manpower to other area events. This could not be accomplished without the amazing efforts of our awesome volunteers who assist our Race Directors.
This year the Board of Directors established a new award to honor a valued volunteer who has contributed so much to the success of the organization. There were many GREAT nominations and the Board has chosen an outstanding recipient. Be sure to stick around for the awards celebration at the Don McCloskey Seafood Festival 5K run to see who gets this inaugural award.
TriGulfCoast News
Making Time For ME!
By Mindi Straw
My usual sentiment of the day is "I feel like I am running around like a chicken with my head cut off!" And, generally by the end of the day, that is what I look like. Each and every day is a day filled with getting kids to school, working, errands, groceries, kids to and from sports, cooking dinner, laundry, possibly yardwork and house work ( I like to appear put together and not the neighborhood white trash).
Well most of you can relate to this. Now let's throw in exercise/training and participating in both road races and triathlons. AND, how about sprinkling in some volunteer commitments to the community and to TriGulf Coast as incoming President for 2014! LASTLY, did I mention I am a single mom for the past 17 years. The sentiment "I need more hours in the day" is the truth!
So when I hear friends, co-workers, acquainances, neighbors, and clients say " I don't have time for myself", "I don't have time for exercise" and "I don't have time to cook and eat healthy" I sense the need to disagree. EVERYONE should make time for themselves. I refer to this as "ME" time. This is time you should not feel guilty about. The importance of creating "ME" time to pursue a passion, relax, exercise, or prepare and eat a healthy meal will ultimately make you happier, healthier and feel better about yourself.
So where do you start? Here are a few tips that I have learned to live by:
First, admit you deserve 'ME" time. Don't feel guilty or selfish. You will be happier, kids will see a more energetic mommy, and the hubby/boyfriend will reap the benefits of happy spouse. It is a WIN-WIN situation for everyone.
Learn to say "no" and let things go. It is ok to say "no" to requests to do things that take away from your "ME" time. It's also ok for you to have laundry unfolded, household tasks incomplete and the house in disarray if it gives you more time for "ME." Probably the only person that cares about these things are you (trust me, the kids could care less about whether there laundry is folded or the house is organized).
Second, eliminate wasted time and organize your day/week. Do you spend too much time on Facebook or on your computer surfing the internet? Do you sit in your car while the kids are at soccer practice? Do you run to the store for 1-2 items each day rather than planning your grocery list in advance?
You will gain more ME time if you PLAN your day/week. I generally refer to this as "mapping" out my day/week. Generally on Sunday night I make plans for when I will have ME time. My ME time is swim, bike, or run. I systematically go through the week and my schedule (God bless ICloud...it keeps me organized) to see when I can fit in workouts, some days I can even get a morning and afternoon workout in (that makes ME happy).
I also map out my meals for the week so I hopefully do one shopping trip per week. Because I like my ME time to be my swim/bike/run, I try to make meals simple, but healthy. I have dinner planned and possibly prepped in the morning - as simple as pulling out meat to defrost and vegetables cut and ready to cook. As for lunch, yogurt, peanut butter, fruit, nuts, tuna are simple healthy options that require no preparation, but pack well so you don't get sucked into the drive-thru (which is wasted time).
SO, indeed my life is a "juggling act." Each day I encounter a different obstacle, but by making "ME" time an absolute priority it has allowed me to feel healthy, be happier and hopefully my efforts now will pay off in the years to come. So join in, take the initiative to make time for yourself and you too will see the everlasting benefits for yourself and your family.
Mindi Smiling After ME Time
by Corey Dell
Have you recently found out you have diabetes? Have you been diabetic for years and are thinking about adding running in to your daily routine? Maybe you don't have diabetes, but are at risk of developing diabetes. Either way, the best change you can make in your life is to eat healthy and get moving. Successful exercise routines are often planned out, but this is even more crucial for people with diabetes. Running with diabetes means you must plan your meals, timing of meals, time of medication, and monitoring glucose levels. It's necessary to keep blood sugar stable before, during, and after your run. This can take some time to get adjusted to, but is not impossible. At Healthy Lives, we encourage you to be more physically active; however, we also want you to take precautionary measures. Here are a few tips to consider before attempting to run your first marathon (or other long-distance event).
Talk with your doctor if you're going to be adding more physical activity to your daily routine.
Find a partner. Running partners are great for accountability purposes! Not to mention, in case of an emergency you have someone with you that can help you. You can also look in to many local running groups in the area.
Manage your diabetes. Record your miles and blood glucose readings. Carry juice, glucose tablets, or sport drink with you while you run.
Listen to your body. Even if you're not diabetic, listening to your body can help prevent unnecessary injuries.
Want to learn more about managing your diabetes? Please contact Healthy Lives Powered by Baptist Health Care, (850)469-6903, to attend one of our GoFight programs to learn more.
Corey Dell From Healthy Lives
Upcoming Races
The Santa Rosa Island Triathlon, October 5th, 7 AM - SOLD OUT! For more information go to
SRITRI Champion Brian Fleischmann
Pensacola Mud Run sponsored by Pathways for Change - October 12, 7:30 AM.
It's Time to Renew Your PRA Membership! As previously noted the Board of Directors has revised the membership term. Everyone's membership runs from July 1st to June 30th of the following year. The fees remain the same - $15 for an individual and $20 for a family. If you have signed up in recent months, you will automatically be an active member until June 30th, 2014. ANY OTHER EXTENSIONS will be handled on a case-by-case basis. You can contact
PRA Membership
for further details.
We Want to Publish Your Pictures!


Please send us your photos from running and racing in the area for inclusion in the upcoming editions of The
Rundown. Send comments, suggestions or articles to:
rundown@pensacolarunners.com

Promotional Rates


To have an event promoted in
The Rundown

contact us at rundown@pensacolarunners.com for our rates. We can add a link to your on-line registration, a link to your race application download, an article or simply a mention

in the "Upcoming Races."