League of Women Voters of NYS
STATE VOTER
September 2016
From the State Office




In late August, Jennifer Wilson (staff) and I registered voters and answered election and voting questions at the New York State Fair. We often answer questions on the phone in the office, but it was fun and educational to actually be out meeting the people and talking about the election (not the candidates!). I hadn't participated in a voter registration drive in a long time.




Thanks to the support and help of so many League members and friends, we were able to staff the table at the Fair for 12 days and 12 hours each day! Thank you to the following:

LWV of Albany: Stephen Winters
LWV of Cazenovia: Anne Redfern
LWV of Cortland: Chris Cecconi
LWV of NYC: Myra Tattenbaum and Carole Mehlman
LWV of Huntington: Judie Gorenstein
LWV of Utica: Nancy Agen, Shirley Hilts-Adams, and Carole Torok-Huxtable
LWV of Syracuse: Molly Vorheis, Maureen Needham, Gloria Sage, Margrit Diehl, Anne Kemper, Rhonda Hungerford, Harold Bertram, Jayne Humbert, Roberta and Dan Millert, Joan and Art Johnson, Elaine Wolfe
Friends: David Rubin, Tina Press, Susan Scheuerman, Lanessa L. Owens, Barb Kirkpatrick, Michele Meyer and Annette Marie Masterson

Thanks also to Amy James, Karen Guarino and Aisha O'Mally of the organ donor organizations (our partnership project) for their assistance at the table answering questions about organ donation and registration.

With all of these volunteers, we accomplished the following:

Total Voter Registration Forms: 485

Total Absentee Applications: 77

Total Organ Donor Half Sheets: 17

We registered one 18 year old on her birthday and provided absentee ballot applications to many students going off to freshman year of college. There was a lot of interest in our voter guides for special populations, especially for individuals with criminal convictions and/or detained in jail or prison, and for homeless individuals. We answered many, many questions about absentee ballots and deadlines.




We also had League membership information, including our new membership brochure, which was very popular. Many people were surprised to hear that men could become members, too - so we need to keep educating that fact! And, over 30 people signed up to receive more information from their local Leagues which we already forwarded to the appropriate local Leagues.




The State Fair was fun, educational and we couldn't have done it without the help of so many members and local Leagues! Thanks again!

Laura Ladd Bierman, Executive Director

League of Women Voters of NYS

Facebook: League of Women Voters of NYS

Twitter: @LWVNYS

2017 League Day at the United Nations

The State League's Day at the United Nations is currently being organized for Thursday, November 17. Mark your calendar now to join us at the United Nations. More details are coming.




Lobby Day


April 25, 2017

Mark your calendars for Lobby Day 2017 on April 25 in Albany. We will hear from our issue specialists on "hot topics" and coordinate visits with your own legislators to lobby on issues.

Travel with the League

Click here for trips and itineraries.

Laura Ladd Bierman, Executive Director of LWVNYS, was recently interviewed on a local cable TV show, The Jewish View, to discuss the upcoming centennial celebration of women voting, this year's election cycle, the controversial Long Island congressional race, voter fraud, the services and educational materials the League provides, alternatives to one day voting at a polling place and other trends in election law and voter turnout. Watch the video on:

http://jbiztechvalley.com/view/laura-ladd-bierman-executive-director-League-of-women-voters-of-new-york-state/



Annual Day at the United Nations: Nov. 17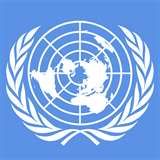 On November 17, 2016, the League of Women Voters of New York State Education Foundation, in conjunction with the United Nations Department of Public Information, the Women's Bar Association of the State of NY and Zonta International District 4 is hosting its annual daylong event at the UN Headquarters in New York City. This year's briefing will include two topics:
Sexual Violence in Conflict Areas
Anti-Terrorism
The briefings will presented by experts from the United Nations and provide information on the problems and the action being taken to assist in these global issues.
As usual, we will offer tours of the newly renovated United Nations (come see the Security Council Room and the General Assembly Room, among other significant areas and exhibits) and lunch in the Delegates' Dining Room. A bus is available from the Capital Region with a stop at Exit 18 (New Paltz) on the Thruway.
The Elections Continue
Vote411 is now live with information on the Presidential and US Senate races. Some state Assembly and Senate, as well as some local, races are also live, but all races will be live on October 3rd.

Go
to
www.vote411.org
to get the information.
COUNTDOWN TO ELECTION DAY 2016
GENERAL ELECTION-TUESDAY, NOVEMBER 8th
Register in person by Friday, October 14th

Register by mail: Postmarked by Friday, October 14th and received by October 19th

Apply for absentee ballot in person by Monday, November 7th

Apply for absentee ballot by mail: postmarked by Tuesday, November 1st

Deliver ballot in person by Tuesday, November 8th

Deliver ballot by mail: postmarked by Monday, November 7th and received by Saturday, November 12th
VOTER SERVICES


Judie Gorenstein, J

udieL728@aol.com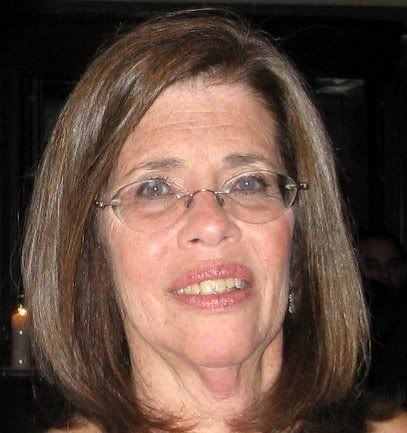 Voter Services has been extremely busy this past month as Leagues prepare for 2016 Election.
Over twenty members were on the Sept.7 teleconference where holding successful voter registration drives and candidate nights, as well as turning out the vote, was discussed. The importance of not only being, but being perceived, as nonpartisan was stressed and agreed upon. Everyone agreed that no one volunteering at a voter registration drive should be running for a political office, an elected public official affiliated with a political party or a board member or employee of a political party. Leagues shared places where they held or were holding their drives. Leagues are planning their candidate nights and we discussed recommended practices and policies. Leagues welcomed the idea of getting templates for invitation to candidate nights, press releases, and policy statements including policy on videotaping. (These templates were emailed to attendees on phone call as well as presidents and voter service chairs of local Leagues. There are also templates available for co-sponsoring a candidates night if Leagues are considering this). During the phone call, Leagues looked at ways to make their candidate nights more interesting and were pleased to hear how a red card could be used to give candidates time for a rebuttal. As for turning out the vote, some Leagues were using sign up sheets at voter registration drives so that people could get reminders by phone or email; others were using letters to the editors, press releases, and also PSAs. Not everything could be discussed; more situations and questions will arise and members were encouraged to join the lwvnyvoterservices google group. As of now, there are 37 members in this group. The conversation will continue and any League members can request to join.
Election Protection Hotline
This year with their being talk of rigged elections, we should remember to let people know about Election Protection. The Election Protection hotlines, 866-OUR-VOTE (led by the Lawyers' Committee for Civil Rights Under Law), 888-VE-Y-VOTA (led by NALEO Educational Fund) and 888-API-VOTE (led by APIAVote & Asian Americans Advancing Justice-AAJC) are nationwide, non-partisan toll-free voter assistance helplines available to anyone to promote. Voters can call the hotlines to receive answers to their questions and report problems to be addressed by trained Election Protection volunteers. Click here for more information.
ORGAN DONOR REGISTRATION PROJECT
Every Vote Counts, Every Donor Counts Partnership Update
The state League continues its partnership project with the NY Alliance for Donation to increase voter registrations and organ donor registrations. Below is the report on the status of the project. Thanks to all of the local Leagues and members who have assisted to make this partnership such a success.
Drive data reported through the end of Project Year 2, which concluded August 31, 2016:
366 Voter Registration Drives have been reported
13,916 Voter Registration forms have been completed and returned at these drives

Of those, 4,137 or 30%, contain donor designations.

An additional 3,702 forms were distributed, but not completed at the drives.
Moving Forward: Project Year 3
Project year 3 began September 1, 2016 and will conclude August 31, 2017. The primary goal for Year 3 is to increase the percent yield of registered donors.
Please make sure to instruct all volunteers conducting voter registration drives to physically point out the opportunity to register as donors to everyone they distribute a form to using the wording "You have the opportunity to save the lives of New Yorkers in need of an organ and tissue transplant by signing up for the New York State Donate Life Registry right here on your voter registration form." Remember, one donor can save the lives of 8 people through organ donation and enhance up to 50 more through eye and tissue donation!
Young Adult Enrollment Law Takes Effect February 14, 2017
NYAD successfully advocated for passage of legislation which will permit New Yorkers aged 16 or older to enroll in the NYS Donate Life Registry. Currently, New Yorkers must be age 18 or older to enroll. The bill lowering the age of enrollment was signed by the Governor in August and will take effect on February 14, 2017. Stay tuned for more information.
LWVNYS Centennial Celebration Plans

Dare Thompson, darethompson@gmail.com
As a member of the New York Women's Suffrage 100th Anniversary Commission, I was asked to introduce Lieutenant Governor Kathy Hochul and Sen. Montgomery at a well-attended Commission kick-off in NYC on Women's Equality Day (August 26). It was more a photo op and an opportunity for speeches but no decisions were made or plans announced as to the operation of the Commission - and still there has no mention of how to get at that money authorized for the Commission! Perhaps because of my introduction several speakers mentioned the League, so I was really glad I agreed to do it.

Meanwhile, our LWVNYS Centennial Committee co-chairs Aimee Allaud, Barb Bartoletti, and Barb Thomas are moving forward as are the subcommittee chairs. The co-chairs and others are helping separate the wheat and chaff in our basement and we recently had a phone call for all of us so we could see where all the subcommittees are. There's too much detail to share but the good news is that we're well underway and there is fun to be had by all of you!
100th Anniversary Dates
November 6, 2017 100th Anniversary of Woman Suffrage in New York State

November 19, 2019 100th Anniversary of the League of Women Voters of New York State

February 14, 2020 100th Anniversary of League of Women Voters of the United States

August 26, 2020 100th Anniversary of the official certification of the ratification of the

19th amendment by the US Secretary of State
NYS Constitution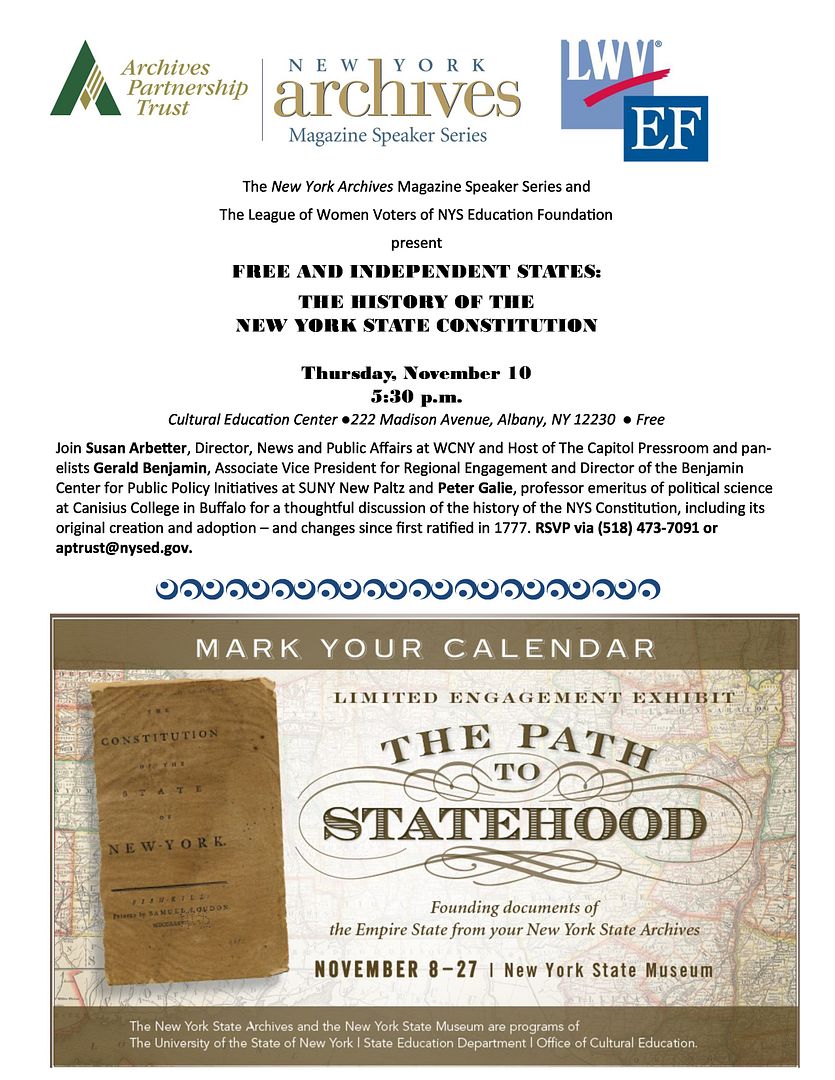 Original NYS Constitution
On Display Nov. 8 - 27
Panel Discussion Thursday, Nov. 10
The original NYS Constitution will be on display as a special exhibit at the NYS Museum (in Albany) from November 8-27, 2016. Join the state League and the NYS Archives Partnership Trust Foundation on Thursday, November 10 at the NYS Museum
for a panel discussion
on the creation and adoption of this important document. Susan Arbetter, Director, News and Public Affairs at WCNY and Host of The Capitol Pressroom will moderate the disussion of panelists Gerald Benjamin, Associate Vice President for Regional Engagement and Director of the Benjamin Center for Public Policy Initiatives at SUNY New Paltz and Peter Galie, professor emeritus of political science at Canisius College in Buffalo, as they talk about the history of the NYS Constitution, including its original creation and adoption - and changes since first ratified in 1777.
The event is free but please register to attend via (518) 473-7091 or
aptrust@nysed.gov
.
Constitutional Convention Proposal and Issues
We continue to work with the Rockefeller Institute on their educational programs related to constitutional convention (con con). On Oct 20
th
, there will be public forum at Columbia Law School (NYC) on the issues of home rule; this topic will also be discussed at another public forum later in the year in Albany. Rockefeller experts have also presented issues at meetings of other organizations across the state.
Also, Susan Arbetter of WCNY (PBS in Syracuse) has aired a 6 part series on the issues of con con. The schedule of airings is as follows (archived episodes are available at
http://www.wcny.org/connect-ny/
)
May 16, 2016:
NY's Constitutional Convention: Halley's Comet of Change
June 2016:
Re-imagining New York: Environment
July 2016:
Re-imagining New York: Crime & Punishment
August 2016:
Re-imagining New York: Ethics & Power
September 2016:
Re-imagining New York: Education
October 2016:
Con Con 2017: From Imagination to Reality?
Episodes of Connect:NY air Mondays at 9 p.m. on WCNY, and on local PBS stations across New York. The programs are available via streaming at http://www.wcny.org/connect-ny/.
Chocolates - Great Gift Idea
The state League now offers customized logo chocolates to use for volunteer recognition or just a fun gift for your fellow League members. The chocolates are made at Krause's Homemade Candy in Albany, NY and shipped to you.
There is a minimum order of 10 chocolates and they can be made in milk, white, or dark chocolate. You can order multiple types of chocolate in one order (for example, 15 pieces with 5 white, 5 milk, and 5 dark). Chocolates arrive wrapped in cellophane bags and tied with ribbons.
The price is $2/piece (includes tax) with additional shipping costs depending on how many you order:
10 - 80 pieces--$2/piece with $12 shipping

More than 80 pieces--$2/piece with $20 shipping
Please call the state League office at (518) 465-4162 to place your order. The chocolates are custom made for each order so please allow one to two weeks for delivery.
Saratoga County League
recently recognized three new 50 year members. Betty Gallagher, Louise Golub and Terry Lowenthal were each recognized for their membership. Each was asked why they stayed with the League. Betty said that that is just the type of person she is; for Louise, it was a good way to meet people and she enjoys being around thinking adults; and for Terry, it is being around interesting people.
League of Women Voters of Rochester Metro
along with the National Council of Jewish Women will host Dr. Timothy Kneeland, Chair and Professor of History and Political Science at Nazareth College for a forum to discuss the Upcoming Election.
Topics to include: Are the issues being obscured by media focus on the personalities of the two major presidential candidates? What about the races that most affect us day-to-day? And what issues matter this year?
The forum will take place Thursday, September 22 7:00 P.M. Peace Theater in the Arts Center at Nazareth College.
The Tompkins County League will host a presentation by Dr. Donathan L. Brown, Associate Professor, Ithaca College, on the important issue of voting rights. Dr. Brown is a Fulbright Scholar, Chair of the Ithaca College Diversity Scholars Program, and lead author of the book Voting Rights under Fire. The event will be held September 26th at 7 p. m. at the Borg Warner Room, Tompkins County Public Library.
Some lucky League of Rensselaer County members spent a lovely summer evening on the deck of Barbara Bartoletti, NYS League Legislative Director, sharing her adventures in Russia and Armenia - engaging in their cultures in the process of teaching them about our governmental processes. In 1999, Barbara traveled to Russia with a group of women sponsored by the LWVUS to teach women from the former Soviet bloc countries how to participate in their government.

On October 6, 2016, the Women's Bar Association of the State of New York, Western New York Chapter, and the
League of Women Voters of Buffalo/Niagara
will co-sponsor a panel discussion on the Effects of Big Money and Big Media on Political Campaigns.
National Voter Registration Day is September 27. The
League of Wom
en Voters of the Hamptons
will have voter registration booths at fourteen separate locations that day. They plan to spread out across the Hamptons to provide voter registration registration forms, absentee ballot applications and general voting information.
The topic for the September program for LWV of Broome and Tioga Counties was "Reforming the Energy Vision" with presenter Adam Flint of the Binghamton Regional Sustainability Coalition.

Mary Zawacki, Curator of the Schenectady County Historical Society will be the speaker at the September meeting of the LWV of Schenectady County. She will speak on the topic of Community & Culture and the Art of Storytelling.

During its planning meeting last December, the Voter Service Committee of the LWV of Chautauqua made getting SUNY students to vote a center of its annual activities. Among the activities taking place on campus, in addition to multiple voter registration drives, will be public screenings of the presidential and vice-presidential debates, and also of the local Meet the Candidates forum. For several years, the Voter Service Committee has been pushing for a shuttle service to take students from campus to the Wheelock School polling place on election day, and arrangements for such a service are now being made by Vice President Kevin Kearns' office.


LWV of Huntington will co-host two Meet the Candidates Nights for all candidates on the ballot for 1) the 3rd Congressional District at South Huntington Library on NOVEMBER 1ST as well as for 2) the 10th & 12th NYS Assembly Districts and 2nd & 5th NYS Senate Districts at Harborfields Library on OCTOBER 24
The
League of Women Voters of the City of New York
/Five Borough Voting Challenge has been underway at public libraries, college campuses, street fairs, and other events and locations across the five boroughs. Just over 80 new volunteers have joined our voter registration efforts in the last month. League volunteers staff voter registration tables with our banners and logos on display. This is being done in cooperation with the Borough Presidents. Visit our Five Borough Voting Challenge page
to learn about our voter registration activities, sign up to volunteer, and download education materials such as the Voter Registration Training Guide and the Electoral College Brochure:
http://www.lwvnyc.org/5_borough_voting_challenge.html
.
On October 5th WABC, UNIVISION and LWVNYC will host a Town Hall which will stream live. Voter Registration will take place and questions from the audience and via social media will be answered by a panel of experts.
On August 31, 2016 Mayor de Blasio signed Intro No. 446-A banning discharge and use of certain oil and gas production wastes in New York City including from hydraulic fracturing. This is the most comprehensive New York State County Ban protecting the health of those in New York City into the future from various forms of cancers and other adverse health effects which can come with the toxic chemicals and radioactive elements in hydraulic fracturing wastes. The State accepts these wastes from Pennsylvania even though New York State has banned high volume hydraulic fracturing. The
City League's
Environmental Action Committee worked closely with Councilman Steve Levin, Ling Tsou of United for Action, Sean Dixon, Esq. of Riverkeeper, Ellen Weininger of Grassroots Environmental Education and Alex Beauchamp of Food & Water Watch to get this strong bill passed.
Don't forget to have your bulletin editor send your local League newsletter to
bulletins@lwvny.org
so it will be posted on the state League website!
September Highlights in US Women's History

September 12, 1910 - Alice Stebbins Wells, a former social worker, becomes the first woman police officer with arrest powers in the U.S. (Los Angeles, CA)

September 14, 1964 - Helen Keller receives the Presidential Medal of Freedom along with 4 other women: Dr. Lena Edwards, Lynn Fontainne, Dr. Helen Taussig, and Leontyne Price

September 14, 1975 - Elizabeth Ann Seton is canonized and becomes the first American-born saint, founded the first U.S. Order of the Sisters of Charity of St. Joseph
September 20, 1973 - Billie Jean King defeats Bobby "No-Broad-Can-Beat-Me" Riggs in the battle of the sexes tennis match
September 25, 1981 - Sandra Day O'Connor is sworn in as the first woman U.S. Supreme Court Justice
September 26, 1971 - Rep. Shirley Chisholm (D-New York) announces she will enter the Democratic presidential primaries
September 26, 1973 - Capt. Lorraine Potter, an American Baptist minister, becomes the first woman U.S. Air Force chaplain
September 29, 1988 - Stacy Allison becomes first American woman to reach the summit of Mt. Everest
League of Women Voters of New York State

62 Grand Street, Albany, NY 12207

Tel: 518-465-4162; FAX: 518-465-0812

Facebook: League of Women Voters of NYS

Twitter: @LWVNYS