Cake winner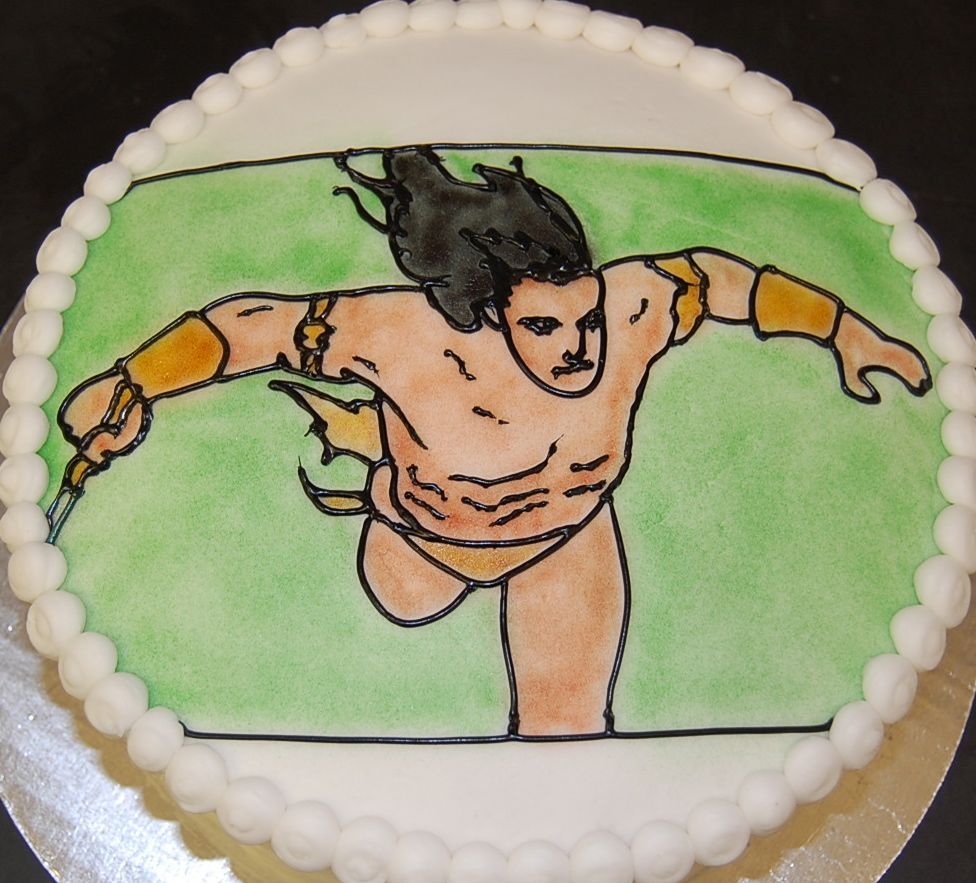 Congratulations to Jim Bell, who won our drawing last week for a Tarzan cake, created by Annette!

As we celebrate Matt's birthday next week, watch the bulletin for your chance to win another custom, comic-inspired cake! Enter through the link in the email, or in person at the store next Wednesday!

New Hardcovers

CAPTAIN AMERICA PREM HC VOL 1
A funeral for a fallen friend turns into a race against tme as the original Captain America makes his explosive return!
Written by Ed Brubaker. Art by Steve McNiven.

DAREDEVIL PREM HC
Having turned his world upside down during the past several years, Matt Murdock realizes justice may not be blind to his past and villains may not be the only ones looking for answers. If Matt Murdock could see what he was doing, he'd be terrified. Written by Mark Waid. Art by Paulo Rivera & Marcos Martin.
New in Trade

CIVIL WAR FRONT LINE TP BOOK 2


Are the costumed heroes of the Marvel Universe protectors or ticking time bombs? Also, the lone survivor of the team that caused the Stamford tragedy has been found, and this vilified hero is placed under arrest for the deaths of an entire town.

Written by Paul Jenkins. Art by Ramon Bachs & Various.



SWEET TOOTH TP VOL 4: ENDANGERED SPECIES


Gus reluctantly joins Jepperd on a missing persons hunt as the tension between the two continues to grow. Meanwhile, Lucy and the girls meet the enigmatic Walter Fish.

Written by Jeff Lemire. Art by Lemire & Various.
Win This

Win stuff at Speeding Bullet ... just for showing up!

BRAND NEW DAY VOL 3 HC

Mary Jane is back! And wait til you get a load of Paper Doll, a supervillain sensation that has to be seen to be believed!

The winner of last week's prize is Kevin Noel. Congratulations, Kevin!
Bestsellers

Here's what's been flying off the shelves, Speeding Bullet's bestselling comics of last week:

1. Batman #5
2. Nightwing #5
3. Wonder Woman #5
4. Ultimate Comics Spider-Man #6
5. Green Lantern Corps #5
6. Catwoman #5
7. Red Hood and The Outlaws #5
8. Supergirl #5
9. Amazing Spider-Man #678
10. Birds of Prey #5

Next Week
ACTION COMICS #6
The breakneck pace continues as present-day Superman must team up with suspiciously different versions of the Legion of Super-Heroes to save the jeans-wearing Superman of five years ago!

Local artists battle it out
SATURDAY: LIVE ART EVENT AT SPEEDING BULLET!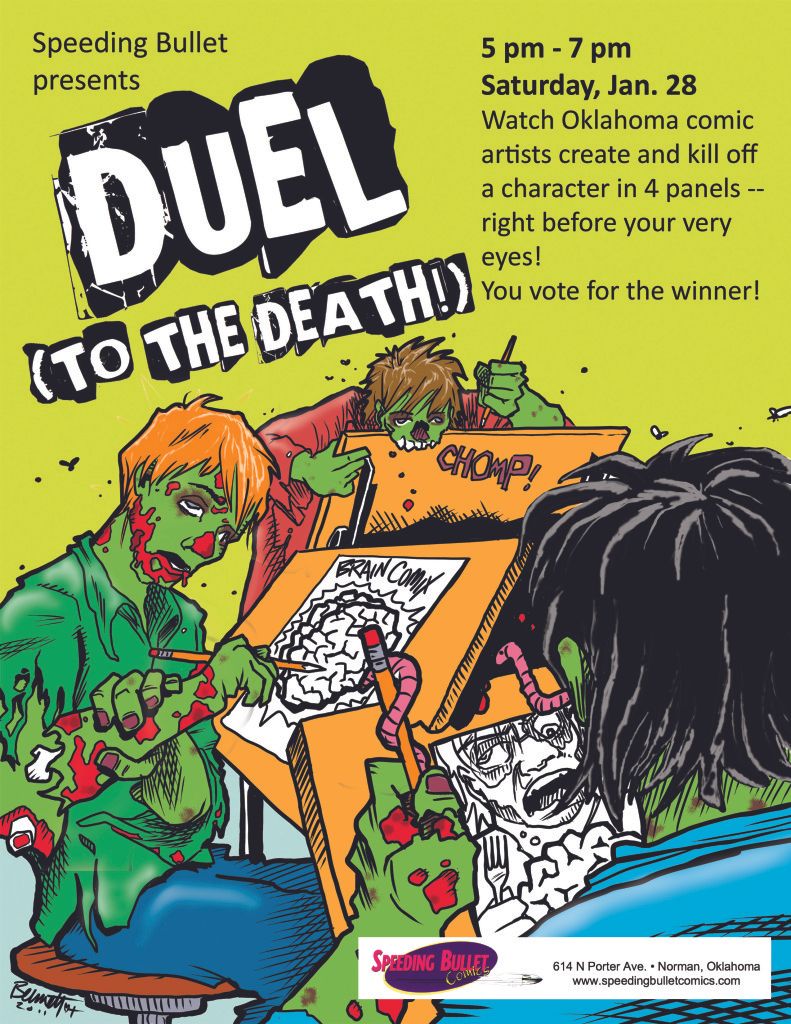 We're issuing the ultimate challenge to Oklahoma comic creators ... we'll give you 20 minutes. Kill off a character right before our very eyes!
Artists will be completing a 4-panel story live at Speeding Bullet, starting at 5 p.m. this Saturday.
Official Death Rules: Artists will have 20 minutes to sketch, pencil, color (whatever they wish to do!) a 4-panel story in our store. They must kill off a character (original or otherwise) in the strip. Artists may enter the contest with concepts or thumbnails, but all art included in the final product must be completed during the 20-minute competition. Artists will bring their own paper and supplies. The winner of our duel will be determined based on stunning use of creativity, humor, and artistic talent under pressure. Tragic irony is also a plus!
After the Duel, fans will be able to get comics signed and talk to these local creators about their upcoming work.
For more information, see the facebook event page here.
Dates we're celebrating

01/25/12, New Comics Day
01/28/11, Oklahoma Comic Creators Duel to the Death! @ 5 pm
02/01/12, New Comics Day
02/02/12, Matt's birthday
02/08/12, New Comics Day
02/15/12, New Comics Day
02/22/12, New Comics Day
02/29/12, Indy Comics Week & New Comics Day



Archie #629

The Archies learn why KISS is in Riverdale, and why the two groups have to unite to stop a band of monsters from turning Riverdale into a forgotten town, full of zombified teens!


Written by Alex Segura. Art by Dan Parent. Reserve it!


Infestation 2 #1


Lovecraftian demons threaten to reach across time and space to destroy everyone everywhere and everywhen! Featuring Teenage Mutant Ninja Turtles, this framing issue presents a threat that perhaps not even Transformers, G.I. JOEs and others can surmount! Written by Duane Swierczynski. Art by David Messina.

Reserve it!


King Conan: Phoenix on the Sword #1

First hailing Conan as a liberator after he annihilated Aquilonia's foes on the battlefield, common folk and politicians alike now rally to unseat the Cimmerian from his stolen throne. But their schemes pale in comparison to a terror waiting quietly in the wings ...

Written by Timothy Truman. Art by

Tom?s Giorello

. Reserve it!


Aquaman #5


Aquaman has been left for dead in the middle of the desert! But how did the King of Atlantis find himself marooned in such a hellish environment? As Aquaman struggles to survive impossible odds, what extreme measures will he resort to in order to stay alive?

Written by Geoff Johns. Art by Ivan Reis & Joe Prado. Reserve it!


Justice League #5


Now, with the teenaged powerhouse Cyborg at their side, this group of individual heroes must somehow put their differences aside to face the terror of Darkseid!

Written by Geoff Johns. Art by Jim Lee.
Reserve it!

To see a complete listing of the new comics and graphic novels arriving at Speeding Bullet this week, click

here

.
We look forward to seeing you this week!



Matt, Annette, Dan, Josh & Jerry
__________________________
Speeding Bullet Comics
614 N Porter Ave
Norman, OK 73071
(405) 360-6866
(877) SBCOMIC
10 am to 7 pm, Monday through Saturdays
1 pm to 5 pm, Sundays
www.speedingbulletcomics.com