DFM Accepts
SNAP Benefits
The Durham Farmers' Market proudly accepts SNAP benefits. To use your EBT
card at the Market, please visit the Market info table
at the center of the Pavilion.
The Double Bucks Program allows SNAP customers to receive double the amount of money they spend on tokens for purchases up to $10.
The Market is working
closely with RAFI as our fiscal sponsor. Read more about
the program and our partnership
HERE
.
Thank you to everyone who donated to the Double Bucks program! We couldn't do it without you!
Farmer Foodshare Donation Station
The Donation Station
Program collects donations
of fresh food and cash from customers at the Durham Farmers' Market. The
money is used directly
at the Market to purchase food from farmers for
those who are hungry
in our community.
Farmer Foodshare's mission
is to connect our local
farmers with those
who need food! Please visit
or volunteer at our Durham Farmers' Market
Donation Station!
And don't forget to participate in the Donor Rewards Program. Give a suggested donation of $3-$5 and
receive a stamp on your card. Once you've collected enough stamps, you will proudly earn your Farmer Foodshare
T-shirt! Swing by the Donation Station for
more information!
SUPPORT YOUR FARMERS!
NOW AVAILABLE
AT THE MARKET
GREENS
CHARD & TURNIPS
GREENHOUSE TOMATOES
POTATOES
CARROTS
FLOWERS
BEETS
DAIKON RADISHES
PASTURED MEATS
GLUTEN-FREE BREADS
& PASTRIES
KALE
MUSHROOMS
BOK CHOY
CABBAGE
EGGS
ARTISAN BREAD
SOAP
TEA
CHEESE
FERMENTED FOODS
SWEET POTATOES
RED RADISHES
HOMEMADE PASTA
HOMEMADE JAM
HAND-DYED CLOTHING
HANDMADE CHOCOLATE
10% Campaign

The 10% Campaign is a project of the Center For Environmental Farming Systems (CEFS). The campaign encourages you to spend 10% of your existing food dollars to support North Carolina food producers, businesses and communities. Why 10%? In North Carolina, we spend $35 billion on food every year. If we spend 10% of our food dollars on local product, we can infuse over $3.5 billion into the local economy. As avid supporters of the Durham Farmers' Market, you already know the many advantages to shopping locally. So, why join the campaign? It will re-affirm your commitment to shopping locally and it sends a strong message to policy makers about the importance of local foods! For more information
visit: www.nc10percent.com
Folks often wonder what the farmers' market staff does in the off-season. Even though we spend less time at the Market, we are busy in a much different way.
Most importantly, the off-season is a time for us to review returning vendor and new member applications. The Board of Directors is also busy creating a budget for the next year and preparing for the Annual Meeting, which is this weekend. In addition, staff focus on marketing efforts for the upcoming year and planning fun events for you, our wonderful customers. There is never a dull moment in the office!
The application process is our main focus and all new member applicants are interviewed and inspected. We hope to keep the spirit of the Market alive and thriving through our selection of new members. It's an exciting time of the year and we look forward to sharing the news of our new members with you soon!
If you have suggestions for an event or an idea for improving the Market, please contact us
as March will be our last big planning month before the Main Season Market kicks off again on April 1. The Market is about our wonderful community and we cannot do it without your input. Thank you for your continued support and we'll see you tomorrow morning!
Also, don't forget to swing by the
Durham Craft Market
this weekend. They're opening a month earlier this year so be sure to stop and chat with their incredible artists tomorrow.
***************
Wonder what happens behind the scenes? Check out what our vendors were up to on their farms or in the kitchen this week!
The greenhouses at
Maple Spring Gardens
have been overflowing for the past few weeks thanks to the warmer temperatures.
Four Leaf Farm was busy prepping beds during the
warm weather. They are ready for Spring!
Join us for a cooking demo!
Join us for a spring cooking demo with our friends at
Liberty Warehouse Apartments
! We'll be whipping up a meal in their gorgeous kitchen and sharing tips for seasonal eating. Please RSVP via
e-mail
and check out the event
online
. We hope to see you there and thank the
Liberty Warehouse
for hosting this community event for us!
VEGETABLES:
Arugula, Asian Greens, Beets, Bok Choy, Carrots, Chard, Collards, Dried Herbs and Spices, Garlic, Kale, Lettuce, Mushrooms, Pea Shoots, Potatoes
, Radishes, Sweet Potatoes, Turnips, and more!
MEATS AND EGGS:
Pork, Beef, Lamb, Mutton, Bison, Chicken, Duck, Goat/Chevon/Cabrito, Veal, Duck Eggs, Chicken Eggs
FLOWERS:
Dried Bouquets, Anemones, Snapdragons, R

anunculus,

Icelandic Poppies, and more
CHEESES:
Fresh and Aged Goat Milk Cheeses
PLANTS:
Vegetable, Flower and Herb Starts
SPECIALTY ITEMS:
Handmade Chocolates,
Pasta, Flour, Cornmeal, Baked Goods including Pies, Breads, Cookies, Pastries, Empanadas, Gluten-Free Baked Goods, Fermented Foods, Teas, Beer, Wine, Meade, Jams, Jellies, Pickles, and Preserves

CRAFTS: Woodwork, Hand-Dyed Clothing, Photographs, Body Butters, Lotions, and much more!

Produce availability depends on weather conditions.

1 Pound of Coffee Bought =
1 Tree Planted
Cold mornings call for bone-warming drinks! Come give our lauded, homemade Cinnamon Dolce Latte a try! In addition to our homemade flavored lattes, we will also have brewed coffee and freshly roasted beans available!
Green is a custom coffee roaster located in downtown Durham. We procure only the best and most sustainably sourced, single-origin, coffee beans available and each bag is individually roasted - allowing for a true, small-batch, coffee experience.
Our goal is to help our customers offset their carbon footprint through their coffee purchases by planting a tree for each pound of coffee we sell. We limit waste from seed to cup by sourcing naturally washed beans, using solar electricity, and composting all materials. We are striving to be a zero-waste coffee roasting company and our coffee beans are certified Fair Trade, Organic, and Rainforest Friendly.
Looking forward to seeing you at the Market!
We have two styles of breakfast sausage to cook for a great Sunday brunch. The Mild Country is the traditional mix of pork, little sage, and some red pepper flakes; this is bulk pack for making patties. The Maple Sage is sweeter and comes in small links, although this week we also have some in bulk as well. Dinner sausages available are Mild Italian, Hot Italian, Smoked Andouille, Bratwurst, and Mexican Chorizo. Try the Mild Italian with your favorite veggies over polenta (cornmeal mush) for a comfort food, add the Chorizo to potatoes and peppers, add Smoked Andouille to a gumbo. We have bacon, spare ribs, and
Ground
Beef is back in stock. This is our popular, flavorful beef for great hamburgers or spaghetti sauce. See you at the Market!
Honeygirl Meadery is a small urban meadery in downtown Durham, making an ancient craft beverage for modern days. Mead is essentially wine made from honey, with many different styles that include meads made with fruits, flowers and herbs. Our meads are hand-crafted libations made in small batches, using both local and global true source honey, local fruits, herbs and flowers. They are naturally gluten free.
Our downtown Durham Tasting Room is open on
Saturdays from 1-6 pm and Sundays from 1-5pm.
This week we will be bringing five meads from our current line-up, and sampling our
Hibiscus Lemonthyme Mead
, made from NC wildflower honey, organic hibiscus, and lemonthyme, an earthy, complex, dry style mead;
Lavender Mead
, made from orange blossom honey, local lavender from Sunshine Lavender Farm, a floral and savory, semi-sweet mead; and
Orange Blossom Mead
, a traditional style mead fermented with FL orange blossom honey, a semi-sweet, light bodied mead.
We will also have available our Ginger Mead (deep, warming, semi-sweet) and Vanilla Mead (vanilla bean-infused orange blossom honey, lightly sweet).
I see this as an opportunity to market and expand local sales of my products, as well as to increase brand recognition. I also recognize that there is an unmet niche in the area of semi-prepared Indian (South Asian) cuisine. Regular shoppers at the Durham Farmers Market actively buy fresh, raw ingredients (vegetables, fruits, meat, eggs, etc.), acknowledging their superior quality in the preparation of home meals. I envision that these same shoppers will see my prepared sauces and chutneys as an opportunity to integrate the other fine DFM products to create superior cuisine at home with a minimum of complexity.
Please look for us, as our location changes weekly!

Simplify meals! Add meats, vegetables, seafood, tofu, to these ready-to-use sauces and versatile chutneys!
Sauces:
Tikka Masala Sauce:

A silky butter-cardamom-tomato-cream sauce, perfumed with fenugreek

Punjabi Curry Sauce:

A robust ensemble of tomatoes, onions, ginger, garlic and aromatic spices

Kerala Coconut Curry Sauce:

An intense amalgam of onions coconut, fresh curry leaves, ginger, garlic and roasted red chillies

Vindaloo Sauce: A spicy sauce with roasted red chillies, ginger, garlic, roasted crushed spices an a whiff of vinegar

We finally got some rain last night, but the challenge of the week will be the cold temperatures predicted over the weekend. Our strawberries are blooming, with some berries already forming (over three weeks ahead of schedule). The plants will be tucked under row covers with hope that they will survive the mid-twenty degree temperatures. Farming is fun!
POTTED HERBS:
Fresh out of our greenhouse this week will be potted herbs - sage, thyme, and rosemary.
PRODUCE:
We will

have gourmet lettuce heads, chard, celery, spring onions, cabbage (limited supply) and garlic.



FROM OUR KITCHEN:
Jams and jellies!

We have our award-winning strawberry jam and blackberry jelly. Also available are apple, peach and peach mango.




All of Hurtgen Meadows produce, plants, fruits and flowers are naturally grown using sustainable practices - no synthetic pesticides, herbicides, or fertilizers are ever used on our farm. We'll see you at the Market!
Come get some fresh broccoli picked
Friday
night. Blackberry, strawberry, apricot and jalapeno jams (made from sun-dried apricots)
will be available with pickled Jerusalem artichokes, pickled okra, and pickled b
eets. Come try our Carolina Babe liquid coconut spray oil for skin, face, hair, and body. We will also have free range eggs and
maybe some amaryllis bulbs and succulents. Bundle up and we'll see you at the Market!


This week we'll have frisee, claytonia, Italiko Rosso dandelions, collards, kale,
parsley, celery, cilantro,
beets, beautiful bunches of anemones and more!

Will Cramer
We all know that Durham is a fabulous place, a livable artsy town with great food and a vibrant culture. (The Durham Farmers' Market is at the epicenter of all that, of course.) So as a nod to all that wonderful Durham-ness, we have come up with a T-shirt that celebrates the Durham spirit. We've used batik to create a starry night, and silkscreened a Durham design underneath. Trendy enough to wear to a Food Truck Rodeo in Central Park, hip enough to wear to a night out at DPAC or to a Bulls game. We've also got Durham-themed kids clothes because you're never too young to be cool.
Hand-dyed clothing from Terra Clotha. Allowing your wardrobe to reflect Durham's spirit.
Like our Facebook page
and while you're there, find a 10% off coupon to use with your next Terra Clotha purchase.
Farmer's Daughter Pickles & Preserves
Who says you can't eat local all winter long? Come see us and we'll fix you up!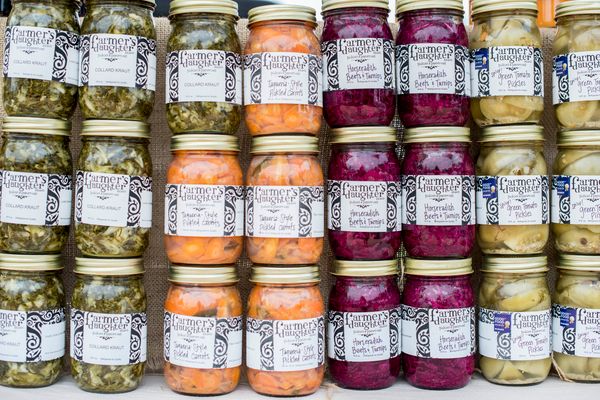 Live-Culture, Barrel-Ferments

Napa Cabbage Kimchi

Daikon Radish Kimchi

Atlantic Sea Kraut

Collard Kraut

Tacqueria-Style Pickled Carrots

Ramp & Mustard Seed Kraut

Ruby Kraut

Juniper Kraut

Classic Plain Jane Kraut




Hot Sauce

Red Rooster Hot Sauce

Sweet Potato Habanero Hot Sauce

Jams/ Preserves

Ruby Red Grapefruit Marmalade

Orange Marmalade with Rye Whiskey

Fig & Muscadine Jam

Curried Peach Preserves

Blueberry Jam

Strawberry Passionfruit Jam

& MUCH More

Thank you for shopping local & handmade,

April




Farmer

's

Daughter

products on Pinterest.
We
will return to Market this week and will bring the first plants of the season for the gardeners who just need to get their hands in the dirt. It does not look to be as perfect of a weekend as the previous weekend but sunny and more seasonal temperatures. We will bring some PERENNIALS, hardy HERBS and the first hardy vegetable starts like LETTUCE, FENNEL, KALE and CHARD. Come have a look and get inspired the get the gardening season started.
We will also bring a selection of HOUSE PLANTS including many new varieties of SUCCULENTS. We will not forget the produce either and this Saturday you will find FRENCH BREAKFAST RADISHES, SCALLIONS, NAPA CABBAGE, FRISEE, CREASY GREENS, Italian CHARD, KALE, CLAYTONIA, DILL and PARSLEY.
Pastured raised, natural, nationally-credentialed animal welfare approved meats are available this Saturday. Pick up dry-aged Angus beef, Dorset X lamb, Berkshire X Pork, and boer chevon (goat). We have many of the cuts from each species, such as lamb chops, beef steaks (filet mignon, New York strip, sirloin, ribeye, cubed, London broil, flat iron, flank, skirt, hanger), assortment of sausages (beef and pork), roasts, leg of lamb/goat, stew meat, shanks, short ribs, soup bones, marrow bones, and much more!
USDA certified organic vegetables this week: C

ollards, winter squash, baby ginger, popcorn, and even pie pumpkins!
Thank you
for your continued support of our family farm!
We will have plain and flavored ch

è

vre including garlic + herbs, jalapeno, sour cherry, and fig + honey. In addition, we'll have our goat feta and fleur verte (chèvre marinated in olive oil, bay leaf, pink peppercorn, herbs de provence and garlic). We will also have three types of homemade crackers: Sea Salt, Fennel and Rosemary.
Our next farm dinner will take place on Saturday, March 11
at 5 pm. You may purchase your tickets at:
Let's stay in touch! Like us on
Facebook
and follow us on
Instagram
.
If you would like to add your e-mail to our monthly mailing list, please send us a request to
info@elodiefarms.com
.
Melina's Fresh Pasta will be at Market this week with 11 ravioli flavors, such as Roasted Red Pepper & Feta, Caprese, 3 Cheese & Roasted Garlic, Lemon Ricotta, Pimento Cheese and more!
P
lus spaghetti, spinach linguine, tomato basil sauce, pizza dough, gnocchi and lasagna. Try our veggie shells - plain, tomato & spinach - in a pasta salad. See you at the Market!
We have our Celebrity Dairy Open Barn event on
March 11-12
. Dress for the weather to come out to play with baby goats and likely watch some being born.
We'll see you at the Market this weekend!
Unfortunately this will come as a surprise to most of you, however we recently made the very tough decision to close Growers & Cooks due to business and personal reasons. I had hoped to be at one more market, but we are out of inventory. I sincerely apologize that I am not able to be there this week to say goodbye and nourish you with one more delicious stock, but please know that selling to you at market was by far the best part of my job. I will sincerely miss you and the market community.
We still have our stocks in a few stores
around town while supplies last. Please don't hesitate to call or e-mail me if you have any questions.
Parking & Street Information
The Market is located at 501 Foster Street in the Pavilion at Durham Central Park.
Parking can be found on Foster Street right next to the Market, in the Ballpark Parking Lot on Corporation Street, and in the Measurement Inc. lot, 423 Morris Street (look for the Durham Farmers' Market Parking sign). There is a path at the bottom of that parking lot that leads you to the Market. There are also public parking lots along Foster Street and on Morgan Street near the Carolina Theatre.
Handicap parking is available on Foster Street, right next to the south entrance of the pavilion.
Durham Farmers' Market Animal Policy
Please note that the Durham Farmers' Market does not allow dogs or other pets in the Market area during Market hours. Service animals are exempt from this rule.
Leashed pets are welcome elsewhere throughout Durham Central Park.