QUICKLINKS
To contact the office, click here or call 610.642.3500.
To see St. George's website

Find us on Facebook!
To see St. George's Capital Campaign Feasibility Study click here.
To visit
Episcopal Church
Club of Philadelphia
(ECCP)
To visit Smile Amazon
To see St. George's calendar
To visit the lectionary page
To see
St. George's
Directory
To see the latest
news from the
Diocese of Pennsylvania
To see The Episcopal Cafe
Dear People of St. George's,

I was reading this morning in Matthew's gospel that story of the feeding of the five thousand and I was reminded of people I know (maybe you know some people like this, too) who just can't do the miracles of Jesus. No matter what they do, they just cannot believe that these miracles were performed. They believe that Jesus was the Son of God and they believe that he was sent to save us, sure, but miracles? Come on! Let's get real. Maybe you've thought that way before.

We call these miracles signs because they point beyond themselves to something greater: God. This Advent season we are waiting on a sign. The wise men from the East followed a sign, the star, to Bethlehem. It pointed their way to God. That God was born as a human, in the normal human way, and entered into our world, our lives, is the central mystery of this season. We are waiting on Incarnation, on the infinite to break into the finite. That's what all the miracles of Jesus, the signs, point to - that God is with us. That's what Christmas is all about. One writer put it this way, "If we believe that that that is what happened at Christmas, all difficulties about other miracles in the Gospel accounts are resolved."

What signs have you seen? What sign are you waiting on?



God bless you



Faithfully,

Fr. Ryan+



LAST DAY TO R.S.V.P. IS TODAY

If you would like to attend the Gala but find the cost prohibitive, please email Fr. Ryan today - a scholarship is available!!


Here is a preview of some new Auction Items:




Traditional Afternoon English Tea

Soul Food Dinner

Weekend at the Jersey Shore

Snapper Soup Party
Help Decorate for the Gala
Friday, December 2nd
The time to transform the dining hall and Jerusalem Hall into Glitz, Glamour, Hollywood is right around the corner. Laurie and Dave Ney will start decorating Friday, Dec. 2nd at 5:00 PM. To volunteer contact
Laurie Ney
click here
.
Parish News
Happy Birthday
wishes go out to Kirsten Curry, Donna DiPaulo, Joanne Keating, Christine Luetzen, Stephen Lightcap
and
to everyone with a celebration over the next week.
Coffee Hour Hosts
December 4th
8:00 AM: Diane and Chris Butto
10:00 AM: Deb and George Newnham
Rehearsals for the Christmas Pageant continues this
November 27th through the rest of December will be blocked off for
the Christmas Pageant Practice.
Sunday School will resume on January 8, 2017.
Christmas Pageant is December 18th
If you would like to volunteer to help out with the Christmas Pageant this year, please
click here
to contact Vicki Strickland.
Notes From Lou Carol
The Children's Choir will rehearse "Mary had a baby" during coffee hour this Sunday and the next. They will perform on
Sunday, Dec. 18
during the morning worship.
The St. George's Band will gather to rehearse Christmas carols the next 2 Sundays after church services on
Dec. 11 and Dec. 18
. They will play the prelude music at the Family Service on Christmas Eve,
Sat., Dec. 24 at 4:30 PM
. Anyone who plays a brass or woodwind instrument is invited to join us for rehearsals.
Give-a-Gift to the St. James School
The Christmas Tree in the Dining Hall is full of ornaments made by the students of St. James.
Each ornament represents an opportunity to support their work.
St. James School is a faith-based Philadelphia middle school in the Episcopal tradition, committed to educating traditionally under resourced students in a nurturing environment.
Santa Claus is coming to Saint George's.

Saturday, December 10th
8:30 AM - 10;30 AM
Please join us for: pancake breakfast with allergy friendly options,
fun and reindeer games! There will be crafts,balloon animals,
face painting and a visit from Santa!
Admissions: $8 per adult, $5 per kid, kids 2 and under free.
**All proceeds go to The Children's Ark and
Saint George's Outreach Program.**
Christmas Flowers
Get your requests in by December 20.
Forms are available after services!
Volunteers
Decorating the church for Christmas is not too far away! Decorating will begin:
Dec. 18 immediately after 10:00 AM service
Dec. 22 at 7:00 PM
We will do the tree lights, greens and wreaths on the 18th, and the poinsettias on the 22nd. Please contact Susan LaBrake at
St. George's email addresses
have been changed.
Our new email address for all inquires are
parishoffice@stgeorgeschurch.org
This email will go directly to Kelly.
Fr. Ryan has also changed his email address.
rector@stgeorgeschurch.org
These email addresses are effective now so please update your address books. Thanks!

Episcopal Visitation, January 29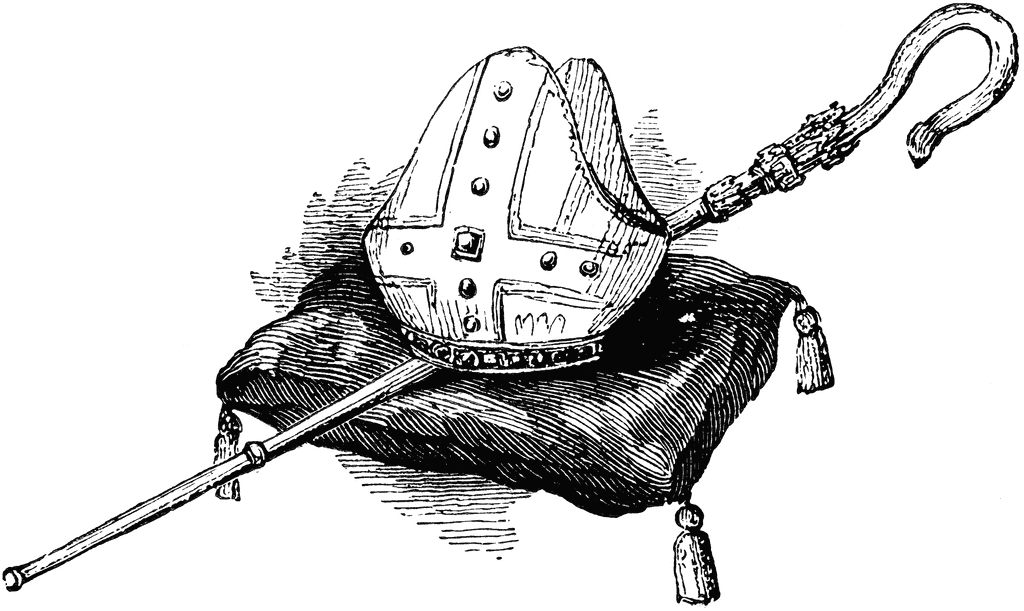 Diocesan Bishop Daniel G.P. Gutierrez to visit St. George's for the first time on Sunday January 29, 2017 to Baptize, Confirm, and Receive new members into Christ's one, holy, catholic, and apostolic church.
The sacred rite of

Confirmation

, once a part of the Baptism service, marks an important and holy transition in a person's life. The inward and spiritual grace present in them since their baptism is affirmed by the outward and visible sign of their profession of faith and dedication to a Christ-like life.


On Sunday, January 29, 2017, the Rt. Rev. Daniel G.P. Gutierrez will be present with us in our liturgy and will

confirm

, receive, and reaffirm all those who so desire. If you desire to be baptized, confirmed, or received on that date, you need to speak with Fr. Ryan. All those undergoing these rites will need baptized sponsors from the parish to stand with them and present them to the Bishop. Fr. Ryan will offer instructional classes for youth being confirmed, and for adults being confirmed or received. Many ask over the years, "how do I become an official member of the Episcopal Church. This is how you do that, and it is fun and exciting!

Following the 10am liturgy, there will be an All-Parish potluck brunch to celebrate. More details to follow.
A SOUPer
new Outreach project!
An you can participate from the comfort of your armchair....or from your kitchen!
St. George's Church is planning to produce a SOUPer Cookbook in time for Lent 2017 and you can be a star player on this team of SOUPer cooks. All you have to do is select one or two of your favorite soup recipes and submit them with your name (or that of the originator). It's just that easy!
There are a few guidelines for submission that will make the editor's task easier...
Submit your recipe electronically as a WORD document,

List the ingredients with measurements first, followed by preparation instructions,

Include the number of servings, and

Add the name of the SOUPer chef who is the source of your recipe.
We have marvelous cooks in our community. Let's share the best of our SOUP recipes so we can each try them all when the cold weather and Lenten season arrives.
The SOUPer Cookbook will be on sale at a modest price to support St. George's Outreach Mission.
Deadline for recipes is December 1, 2016.Electronic submissions should be sent to Mary Hobart via email at
.
We will continue on
Wednesday
December 7, 2016
7:00 PM
Book 10

Invite your Friends and Neighbors!
The Confessions of St. Augustine
Villanova University and Professors of Augustinian Studies,
Dr. Paul Camacho and Dr. Ian Clausen.
Dec. 7 Book 10.

Dec. 14 Book 11.

Jan. 4 Book 12.

Jan. 11 Book 13
This class is a rare opportunity and promises to be educational, spiritually enlightening, and enjoyable! We are blessed to be able to have the class led by Drs. Camacho and Clausen of Villanova University, who specialize in Augustinian Studies. So, who was St. Augustine? Simply put, he was one of the greatest theologians of Western Christianity. But he didn't begin as such. He began as a boy interested more in fame, pride, and sexual exploits. But his mother, Monnica, would have none of it and endeavored to set him on the right path. His Confessions, is, in part, the tale of his journey from youthful indiscretions to faithful Christian.
Join us for lively discussion, enjoyable learning, and incomparable fellowship.

Come and see.
Knitting and Crocheting
for
The Seaman's Church Institute
For many years we at St. George's have supported the Seamen's Church Institute of Philadelphia by contributing items for the Ditty Bags that they deliver to seamen from all over the world who are in the port of Philadelphia far from their families over the Christmas holidays.
GOOD NEWS!
The Seamen's' Church Institute now publish simple patterns for all kinds of items which the seamen need, many of which can be quickly made from just a couple of balls of worsted weight yarn! Please check out the website below, and help yourself to patterns from the blue binder on the outreach table in the dining room.
For their website click
Wednesday, November 30
Thursday, December 1
9:00 AM Morning Prayer
7:00 PM Boy Scouts
7:00 PM Choir Practice
Friday, December 2
Church Office Closed
5:00 PM Set-up for St George's Gala
Saturday, December 3
6:00 PM St. George's Gala Goes Hollywood
Sunday, December 4
9:00 AM

Morning Prayer

7:00 PM Vestry Meeting
9:00 AM Morning Prayer
7:00 PM Bible Study