DFM Accepts
SNAP Benefits
The Durham Farmers' Market proudly accepts SNAP benefits. To use SNAP benefits at the Market, please visit the Market info table at the center of the Pavilion.
The Double Bucks Program allows SNAP customers to receive double the amount of money they spend on tokens for purchases up to $10.
The Market is working closely with RAFI as our fiscal sponsor. Read more about the program and our partnership
HERE
.
Thank you to everyone who has already made donations to the Double Bucks program! We couldn't do it without you.
Farmer Foodshare Donation Station
The Donation Station Program collects donations of fresh food and cash from customers at the Durham Farmers' Market. The money is used directly at the Market to purchase food from farmers for those who are hungry in our communities. Farmer Foodshare's mission is to connect our local farmers with those who need food!
Please visit or volunteer at our Durham Farmers' Market Donation Station!
COME SUPPORT YOUR FARMERS!
NOW AVAILABLE
AT THE MARKET
SQUASH
FLOWERS
TURNIPS
RADISHES
PASTURED MEATS
EGGPLANT
GRAPES
GARLIC
MUSHROOMS
PEPPERS
POTATOES
ARUGULA
EGGS
ARTISAN BREAD
SOAP
CHERRY TOMATOES
TEA
CHEESE
FERMENTED FOODS
HONEY & CANDLES
HAND-DYED CLOTHES
GREENS
SWEET POTATOES
PASTRIES
OKRA
HOMEMADE PASTA
ONIONS
HOMEMADE JAM
VERMICOMPOST
10% Campaign

The 10% Campaign is a project of the Center For Environmental Farming Systems (CEFS). The campaign encourages you to spend 10% of your existing food dollars to support North Carolina food producers, businesses and communities. Why 10%? In North Carolina, we spend $35 billion on food every year. If we spend 10% of our food dollars on local product, we can infuse over $3.5 billion into the local economy. As avid supporters of the Durham Farmers' Market, you already know the many advantages to shopping locally. So, why join the campaign? It will re-affirm your commitment to shopping locally and it sends a strong message to policy makers about the importance of local foods! For more information
visit: www.nc10percent.com
We are keeping an eye on Hurricane Matthew and are thinking of everyone in the storm's path. You can stay up to date with our Market plans on our
website
,
Facebook
or
Instagram
. As of Friday morning, we are planning to hold the Market tomorrow.
We hope to move most vendors under the Pavilion so keep an eye out for your favorite vendor(s) as their spot may change.
The heavy rains over the past few weeks have saturated farmers' fields, bring a whole new set of challenges for planting fall and winter crops. While rain is often welcomed, too much of a good thing can also have negative effects. So what are our farmers doing to overcome these challenges? Chat with them at the Market to see how their plantings are progressing. And remember that farmers have one of the best skills: patience. Without their patience, we would not have such a colorful, delicious variety of seasonal and heirlooms fruits and vegetables to choose from at the Market.
Take an extra moment tomorrow to thank a vendor and also to learn a little more about how they overcome Mother Nature's challenges.
With the rain and cooler weather this weekend, it's a good time to experiment with cooking indoors. One of my favorite things to do is to buy a colorful assortment of vegetables at the Market and make soup. You can literally eat the rainbow by doing this!
Check out soup recipe tips from
The Kitchn
and pick up your favorite vegetables tomorrow
.
Do not be afraid to try something new, too! Finally, remember that you can store soup in the freezer so make a little extra and save it for quick, easy meal from the freezer in the upcoming weeks.
Stay safe and we hope to see you tomorrow!
Market News
Saturday, October 8
Due to the wind and rain, the Homefries Kid's Cooking Class has been canceled

.

Chef Jeff Crane re-scheduled the class for Saturday, November 5. Contact us for more information or to register your child.
Wednesday, October 12
The last Wednesday Market of the season.
Saturday , October 15
Chat with the Master Gardeners from 8 am-12 pm.
Saturday, October 22
Join Alice Osborn from 8:30-11:30 am for acoustic folk, bluegrass and modern/Southern Celtic rock and some great locally grown and produced food!
Saturday, October 29
Mark your calendars now for our annual Vendor Costume Contest!
Fresh this Week
VEGETABLES:
Arugula, Baby Ginger, Bok Choy, Broccoli, Butternut Squash, Cherry Tomatoes, Eggplant, Fall Squash, Garlic, Green Beans, Herbs, Kale, Lettuce, Mushrooms, Okra, Onions, Pea Shoots, Peppers, Potatoes
, Radishes, Tomatoes, Turnips, and more!
FRUITS: Melons
MEATS AND EGGS: Pork, Beef, Lamb, Mutton, Bison, Chicken, Duck, Goat/Chevon/Cabrito, Veal, Duck Eggs, Chicken Eggs
CHEESES:
Fresh and Aged Goat Milk Cheeses
PLANTS:
Vegetable, Flower and Herb Starts
FLOWERS:
Zinnias,
Celosia, Sunflowers,
Marigolds and more!
SPECIALTY ITEMS:
Pasta, Flour, Cornmeal, Grits, Baked Goods including Pies, Breads, Cookies, Pastries, Gluten-Free Baked Goods, Fermented Foods, Teas, Beer, Wine, Meade, Jams, Jellies, Pickles, Preserves, Wool and Vermicompost

CRAFTS: Pottery, Woodwork, Baskets, Photographs, Hand-Dyed Clothing, Handmade Clothing, Body Butters, Lotions, Yarn, Roving and much more!


Produce availability depends on weather conditions.
Big news!
We are looking for a passionate person to join our team as the Assistant Manager!
Are you a people person who loves local food, farming, and artisan crafts? Are you a guru in event planning, social media, and writing? Is getting up early
on Saturday
your jam? Find the full job posting on our
website
and apply today! Also, please
e-mail us
with any questions. Thank you for helping us spread the word about this opportunity!
News from Durham Central Park
A few weeks ago, our friends at
Durham Central Park
asked for your feedback through their community input survey. The survey was the first part of a process to revise and update the Park's Master Plan.
The next step will be to host a Design Charrette to work on updating the Park's Master Plan.
DFM's customers are some of the most frequent park visitors so we encourage you to continue giving feedback and to participate in the
Design Charrette
tomorrow
(

Saturday, October 8) from 9 am

-noon

at Measurement Inc. (423 Morris Street).
Animal welfare approved, dry-aged ANGUS BEEF, pastured PORK, Boer CHEVON, and Dorset LAMB.
Angus Beef: Brisket, Roasts (Sirloin Tip, Chuck, Eye of Round), Ground (including G. Chuck and G. Round), Steaks (Ribeye, Sirloin, London Broil, New York Strip, Flat Iron), Soup Bones, Marrow Bones, Dog Knuckle Bones, Shanks, Calves Liver, Short Ribs, Brat and Chorizo Beef Sausages, all-beef Hot Dogs, and more.
Pork: Ground, Sausages (Country X-Sage links, Hot X-Sage, Brats, Italian, and bulk), Pork Chops, St. Louis Ribs, Liver, and more.
Chevon: Shoulder Steaks, Loin Chops, Ground, and more
Lamb:
Shoulder Steaks, Loin Chops, Ground, Leg of Lamb (and halves), and more.
Organic vegetables this week: New crop of Sungold tomatoes, Eggplant, Okra, Tender Green Beans, Delicious Baby Squash, Pie Pumpkins, Sugar Pumpkins, Gourds, Arugula, few Cucumbers, and more.
Having a special occasion? Florist quality sunflowers are beginning to bloom this week - bi-Colored blooms along with hot pink zinnias.
Thanks for your continued support of our family farm!
E-mail
Four Leaf Farm will be at the market

Saturday

with pea shoots, a variety of Asian greens, peppers, from sweet to ghostly hot. We also will have the first of our fall crop of specialty cucumbers (can grow in the greenhouse only and they have tender skin and no seeds) and collards. A great selection of succulents and some house plants will be available as well. Here is to hoping Matthew will stay as far away from the coast as possible.
Helga & Tim
10% off purchase of $100 or more!
Fresh, never frozen, chicken (fed certified organic feed, free-range on pasture):
Whole chicken,
half chicken, boneless skinless breast, French breast, leg quarter pairs, wings, backs, necks, wing tips, liver, feet, and fat
Mutton (100% grass-fed):
Leg, shoulder, loin chops, rib chops, ground, shanks, heart, kidney, ribs, and bones
Beef (100% grass-fed): Ground beef, stir fry meat, kabob meat, steak (NY strip, bone-in/boneless ribeye, boneless sirloin, flat iron, chuck eye), short ribs, pot roast, chuck roast, rump roast, bottom round roast, London Broil, osso buco, heart, smoked kielbasa sausage, soup bones, knuckles, and kidney

Pork (pasture and woodlot raised):
B
elly/jowl bacon, tenderloin, bone in
pork chops, smoked boneless chops, spare/babyback ribs, Boston butt
, boneless pork loin, mild breakfast sausage patties, breakfast pinky links (maple, mild, hot), bulk sausage (
hot extra sage
, mild
Italian
, hot
Italian
, chorizo), link sausage (bratwurst, hot Italian, mild Italian, smoked chorizo, smoked bell pepper & onion, smoked polish), smoked hocks, fatback, leaf lard, and rendered lard
Artisan Deli Meats:
Bologna, roast beef, pastrami, and hot dogs (pork, or pork/beef)
100% grass fed beef jerky (4 oz), beef sticks (1 oz) and snack bits (4 oz):
Hot, mild and sweet
Soup, stew and stock (pre-order only!):
Beef soup bones, knuckle; pork meaty neck/back bones; chicken backs, necks and wing tips; whole stew hens
Produce (no synthetic chemicals):
Arugula, Bok Choy, Red Russian & Siberian Baby Kale, Mustard Greens, Okra, Mixed Sweet & Yum Yum Peppers, Fairy Tale & Globe Eggplant, Garlic
Chicken eggs (free range and pastured hens): Mixed (medium-extra large), jumbo, and pullet
Duck eggs
Visit us for baby ginger, kale, mustards, collards, Hakurei turnips, Malabar spinach, lunchbox peppers, shishitos, banana peppers, hot peppers, okra, garlic, Purple Majesty potatoes, and more!
Terra Clotha
We all know that Durham is a fabulous place, a livable artsy town with great food, and a vibrant culture. (The Durham Farmers' Market is at the epicenter of all that, of course.) So as a nod to all that wonderful Durham-ness, we have come up with a T-shirt that celebrates the Durham spirit. We've used batik to create a starry night and silkscreened a Durham design underneath. Trendy enough to wear to a Food Truck Rodeo in Central Park, hip enough to wear to a night out at DPAC or to a Bulls game. We've also got Durham-themed kids clothes because you're never too young to be cool.
Hand-dyed clothing from Terra Clotha. Allowing your wardrobe to reflect Durham's spirit.
Like our
Facebook page
and while you're there, find a 10% off coupon to use with your next Terra Clotha purchase. See you on Saturday!
Honeygirl Meadery celebrates nature and the work of honeybees by making meads (honey wines) with seasonal fruits, flowers, herbs and honey. Made in Durham, Honeygirl meads are hand-crafted libations made in small batches with all natural ingredients.
This week at Market we will have two new releases and one old favorite. Our new Ginger Mead features fresh ginger from three Durham Farmers' Market farms - Ever Laughter, Maple Spring Gardens and Waterdog Farms - infused three ways into an 18-month aged dark wildflower honey mead. We are also bringing out our newest batch of Vanilla Mead, an infusion of Madagascar and Tahitian vanilla beans in our orange blossom honey traditional mead; and Orange Blossom Mead, a semi-sweet traditional mead made from just orange blossom honey, water and yeast - and then aged a minimum of nine months.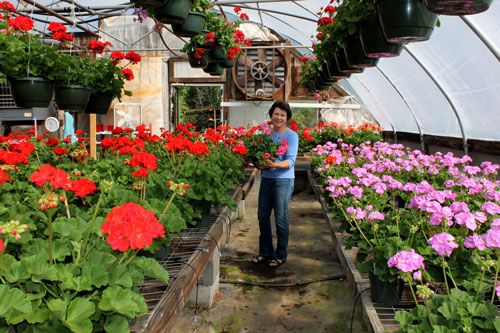 Amy will be coming with 3 different sizes of mums in 8 beautiful colors!
Jars of colorful zinnias and homemade jams, pepper jellies, pickles and chow chows! Come
try our "liquid spray coconut skin oil." For
orders call
Amy, Ray, Ramy & Erin
Sugg

We will be at the Market on Saturday unless you receive a message that the Market will be closed due to the hurricane and forecasted excessive wind and rain. If you don't see our tent on the street, check for us under the roof of the pavilion.
PRODUCE:
We will have sweet onions, turnips, potatoes, peppers, fall squash and garlic.
FROM OUR KITCHEN:
We will have strawberry, peach and onion jam, and blackberry jelly.
All of
Hurtgen
Meadows produce, plants, fruits and flowers are naturally grown using
sustainable practices - no synthetic pesticides,
herbicides, or fertilizers are ever used on our farm.
We'll see you at the Market!
As we gear up for the impending cold, we try to savor the things we won't have once fall really starts up, like our tomatoes. We've still got tomatoes for you this Saturday at Market. Don't miss your chance for a few more tomato sandwiches before it's too late!
This week we'll have tomatoes (slicers, cherries, and paste), peppers (green and sweet), beans, eggplant, lettuce, butternuts, ginger, broccoli, and arugula.
We'll also have the following fresh from the herb garden: hibiscus, lemongrass, stinging nettles, cilantro, and tumeric!
We look forward to seeing you at the Market!
I will be bringing lots of lettuce, arugula, salad mix and radishes. I still don't have enough vegetable variety for those in the weekly box pro

gram.
We would appreciate online orders if possible on our website by Friday evening.
I also updated our website
to include farm status, what we have growing and when it will be available.
Sunset Ridge Buffalo Farm
Stop by and chat with Jack and select some delicious bison meat to grill for your outdoor gatherings with family and friends. Or stay indoors and make a wonderful pan of lasagna or spaghetti using our ground bison or zesty, hot or sweet Italian sausages.
Jack & Sandy Pleasant
Facebook
Melina's Fresh Pasta will be at Market this week with 11 ravioli flavors! Roasted Red Pepper and Feta, Pea & Mint, Caprese, Fig Gorgonzola, 3 Cheese & Roasted Garlic, Lemon Ricotta, Pimento Cheese and more! Plus spaghetti, spinach linguine, tomato basil sauce, pizza dough, gnocchi and lasagna. Try our veggie shells - plain, tomato & spinach - in a pasta salad.
We will be at Market with some tomatoes, cut flowers, potted plants, sungolds, okra, eggplants and peppers.
Charles & Joan Holeman
1548 Holeman Ashley Road
Timberlake, NC 27583
336-364-2460
E-mail
Parking & Street Information
The Market is located at 501 Foster Street in and around the Pavilion at Durham Central Park. During Market hours, Foster Street is closed between Hunt and Corporations Streets.


Parking can be found on the street around the Market, in the Ballpark Parking Lot on Corporation Street and in the Measurement Inc lot, 423 Morris Street (look for the Durham Farmers' Market Parking sign). There is a path at the bottom of that parking lot that leads you to the Market. There are also public parking lots along Foster Street and on Morgan Street near the Carolina Theatre.


Handicap parking is available on Foster Street, right next to the south entrance of the pavilion.
Durham Farmers' Market Animal Policy
Please note that the Durham Farmers' Market does not allow dogs or other pets in the Market area during Market hours. Service animals are exempt from this rule.
Leashed pets are welcome elsewhere throughout Durham Central Park.