Community and Relationships
By Monica Thom Konschnik, Catholic Apostolate Center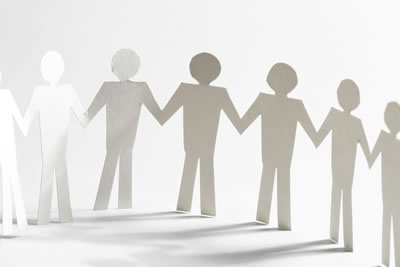 After living in community during your year or more of service, you probably have learned a thing or two about relationships and community. Whether you just finished your term of service or you have been out for twenty years, there are many lessons to draw back on from that time and apply to your everyday life.
I feel very fortunate to have had a wonderful community experience of mutual respect and mostly strong communication when I did the Jesuit Volunteer Corps. I do know that is not the case for every community, but even in communities where there wasn't the best communication or healthy relationships, there is still a lot to take away. Read more.
Scripture Reflection: Who is my Neighbor?
Luke 10:25-37
By Katie Mulembe, Catholic Volunteer Network

The Good Samaritan is a story we all probably know well. In the Gospel of Luke, Jesus uses this story to teach us that it is our duty to look after the welfare of all those we encounter, regardless of social status, ethnicity, or religion. We are called to care for the stranger. This is a message that we understand and strive to live out daily. But isn't it interesting that this man, an expert in religious law, even asks Jesus this seemingly obvious question - "Who is my neighbor?"
Read more.
In every issue of
Staying Connected
we feature reviews of books that tie in themes of service, social justice, and faith. This month, volunteer alumni share about what good books they are currently reading.
Click here to read the latest recommendations
.
Have you read any good books lately?
Let us know!
Alumni Talk:

How do you stay connected to your volunteer community?
After a year of service, many volunteer communities find themselves spread out across the map. It can be a challenge to maintain supportive relationships over great distances while also creating new communities and balancing busy lives. What do you do to stay connected to your volunteer community?
Share your thoughts!
Upcoming Events for Volunteer Alumni
From Mission to Mission Re-Entry Workshops
Coming home from a service experience can be challenging. These workshops help former volunteers and missioners process their experiences.
Click here for details about upcoming workshops.
Peace Yesterday, Today, and Tomorrow - Celebrating 50 Years Since Pacem in Terris


University of Notre Dame

March 21-23, 2013

The core purpose of the conference is to explore the thematic peace and justice issues that have been addressed by modern Catholic Social Thought especially human rights, political structures, ecumenism and environmentalism.

Click here for more information.

Catholics on Call Young Adult Conference
August 6-10, 2013

This experience is designed for women and men (ages 18 to 30) who may be thinking about a life of service in the Church as a lay minister, religious sister or brother, or priest, and those who are undecided and want guidance in determining how God is calling them. Click here for more information about this conference.