Staying Connected is Back!
Catholic Volunteer Network, in partnership with the
Catholic Apostolate Center
, is pleased to offer this quarterly e-newsletter for volunteer alumni. Staying Connected was originally distributed by the St. Vincent Pallotti Center, which discontinued its programming in June. We are grateful for the opportunity to continue their important work of providing resources, inspiration, and support for current volunteers and alumni.


Please share this resource with anyone who may be interested. Alumni can subscribe to this newsletter and/or our weekly job bank by clicking here.
Faith the Size of a Refrigerator Magnet
By Fr. Frank Donio, S.A.C.
A refrigerator often tells a story. And I don't mean the inside. Of course, the inside tells a story about what and how someone eats - meat-eater or vegan, organic vegetables or not a vegetable in sight, everything clean, neat and organized or a jumble of items that requires a contamination suit and mask to venture toward the back! No, I mean the outside, the part that many people put those "Save the Date" magnets for up-coming weddings that stay there long after the wedding date has gone by. Sometimes there are pictures there of family and friends or in families I know a picture drawn by a child and proudly displayed. The other day at a friend's house, I saw a small magnet on the refrigerator with some colorful drawings and short numbered texts that was entitled, "7 Habits for the Year of Faith."
Learn how you can make the most of this Year of Faith!
Scripture Reflection: A Joyful Faith

Matthew 13:44-46
By Katie Mulembe

I'm sure you've heard it said that two things you should never bring up at a dinner party are politics and religion. Sadly, it seems that these topics have become so divisive that many people steer clear of them altogether. I won't touch on politics here, but I've starting to think more about how I can talk about religion in ways that strengthen unity rather than cause division.
Read more.
Alumni Talk:

What sustained you during your year of service?
When times got tough during your service year, what helped keep your spirits high? Was it a good book you read that challenged you to strive harder? An experience at your placement site that changed the way you viewed service? Did your mid-year retreat give you a much needed boost?
Share your thoughts!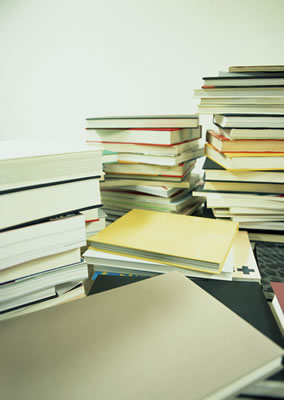 In every issue of
Staying Connected
we feature reviews of books that tie in themes of service, social justice, and faith. This month, Catholic Volunteer Network staff shares about what good books they are currently reading.
Click here to read some of our recommendations
.
Have you read any good books lately?
Let us know!
"Count Your Pennies: L'Arche USA" by Kate Flannery - Learn more about the mission of L'Arche to form intentional communities of people both with and without intellectual disabilities.
"What Do You Stand For?" by Erica Stewart - Former Dominican Volunteer and CVN Recruiter, Erica Stewart reflects on the experiences that taught her to listen more attentively to her own heart.
A Day in the Life of Amate House Volunteer Mackensey Carter - Follow Mackensey as she spends her day serving at the Blessed Sacrament Teen Center in Chicago and sharing her experiences with her Amate House community.
"Under Your Roof" by Pam Tremblay - A chemical spill near her home leaves Pam temporarily displaced, and through the experience she draws closer to the spirit of Advent.
"Taking the Long View" by Laura Berlage - In this post, Laura professes her love for the season of Advent.
"Our Patronal Feast" by Nick Wagman - Nick reflects on the importance of the Feast of the Immaculate Conception for our Church.
Upcoming Events for Volunteer Alumni
2013 MLK Day of Service
January 21, 2013
Join Catholic Volunteer Network as we work together to honor the legacy of Dr. Martin Luther King, Jr. through service to the community
. We have service events planned in cities across the U.S.
Click here to register.

From Mission to Mission Re-Entry Workshops
Coming home from a service experience can be challenging. These workshops help former volunteers and missioners process their experiences.
Click here for details about upcoming workshops.