Nika Dearing Holistic Wellness & Healing
Upcoming Events




AUGUST 2012





Greetings!



I can hardly believe how quickly the summer is racing by. We started off nice and chill by taking a vacation to the Caribbean, then I went right to work on my upcoming book, A Holistic Mom's Cookbook: Becoming a Holistic Warrior in the Kitchen. It's been a whirlwind of activity ever since!




New product releases have been coming in from my affiliates like crazy like Shakeology's new Chocolate Vegan shake (see below) and

Team Beachbody's

new line of anti-aging beauty products Derm Exclusive, which I will be product testing over the next month so be on the lookout for that review to see if it's on the mark or just hype.




Meanwhile, over at

DoTerra Essential Oils

, they have a new hand lotion that just came out in their creamsicle-y and yummy Citrus Bliss scent, and have one of my kitchen essentials on sale this month (see below).




While researching healing foods for my book, I came across some very encouraging news about my summer weakness, watermelon. I swear I could eat a whole melon in one sitting! Turns out my obsession may be responsible for my glowing skin and happy marriage. But, I'll let you read more about that in the article below. ;)




New Chocolate Vegan Shakeology is Here!

There has been a lot of anticipation about Beachbody coming out with a new vegan flavor of their popular nutrition shake, and it is finally here!

Shakeology is a powerful superfood formula designed to give your body the perfect combination of nutrients to help give you energy, reduce cravings, maintain healthy body weight, and support your immune system. You can download the full nutritional information on the new Chocolate Vegan Shakeology here.
Healing with Watermelon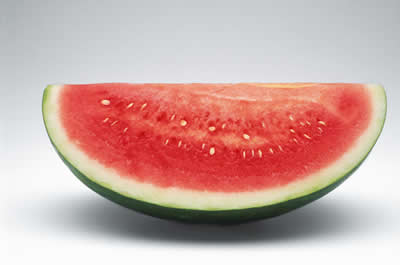 Watermelon is not only great on a hot summer day, this sweet and tasty thirst-quencher may also help reduce the inflammation that contributes to conditions like asthma, atherosclerosis, diabetes, colon cancer, and arthritis. It is a beauty powerhouse due to its 90% water content and antioxidants which help plump up fine lines, wrinkles and fight against sun damaged skin.
It is filled with vitamins, minerals and an important nutrient lycopene, which may help treat and prevent various cancers, improve eye sight and even improve the libido. Now that's what I call a hot summer's night!
I Crushed It!
I was super stoked when I opened the mail last week. I got my official P90X T-shirt from Tony Horton himself! You see, only a select few can get one of these shirts and it is a major testament to your super hero abilities because only a graduate of the
P90X program
can get one. Yep, I came, I did my best (forgot the rest), and I conquered one of the most difficult fitness DVDs on the market. I decided to do the program because I needed to get back into shape, but what I learned from it was that I was so much more powerful than I ever thought I could be. I never imagined that I could do one-armed pushups or hold a crane pose for a full minute. It made me realize that as long as I kept moving forward and kept trying day after day that I would be able to do things I never dreamt possible. It showed me that in life there will be things that seem too hard or complicated, but that the only thing keeping me from mastering it was my own fear of trying. So, I wear my shirt proudly and smile when I see myself in the mirror because I know that I can do anything I set my mind to, and at the end of my days, I want to be able to look back at my life and say, "I crushed it!"
Enjoy your summer everyone and remember to Live Well, Be in Joy, Do What You Love, and Become All That You Desire.
With much love and joy,
Nika Dearing
Nika Dearing Holistic Wellness & Healing
Save 10%

DoTerra Thyme Essential Oil

thymus vulgaris

Thyme, familiar to most as a common seasoning for cooking, produces an essential

oil that has valuable cleansing and clarifying properties. It is also notable for its broadspectrum activity for winter health. For aromatic, topical, or dietary use.

Offer Expires: July 31, 2012