What's your plans for Spring Break?
April 2-6th
We have something happening each day: Princess & Fairies, POP Star, Pamper Me Spa Day, HIP HOP Dance Camp, Manners & Manis.
Call us for details on what's happening this week at Sweet & Sassy
770-781-0300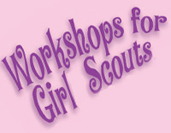 A girl in the world is a wonderful thing!
Workshops are held Monday - Thursday:
Fun with Friends, Manners Matter or Mind Your Business! Patches awarded to Girl Scouts. $20-25 per girl/8 girl minimum
Call us for more details.

Girls Night Out!
Friday March 16th

5-7pm
Friday March 23rd
5-7pm
Hair, Makeup, Nails, Mask Craft, Runway Show, Pizza, Cupcakes, Limo ride and more!

Only $25/Girl
Now to reserve your spot!