Hal Leonard Music Technology Retailer Update /
April 2018
Hal Leonard distributes the tools to create and post a quality video onto YouTube. Here is Part 1 of a Tech Talk Training Video that shows you which products to stock to help your customers put themselves online. Products include smartphone holders, Bluetooth remote switches, recommended recording apps, mobile mics, interfaces, and entry level video editing software.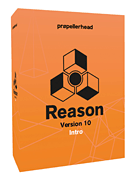 Reason 10 Intro
from Propellerhead
Reason Intro is the new entry level edition of Reason - Reason Essentials is no longer offered.

Start making music with Reason Intro and get stunning results with ease.

The included set of instruments, effects and sounds is everything you need to get started making music. Then polish your work to perfection with Reason Intro's state-of-the-art recording and mixing tools. Create, compose, record and finish your music in Reason Intro.
Features include:
- 16 tracks of audio and MIDI recording
- 10 instruments, including Reason's Europa Synthesizer, samplers and drum machines
- Professional recording tools with Pitch Edit, audio editing, audio quantize and more
- Supports VST & Rack Extension plugins
- Analog modeled studio mixing console
- Upgrade to the full version of Reason at a discounted price
00277136 - Boxed Edition - MSRP/MAP $99.00
00277137 - Downloadable Code - MSRP/MAP $99.00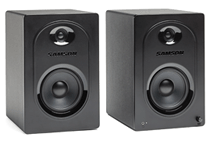 MediaOne M50
2-Way Studio Monitors from Samson
These monitors are a full-range speaker solution for all your desktop and multimedia applications. Whether you're listening to music, producing tracks, watching videos or gaming, this stereo monitor pair features an internal amplifier, solid wood construction and high-quality components that bring big, balanced sound to your desktop space.
Get more details on the Samson website
Sign up for our mailing lists
Do you get our Gear Talk and
Drum Talk emails?
from Hal Leonard
Drum Talk
Drum Talk is an email newsletter for Hal Leonard drum retailers. It covers recent releases and sales specials on drum gear, percussion instruments, electronic kits, drum machines, method books, songbooks, DVDs and more each month. Email
drums@halleonard.com
to be added to the list.
Gear Talk
Gear Talk is an email newsletter featuring recent releases and our sales specials on related products for: guitar, bass amps, ukulele, folk instruments, keyboards, electronic drums, mobile interfaces for instruments, and other related gifts and accessories. Email
sales@halleonard.com
to be added to the list.

Baby Bottle Special Bundle Pack
from Blue Microphones
This special bundle pack (HL#
00278257
), available until June 29th, is a great deal! For just the price of Blue's
Baby Bottle
(HL#
00214949
), you'll get two add-ons for FREE! It includes the Baby Bottle, plus a
Quad Cable
(HL#
00754511
, retails for $49.99) and the
Pop Filter
(HL#
00754522
, retails for $69.99).

Special Discounts & More in April!
IK Multimedia offers special offers on five items this month. All offers valid through April 30th.

Free Power Adapter
00238888
- iRig Pro I/O - MSRP/MAP $149.99
20% Off - iRig Acoustic
00153171
- MSRP $49.99 - MAP $39.99 - $2.50 mail-in rebate
25% Off - iRig 2
00142930
- MSRP $39.99 - MAP $29.99 - $3.50 mail-in rebate
30% Off - iRig Acoustic Stage
00214967
- MSRP $99.99 - MAP $69.99 - $12.50 mail-in rebate
40% Off - iRig Nano Amp
00200640
- MSRP $49.99 - MAP $29.99 - $10.00 mail-in rebate
---

Spring Specials from PreSonus
Instant Rebate - 25% Off AIR Series Speakers
Valid through April 30th.
00196611 - AIR10 - MAP

$499.95

$374.96

($262 special cost)
00196612 - AIR12 - MAP

$599.95

$449.96

($315 special cost)
00196613 - AIR 15 - MAP

$699.95

$524.96

($367 special cost)
00196614 - AIR15S - MAP

$799.95

$599.96

($424 special cost)
00196615 - AIR 18S - MAP

$999.95
$749.96
($525 special cost)
Free Monitor Station When You Buy Sceptre S6/S8!
Mail-in rebate worth $369.95 MSRP (00125087). Valid through May 31st.
00125071 - Sceptre S6 - MSRP $899.95/MAP $499.95
00125072 - Sceptre S8 - MSRP $999.95/MAP $599.95




Ask Your Sales Rep About Our Current Specials

!
Sales restrictions to some countries may apply. All prices listed in U.S. funds.
Reproduction in whole or in part without written consent of the publisher is prohibited.