Hal Leonard Music Technology Retailer Update /
December 2017

Hal Leonard sends warm holiday wishes to all music technology retailers!

Please view our holiday video featuring members from our stellar sales team playing instruments and using microphones and other products available from Hal Leonard. A list of

all the incredible gear that was used in making this video is included.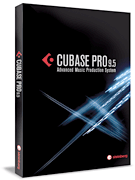 Cubase 9.5
from Steinberg
With millions of musicians, producers and sound engineers around the world using Cubase every day, Cubase is one of the most popular digital audio workstations of our time. Due to its pristine sound quality, intuitive handling and unrivaled range of advanced tools, Cubase is not only considered by many users as the most complete DAW on the market today, but also sets the benchmark for contemporary music production software. The latest Cubase update significantly enhances the workflow, the quality and the creative tool set of your favorite digital audio workstation, with amazing new features and sharp improvements.
CUBASE 9.5 BOXED EDITIONS
(Downloadable Codes coming soon)
Cubase Pro 9.5
(Advanced Music Production System)
00262120
- Retail - MSRP $739.99 - MAP $579.99
00262124
- Educational - MSRP $739.99 - MAP $359.99
Cubase 9.5 Artist
(Music Production System)
00262119
- Retail - MSRP $419.99 - MAP $329.99
00262123
- Educational - MSRP $419.99 - MAP $199.99
Cubase Elements 9.5
(Personal Music Production System)
00262121 - Upgrade from AI - MSRP $189.99 - MAP $149.99
WaveLab 9.5
from Steinberg
With extraordinary features for mastering, editing, analysis, restoration and audio refinement, WaveLab Pro 9.5 makes no compromises when it comes to audio quality. Introducing the most comprehensive and intuitive feature set ever crafted, WaveLab Pro reinvents audio refinement once again. Its redesigned user interface and the new exchange feature allow for faster workflows, while the unique mastering plug-in suite, MasterRig, and its mid/side capabilities push your creative envelope.

WaveLab Pro 9.5
Audio Editing and Mastering Suite


00262048

- Retail - MSRP $739.99 - MAP $579.99

00262050

- Academic - MSRP $739.99 - MAP $329.99




WaveLab Elements 9.5

Personal Audio Editing System

00262047 - Retail - MSRP $130.99 - MAP $99.99

00262049

- Academic - MSRP $130.99 - MAP $66.99

Videos:



New Interfaces

Apogee MiC+
Mobile Recording Mic
Apogee MiC Plus is a professional studio quality USB microphone you can connect to your iPad, iPhone, iPod touch, Mac, or PC. Apogee MiC Plus makes it easy to capture your best take with incredible quality, anywhere you go. Record any sound you can imagine, from vocals to voice-overs, instruments to interviews, and everything in between.
---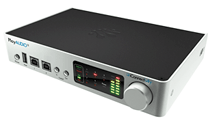 iConnect PlayAUDIO 12
Audio Interface from
iConnectivity
For those who rely on live computer audio & MIDI, and need a bulletproof, fail-proof solution for control and playback of backing tracks, virtual instruments or anything else you can think of, PlayAUDIO12 is the solution. Designed by touring musicians and engineers, PlayAUDIO12 is purpose-built for professional on-stage use. Your audience won't accept compromises, and now you don't have to either.
| | |
| --- | --- |
| 00214964 - MSRP $599.99 - MAP $499.99 | Videos: |
---

Quantum 2
22 x 24 Thunderbolt 2 Audio Interface
from PreSonus
Every design decision during Quantum 2's engineering was made with one goal in mind: speed. Quantum 2 sports high-speed Thunderbolt 2 connectivity and a no-frills, direct-to-DAW architecture, with no DSP. The result is PreSonus' leanest, fastest, lowest-latency interface to date.
Cutting-edge 24-bit, 192 kHz converters with 120 dB of dynamic range and a surprising amount of expandability and software control options round out the package.
| | |
| --- | --- |
| 00257824 - MSRP $999.95/MAP $699.95 | Videos: |
New Mixers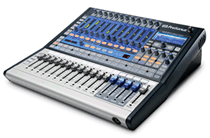 StudioLive 16.0.2 USB
Performance and Recording Digital Mixer from PreSonus
In a footprint of less than 2 square feet (0.19 square meters), this mixer offers 8 mono input channels, 4 stereo channels, and 4 aux buses, each with a high-quality, 60 mm fader. You get generous analog I/O, 12 XMAX Class A solid-state mic preamps, a Talkback input with Class A mic preamp, extensive signal processing with physical controls, MIDI control, accurate metering, and a built-in multichannel recording interface. It comes with a suite of tightly integrated recording, control, and audio analysis software.
Introductory video
00262112 - MSRP $1,399.99 - MAP $1,099.95


---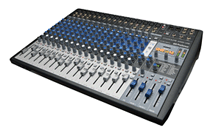 StudioLive AR22 USB
Hybrid Performance and Recording Mixer from PreSonus
StudioLive AR22 USB 22-channel hybrid mixers make it simple to mix and record live shows, studio productions, band rehearsals, podcasts, and much more. This is a musician's mixer: lightweight, versatile, feature-rich, and packed with analog connections and digital tools, yet easy to learn and use. Mix with 16 of PreSonus' famous Class A preamps and three-band EQ. Create multitrack recordings and fly in backing tracks with a 24-bit, 96 kHz, USB 2.0 digital audio interface. Record and playback in stereo with the integrated SD digital recorder. Stream program music wirelessly, using onboard Bluetooth.
Introductory video
---

StudioLive Series III Rack Mixers

from PreSonus
The result of ten years of R&D, third-generation StudioLive Series III rack mixers are fully recallable, including remote-controlled XMAX preamps. Yet despite their extensive features, StudioLive Series III rack mixers actually improve upon PreSonus' legendary ease of use while letting you customize their workflow and operations in software to fit the way you work. The coveted StudioLive sound is better than ever, including third-generation Fat Channel processing, re-engineered from the ground up, and vintage-style EQs and compressors. Add built-in AVB networking, multitrack recording via USB 2.0 and AVB, onboard stereo recording to SD Card, and a complete suite of software, and you have a mixing and recording powerhouse that's equally formidable as a stage box/monitor mixer, as a rackmount front-of-house mixer controlled from a touchscreen computer or tablet, and as the heart of your studio.
Introductory video
00262114 -
StudioLive 16R
- MSRP $999.95 - MAP $799.95
00262115 -
StudioLive 24R
- MSRP $1,499.95 - MAP $1,099.95
00262116 -
StudioLive 32R
- MSRP/MAP $1,999.95


---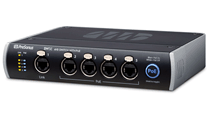 SW5E

5-Port AVB Network Switch with PoE from PreSonus
PreSonus' SW5E AVB switch supplies five AVB ports with secure. locking XLR Ethernet jacks. This, along with its robust construction, makes the SW5E an especially good choice for live sound systems. Network Link/Activity indicators help you ensure that network data is flowing properly.
Introductory video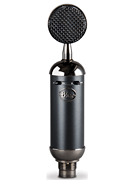 Blackout Spark SL
XLR Condenser Mic from Blue Microphones
Blackout Spark SL brings Blue's legendary studio sound to your space. With a professional XLR connection and versatile switches, Blackout Spark SL gives you that broadcast studio voice that will transform your podcasts, Twitch game streams and YouTube videos. The large-diaphragm cardioid condenser capsule and JFET electronics deliver superb detail and rich harmonic audio for the ultimate in professional sound. Upgrade to Blackout Spark SL and hear why Blue is the number one choice for game streamers, podcasters and musicians worldwide.

ER3 Series In-Ear Earphones
from Etymotic
ER3SE
The ER3SE Studio Edition provides a high level of sensitivity, making it a perfect match for portable media players on the market today. The ER3SE delivers high accuracy with a flat response, re-sulting in professional grade sound reproduction at an affordable price.
ER3XR
The ER3XR Extended Response builds on the sound quality of the ER3SE, while providing a slight bass boost for those listeners who prefer a lift in the low end response.

TS212W
1100-Watt 2-Way Powered Loudspeaker with Bluetooth from Alto Professional
Truesonic speakers have established a well-deserved benchmark for clarity, high output, flexible I/O options and value that has made them the worldwide standard of comparison. These TS2Ws have significantly enhanced that level of achievement. This higher power capability ensures greater output for use in larger spaces, with increased clarity, since the amplifiers won't "run out of steam" and distort the way less powerful units will. Bluetooth equipped! - Wirelessly stream backing tracks or background music from any Bluetooth-compatible device. TS wireless speakers pairing process video
AES Videos
At the AES Convention in NYC, we spoke with a few manufacturers who were either releasing exciting new products or who had exciting news to share.


iRig & iLoud Price Reductions
Dealer costs have been lowered to maintain margin and temporary MAP reductions on the following products are in effect through December 31st.
00120176 - iLoud Bluetooth Speaker -
MAP

$249.99

$199.99
00214967 - iRig Acoustic Stage - MAP

$99.99
$79.99
00200640 - iRig Nano Amp - MAP

$49.99

$39.99
00200642 - iRig Pro Duo Studio Suite Deluxe - MAP

$399.99
$299.99
---

Instant Rebates & MAP Reduction
25% Temporary MAP Reduction
on Eris 2-Way Active Studio Monitors through December 31st.
00125069
-
Eris E5
- MAP

$149.95
$112.46
00125070
-
Eris E8
- MAP

$249.95
$187.46
Take advantage of instant rebates on the following active integration mixers through January 31st.
00152383
-
CS18AI
- MAP $1199.95 -
$800 instant rebate
00249973
-
RML16AI
- MAP $1199.95 -
$400 instant rebate
00249974
-
RML32AI
- MAP $1799.95 -
$800 instant rebate
---

Purchase Reason 10 for only $299!
The following full editions of Reason 10 can be purchased for only $299 through December 31st.
Reason 10
00254556 - Retail Boxed Edition - MAP $399.00



by Bill Gibson, Communication & Training Specialist

Ask Your Sales Rep About Our Current Specials

!
Sales restrictions to some countries may apply. All prices listed in U.S. funds.
Reproduction in whole or in part without written consent of the publisher is prohibited.