Hal Leonard Music Technology Retailer Update /
March 2018

Hal Leonard supports retailers who sell recording software and hardware with dozens of short training videos called TechTalk Training. The free online videos are geared to help those who might have some gaps in their knowledge and as a refresher for those with more experience. Each video is about 5-7 minutes long and is accompanied by a brief auto-graded test that helps reinforce the essentials. Ultimately, TechTalk Training exists to increase sales.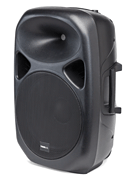 Tourtek GP15A
2-Way Active PA Speaker from Samson Audio
The Tourtek GP15A 2-Way Active PA Speaker combines high-quality audio reinforcement with a multi-faceted digital media player at an incredible value. Weighing in at only 26 pounds, along with its durable construction, integrated carry handles and smooth rolling wheels, the GP15A is a most portable solution wherever stunning sound is needed.

Radius III
Custom Shockmount for Yeti USB Microphones from Blue Microphones
Radius III is a vintage-style suspension mount designed to isolate Yeti and Yeti Pro USB microphones from noise, shock and ambient vibration. Radius III features a new streamlined, lighter weight design, perfect for on camera streaming. Radius III also works with virtually any microphone that has a standard thread mount and is compatible with standard microphone stands.
Also available:
00139418
-
Yeti Studio Pack
- MSRP/MAP $149.99
00197541
-
Yeti Pro Pack
- MSRP/MAP $269.99

Compass
Premium Tube-Style Broadcast Boom Arm
from Blue Microphones
Compass is a premium tube-style desktop boom arm with internal springs and built-in cable management, ideal for broadcast applications like game streaming, podcasting, voice-over, and more. With smooth, quiet operation and sophisticated on-camera looks, Compass is the perfect boom arm for mics weighing up to 2.4 pounds, including the Yeti and Blackout Spark SL.
Trade/Reference Book
Modern Recording Techniques -
9th Edition
from Focal Press
This bestselling, authoritative guide to sound and music recording
provides an in-depth read on the art and technologies of music production. It's a must-have reference for all audio bookshelves. Using its familiar and accessible writing style, this ninth edition has been fully updated, presenting the latest production technologies and includes an in-depth coverage of the DAW, networked audio, MIDI, signal processing and much more.
Sign up for our mailing lists
Do you get our Gear Talk and
Drum Talk emails?
from Hal Leonard
Drum Talk
Drum Talk is an email newsletter for Hal Leonard drum retailers. It covers recent releases and sales specials on drum gear, percussion instruments, electronic kits, drum machines, method books, songbooks, DVDs and more each month. Email
drums@halleonard.com
to be added to the list.
Gear Talk
Gear Talk is an email newsletter featuring recent releases and our sales specials on related products for: guitar, bass amps, ukulele, folk instruments, keyboards, electronic drums, mobile interfaces for instruments, and other related gifts and accessories. Email sales@halleonard.com to be added to the list.

Spring Specials from PreSonus
Notion, Progression & Studio One Software Specials
Ask your sales rep for special XChange Item Codes that allow you great savings for St. Patrick's Day (valid March 16th-18th) or a Crossgrade special for March (valid through March 31st) for this PreSonus software on the Virtual Music Software Vault.
Instant Rebate - 25% Off AIR Series Speakers
Valid through April 30th.
00196611 - AIR10 - MAP

$499.95

$374.96

($262 special cost)
00196612 - AIR12 - MAP

$599.95

$449.96

($315 special cost)
00196613 - AIR 15 - MAP

$699.95

$524.96

($367 special cost)
00196614 - AIR15S - MAP

$799.95

$599.96

($424 special cost)
00196615 - AIR 18S - MAP

$999.95
$749.96
($525 special cost)
Free Monitor Station When You Buy Sceptre S6/S8!
Mail-in rebate worth $369.95 MSRP (00125087). Valid through May 31st.
00125071 - Sceptre S6 - MSRP $899.95/MAP $499.95
00125072 - Sceptre S8 - MSRP $999.95/MAP $599.95
---

Upgrade from Reason 10 Essential to Full edition for only $99!
From now until April 1, customers can enjoy a savings of $230 when upgrading from Reason Essentials. Reseller credit will be calculated using the standard unit purchasing price less the promo discount. Vault downloadable codes automatically get the new cost at purchase. No credit involved.
Reason 10 Upgrade from Essentials
00254559 - English Edition - MSRP/MAP

$329.00

now $99.00
00254567 - French Edition - MSRP/MAP

$329.00

now $99.00
Up to $480 of Plug-Ins FREE with Reason Purchase!

Buy the full version of Reason before March 15th, and get over $480 worth of best-selling plugin and sound libraries for FREE!
See sales special PDF
Reason 10
00254556 - Retail Edition - MSRP $449.00/MAP $399.00
00254560 - Student/Teacher Edition - MSRP/MAP $349.00


Ask Your Sales Rep About Our Current Specials

!
Sales restrictions to some countries may apply. All prices listed in U.S. funds.
Reproduction in whole or in part without written consent of the publisher is prohibited.