Hal Leonard Music Technology Retailer Update /
November 2017
BLACK FRIDAY,

CYBER MONDAY & MORE HOLIDAY SPECIALS
The holiday shopping season is here, and with it, the manufacturers whose products you can purchase through Hal Leonard are offering special savings for Black Friday, Cyber Monday, and beyond.
Click here for details on these Audio Technology Specials
for the 2017 holiday season, including the dates when each special is valid. Includes specials from
Apogee, Blue Microphones, iConnectivity, IK Multimedia, PreSonus, Propellerhead
and
Samson
. Contact your Hal Leonard sales rep to take advantage of these special offers today!
Note: Please note that the information in this document is confidential!
Reason 10 Is Here!
from Propellerhead
New sounds and new gear pave the way for new music, and Reason 10 is here with a rackload of new synths, instruments, samples and more.
Grain
and
Europa
: two massive, brand new synthesizers.
Klang Tuned Percussion
,
Pangea World Instruments
,
Humana Vocal Ensemble
: three new live-sounding organic instrument devices.
Radical Piano
: a top-notch acoustic piano.
Synchronous
: creative modulation device.
Loop Supply
and
Drum Supply
: a multi-gigabyte infusion of cutting-edge drum loops and samples. What music will you create?
Boxed Editions (shipping now!)
00254556 - Full Edition - MSRP $449.00/MAP $399.00
00254557 - Upgrade from Previous Editions - MSRP/MAP $129.00
00254559 - Upgrade from Essentials - MSRP/MAP $329.00
00254558 - Reason Essentials - MSRP $129.00/MAP $69.00
00254560 - Student/Teacher Edition - MSRP/MAP $349.00
French Editions
also available.
All Reason products are also available as downloadable codes via the Virtual Music Software Vault Program.
Artiphon Digital Instruments - Instrument 1
Hal Leonard is excited to bring this "Best in Show" award-winning, innovative instrument exclusively to the retail market. The Instrument 1 is the ultra-expressive, next-generation digital instrument that lets anyone play their favorite music software using familiar techniques. Designed for pros and casual players alike, it is the world's most versatile MIDI controller, offering unparalleled expressiveness in a package that is portable, affordable, and amazingly fun. Its patented multi-instrument design lets you strum like a guitar, bow like a violin, and tap like a keyboard or drum pad. It plugs into iPhone, iPad, Mac, or PC and connects with hundreds of music apps. Musicians of all ages and skill levels can explore unlimited configurations by combining tunings, techniques, and playing positions to design your own custom instruments.

iRig Keys I/O 25 & 49
Keyboard Controllers from
IK Multimedia
The iRig Keys I/O includes an unmatched selection of everything that is needed to make complete finished productions out of the box: the full version of SampleTank 3 sound and groove workstation, Miroslav Philharmonik 2 CE orchestral workstation, Syntronik Pro-V vintage synthesizer, T-RackS Deluxe mix and mastering suite, and more. This is the ultimate music production station and an added value of several hundred dollars.



00214966 - iRig Keys I/O 25 - MSRP/MAP $199.99

00214965 - iRig Keys I/O 49 - MSRP/MAP $299.99

Videos:

iRig Pre HD
High-Definition Microphone Interface
from IK Multimedia
This digital, high definition microphone interface with studio quality preamp for iPhone, iPad, Mac and PC makes it easy to grab
your favorite microphone and record straight to your device with true studio-quality sound, any time and anywhere.
As pioneers of the mobile music revolution, IK Multimedia knows what it takes to produce great content on a portable device. Whether you are a musician, podcaster, journalist, videographer or vlogger, you instinctively know how important it is for your content to be the highest quality possible to be well received and how audio plays a critical role in the process.

Quantum 2
22 x 24 Thunderbolt 2 Audio Interface
from PreSonus
Every design decision during Quantum 2's engineering was made with one goal in mind: speed. Quantum 2 sports high-speed Thunderbolt 2 connectivity and a no-frills, direct-to-DAW architecture, with no DSP. The result is PreSonus' leanest, fastest, lowest-latency interface to date.
Cutting-edge 24-bit, 192 kHz converters with 120 dB of dynamic range and a surprising amount of expandability and software control options round out the package.
| | |
| --- | --- |
| 00257824 - MSRP $999.95/MAP $699.95 | Videos: |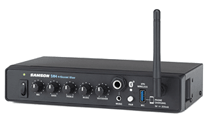 SM-4 Mixer

from Samson
Samson's SM4 is a half-rack, 4-channel line mixer designed to easily integrate into any installation or commercial sound system. Perfect for restaurants, night clubs, schools and more, the SM4 features a balanced microphone channel with 2-band EQ, voiceover priority ducking, stereo line level inputs, as well as Bluetooth and Samson XPD wireless connectivity. Features include a USB port, voiceover control, variable hold time, rear panel master volume control, and a mono/stereo output switch.

AWX Wind Microphones

from Samson
The AWX Wind Instrument system offers true wireless freedom without the hassle of a belt pack or cable. Featuring the world's smallest clip-on transmitter with a shock mounted microphone and adjustable gooseneck, this frequency-agile UHF wireless system provides high definition sound and 300 feet of reliable wireless operation for saxophones, trumpets, trombones and other wind instruments.

Holiday Special Offers!
See special offers for Black Friday, Cyber Monday and more in a PDF detailing discounts and deals for the publishers listed above.

Win Cool Sports Gear!
Watch a few short Tech Talk Training videos, answer a few easy questions, and you'll get your name entered into a drawing for officially licensed gear. Click here for details, including links to Tech Talk Training videos.

Buy One, Get One on 4 Mics



by Bill Gibson, Communication & Training Specialist

Ask Your Sales Rep About Our Current Specials

!
Sales restrictions to some countries may apply. All prices listed in U.S. funds.
Reproduction in whole or in part without written consent of the publisher is prohibited.