TEC Award Nominees
Congratulations to the nominees listed below of the 33rd TEC Awards which will be presented at Winter NAMM 2018. We are proud to distribute these fine products!
Apogee
Blue Microphones
Groove 3
Recording Vocals with Dave Pensado
Josh Bess Webinar
PreSonus
StudioOne Professional 3.5
Propellerhead
Twitter
follow us at
@halleonardtech
YouTube
search for
HalLeonardTech
WordPress Blog
Online
Phone
Call our
E-Z Order Line
toll-free at
800-554-0626

Hal Leonard Music Technology Retailer Update /
October 2017
Receive January 2018 dating on orders starting at $1,000 net!
Hal Leonard can help you finish the year strong with great dating and more!*
$1000+ Net Orders = January 2018 dating
$2000+ Net Orders = January 2018 dating + extra 3% DFI on tech/gear
$3000+ Net Orders = January 2018 dating + extra 5% DFI on tech/gear
For more details on any of these options and to discuss the best plan of action for your store, contact your Hal Leonard sales rep today.
* These offers apply to qualifying orders only, and are subject to credit approval.
Reason 10 Is Coming!
from Propellerhead
Upgrade to Reason 9.5 Today and Get Reason 10 for FREE when it's Released on October 25th!
New sounds and new gear pave the way for new music, and Reason 10 is here with a rackload of new synths, instruments, samples and more. Grain and Europa: two massive, brand new synthesizers. Klang Tuned Percussion, Pangea World Instruments, Humana Vocal Ensemble: three new live-sounding organic instrument devices. Radical Piano: a top-notch acoustic piano. Synchronous: creative modulation device. Loop Supply and Drum Supply: a multi-gigabyte infusion of cutting-edge drum loops and samples. What music will you create?
Reason Boxed Editions
00182814
- Retail Edition - MSRP $449.00 - MAP $399.00
00182818
- Upgrade from Essentials - MSRP/MAP $329.99
00182816
- Student/Teacher Edition - MSRP $349.00 - MAP $299.99
00182817
- Reason Essentials - MSRP $129.00 - MAP $69.00
All Reason products are also available as downloadable codes via the Virtual Music Software Vault Program.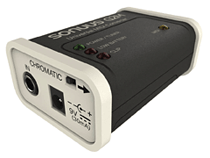 G2M - Version 3
Universal MIDI Converter
MIDI guitar made simple!
- Plug in guitar
- Connect MIDI device
- Play!
"The G2M has changed my approach to soloing!" - Dan Lawson
00255857 - MIDI Breakout Cable for G2M - $24.00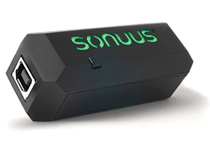 i2M musicport

MIDI Converter & Hi-Z USB Audio Interface
Features include:
- Ultra-fast MIDI tracking for guitar, bass, voice and wind
- Hi-Z USB audio interface
- Ultra-portable tiny size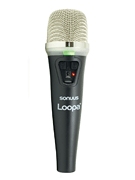 Loopa
Cardioid Condenser Vocal Microphone
A looper microphone works just like a normal microphone, but lets you record what you sing, replay it in a loop and sing over it. Beatboxing is very cool, but takes years to perfect. A cappella singing is beautiful, but you can't do harmonies on your own. With the Loopa you will be knocking out beatbox rhythms faster than ever before, and performing complete a cappella songs before you know it.
But the Loopa isn't just for singers. If you can make a noise, you can loop it.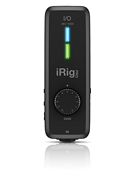 iRig Pro I/O
Audio Interface with MIDI from IK Multimedia
Now record with any of your gear on the go, and monitor in real time with any compatible device! That's iRig Pro I/O, the ultra-compact professional quality audio and MIDI in/out for your mobile recording life! iRig Pro I/O is the next generation of the iRig Pro - the first mobile interface for connecting all of your studio gear to your iPhone, iPad, Mac, PC or Android device to play and record on the go. iRig Pro I/O is a pocket-sized full-featured audio and MIDI interface that gives you 24-bit/96kHz recording studio quality sound everywhere you go with a few additional essential features for mobile recording.
Introductory Video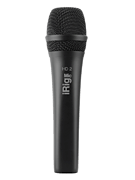 iRig Mic HD2
Handheld Microphone from IK Multimedia
Featuring high-quality 24-bit converters with sample rates up to 96kHz, a low noise preamp, a high quality, gold-sputtered electret condenser capsule and an onboard dedicated headphone output with volume control for direct monitoring, iRig Mic HD 2 offers unmatched quality and versatility at the most affordable price. It also comes with all the cables, accessories and software you need!



00251413 - MSRP/MAP $129.99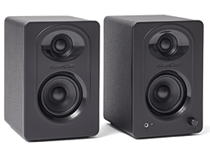 MediaOne M30 Monitors
Pair of 2-Way Powered Studio Monitors from Samson
Coming soon!
Features include:
- Bass Boost switch
- Stereo RCA inputs
- Stereo 1/8" Sub and headphone outputs
- 3" copolymer woofers, 3/4" silk dome tweeters
- Crystal clear high-end performance, exceptional bass response

Concert 99 - K Band
Frequency-Agile UHF Wireless Systems from Samson
New K-Band Systems Coming Soon!
Samson's Concert 99 systems combine 80 channels of high-definition audio and extreme reliability into a rugged all-metal, rack-mountable chassis with a stage-ready backlit display. With simple 1-touch setup, convenient monitoring, a 300' UHF operating range and impressive transmitter battery life, this frequency-agile system offers unprecedented value to those in search of reliable wireless freedom.
MSRP $389.99 - MAP $279.99
D Band Systems also available:

TS Series Powered Speakers

from Alto Professional
1100-Watt 2-Way Powered Loudspeakers
Truesonic speakers have established a well-deserved benchmark for clarity, high output, flexible I/O options and value that has made them the worldwide standard of comparison. These TS2Ws have significantly enhanced that level of achievement. This higher power capability ensures greater output for use in larger spaces, with increased clarity, since the amplifiers won't "run out of steam" and distort the way less powerful units will.
00253977 - TS212W (12-Inch) - MSRP $559.00 - MAP $349.00
00253978 - TS215W (15-Inch) - MSRP $629.00 - MAP $399.00
1250-Watt Powered Subwoofer
For those performance situations where additional low-frequency output and punch are required, even beyond the already-impressive bass capability of the TS2 full-range speakers, the new TS2 powered subwoofers are the perfect solution. Pair these subwoofers with any full-range speaker system to extend the bass response.

00254049 - TS215S (15-Inch) - MSRP $839.00 - MAP $499.00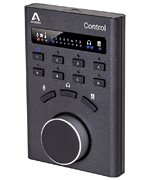 Control Remote

from Apogee
- Connect any Element interface to an Ensemble Thunderbolt
- Experience ultra-low latency with the best AD/DA and mic preamps in the industry
- Download the iOS App for free on your iPad, iPhone or iPod touch.

Get free freight on your next order!
Watch a few short Tech Talk Training videos, answer a few easy questions, and you'll qualify for free freight on your next tech order. Learn more about the products you sell and improve your profits!

Buy One, Get One on 4 Mics

Halloween Week MAP Reductions
Customers get at least 20% off with these temporary MAP reductions. Please note that this special will only be in effect from October 27th to November 1st.
iRig BlueTurn & iKlip Xpand Bundle
00159643
- MSRP $99.99 - MAP
$99.99
$79.99
iKlip Xpand
- 00131249 - MSRP $49.99 - MAP
$49.99
$39.99
iRig BlueTurn
- 00158580 - MSRP $69.99 - MAP
$69.99
$49.99
iRig HD 2
- 00200639 - MSRP $99.99 - MAP
$79.99
$79.99



by Bill Gibson, Communication & Training Specialist

Ask Your Sales Rep About Our Current Specials

!
Sales restrictions to some countries may apply. All prices listed in U.S. funds.
Reproduction in whole or in part without written consent of the publisher is prohibited.