| | |
| --- | --- |
| The Book Shelf | April Events 2012 |
Greetings!

Wow. Ten years. I remember it as if it were yesterday. I left my job in advertising and signed a lease on the space on Huff Street with the hope that I might carve out a place for my dream to own an independent bookstore. Ten years, a new location, a recession, and two kids later: here I am. The business of independent bookselling hasn't been the easiest this past decade, but it is because of our loyal customers that our business continues to grow and adapt to the changing marketplace.
To celebrate our first decade in business, we have several things to announce! We are holding a writing contest and hosting the best author event series in the store's history (Four of them dinners in partnership with The Blue Heron).
My staff, my family and I all thank you for the support you have given our humble bookstore over the years, and we look forward to our 20th anniversary in 2022.
10th Anniversary Writing Contest
In celebration of our ten year anniversary, we are looking for poetry and prose entries about our fair Winona. Winona and its citizens hold a dear place in our heart and we want to know what Winona means to you. We will be accepting entries beginning September 4 and ending on October 30.
Please keep prose pieces to under 1,000 words.
There is no entry fee. The grand prize winner will receive a $100 gift certificate to spend at The Book Shelf. The Honorable mentions will receive $25 gift certificates.
We accept electronic submissions to
store@bookshelfwinona.com
with the subject title being "Winona Writing Contest Submission." We also accept mail submissions to 162 W. 2
nd
Street. A cover letter is not necessary, but please provide contact information: email and phone number.
"Winona" needs your help! Help us get our beautiful picture book of our fair city back into print.
With more than 1600 copies in print, "Winona: Minnesota on the Mississippi" has been an unmitigated success. We have continued demand (including more than 300 units on purchase orders or special order by institutions and individual customers) awaiting fulfillment.
Unfortunately, our store does not have the capital reserves to go back to press. We have raised some capital from private parties, but still need approximately $11,000.00 to get the third printing of the book on order.
This book has been a significant contributor to the store's bottom line over the past 18 months, and will be, once it is back in print, a great seller for us this holiday season.
We have several ways in which interested individuals can participate, including short term (6 month) low-interest loans, house accounts, and pre-paid orders of the book.
For more information on helping us on this project please
CLICK HERE
.
Thank you.

Laureate's Writers Series: Katrina Vandenberg
Tuesday, September 4 7:00pm
This series is co-sponsored by the Winona Fine Arts Commission
Free and Open to the Public
The Laureate's Writers Series, hosted by current Winona Poet Laureate Emilio DeGrazia, is a
regularly scheduled event that takes place on the First Tuesday of every month. A published poet or prose writer is invited to read for 45 minutes, followed by an open mic session for local Winona poets and writers to share their work. Each open mic participant will be strictly limited to 5 minutes. The Blue Heron Coffeehouse will be open for beverages only, including wine and beer.
Katrina Vandenberg is the recipient of a Bush Artist Fellowship, a Loft-McKnight Award and a Fulbright fellowship. She is the author of Atlas, a poetry collection published by Milkweed Editions, and has a new collection: The Alphabet Not Unlike the World. Vandenberg recently served as poet in residence at the Amy Clampitt House in Lenox, Mass. She teaches creative writing at Hamline University, and is married to novelist John Reimringer. They live in St. Paul.

Gwen Westerman and Bruce White
"Mni Sota Makoce: Land of the Dakota"
In partnership with the annual Great Dakota Gathering and Homecoming
Friday, September 14 5:00pm Free and Open to the Public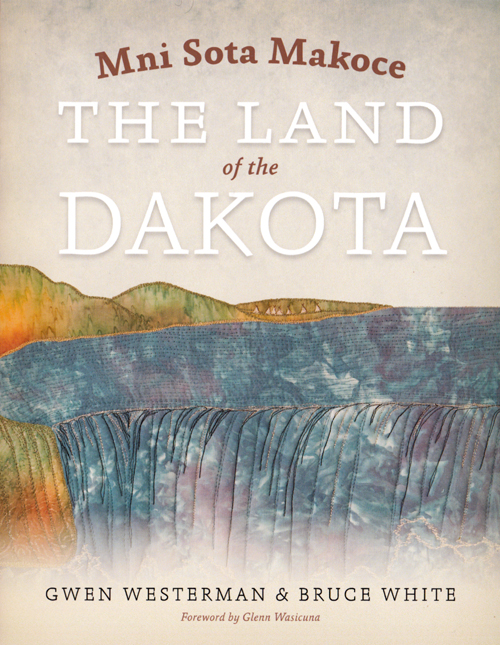 We are happy to have Gwen Westerman and Bruce White, authors of Mni Sota Makoce: The Land of the Dakota, as a part of our ten year anniversary. They will be at our store on Friday, September 14 at 5pm, where they will be presenting and autographing their book.
This event is being held in conjunction with the Great Dakota Gathering and Homecoming.
About the Book
Much of the focus on the Dakota people in Minnesota rests on the tragic events of the 1862 U.S.-Dakota War and the resulting exile that sent the majority of the Dakota to prisons and reservations beyond the state's boundaries. But the true depth of the devastation of removal cannot be understood without a closer examination of the history of the Dakota people and their deep cultural connection to the land that is Minnesota. Drawing on oral history interviews, archival work, and painstaking comparisons of Dakota, French, and English sources, Mni Sota Makoce tells the detailed history of the Dakota people in their traditional homelands for at least hundreds of years prior to exile.
"Minnesota" is derived from the Dakota phrase Mni Sota Makoce, Land Where the Waters Reflect
the Clouds--and the people's roots here remain strong. Authors Gwen Westerman and Bruce White examine narratives of the people's origins, their associations with the land, and the seasonal round through key players and place names. They consider Dakota interactions with Europeans and offer an in-depth "reading between the lines" of historical documents--some of them virtually unknown--and treaties made with the United States, uncovering misunderstandings and outright deceptions that helped lead to war in 1862.
Dakota history did not begin with the U.S.-Dakota War of 1862--nor did it end there. Mni Sota Makoce is, more than anything, a celebration of the Dakota people through their undisputed connection to this place, Minnesota, in the past, present, and future.
About the Authors
Gwen Westerman is a professor of English and Humanities at
Minnesota State University, Mankato. Bruce White is the author of We Are at Home: Pictures of the Ojibwe People.
Please note the time change. This event is now scheduled to begin at 5:00pm.

Dinner with the Author: Jonathan Evison
"The Revised Fundamentals of Caregiving: A Novel"
Saturday, September 15 6:30pm $35.00
In celebration of our ten year anniversary, we are having an author dinner with Jonathan Evison on Saturday, September 15 at 6:30pm. The Blue Heron Coffeehouse will be providing a multi-course fine dining experience (menu to be announced), where Jonathan Evison will be reading from his new novel, The Revised Fundamentals of Caregiving. Dinner is $35.00, $50.00 with wine.
"Revised Fundamentals of Caregiving was a gem. This is a book of healing, redemption and atonement that the author delivers in a style so simple, it amazes. I was there with Ben and Trev in the van as they crossed over into western Washington, and found, in spite of all the two characters were dealing with, that I could be nothing but optimistic. It's been a while since a novel has done that for me. Put out your thumb, and hitch a ride with Evison's newest novel"
-- Chris Livingston, owner The Book Shelf
About the Book:
Benjamin Benjamin has lost virtually everything-his wife, his family, his home, his livelihood. With few options, Ben enrolls in a night class called The Fundamentals of Caregiving, where he is instructed in the art of inserting catheters and avoiding liability, about professionalism, and on how to keep physical and emotional distance between client and provider.
But when Ben is assigned to tyrannical nineteen-year-old Trevor, who is in the advanced stages of Duchenne muscular dystrophy, he soon discovers that the endless mnemonics and service plan checklists have done little to prepare him for the reality of caring for a fiercely stubborn, sexually frustrated adolescent with an ax to grind with the world at large.
Though begun with mutual misgivings, the relationship between Trev and Ben evolves into a close camaraderie, and the traditional boundaries between patient and caregiver begin to blur as they embark on a road trip to visit Trev's ailing father.
A series of must-see roadside attractions divert them into an impulsive adventure interrupted by one birth, two arrests, a freakish dust storm, and a six-hundred-mile cat-and-mouse pursuit by a mysterious brown Buick Skylark. Bursting with energy, this big-hearted and inspired novel ponders life's terrible surprises and the heart's uncanny capacity to mend.
About the Author:
Jonathan Evison is an American writer best known for his debut novel All About Lulu published in 2008, which won critical acclaim, including the Washington State Book Award. In 2009, Evison was awarded a Richard Buckley Fellowship from the Christopher Isherwood Foundation. A second novel, West of Here, was released in February 2011 from Algonquin. Editor Chuck Adams (Water for Elephants, A Reliable Wife, An Arsonist's Guide to Writers Homes in New England) has called West of Here the best novel he's worked on in over four decades of publishing.
In his teens, Evison was the founding member and frontman of the Seattle punk band March of Crimes, which included future members of Pearl Jam and Soundgarden. Born in San Jose, California, he now lives on an island in Western Washington.
Check out this funny video of Jonathan "getting ready for his tour." Ha!
Evison "Trains" for the Road

An Evening with Catherine Friend
"Sheepish:

Two Women, Fifty Sheep and Enough Wool to Save the Planet

"
"Hit By a Farm:
How I Learned to Stop Worrying and Love the Barn"
"Compassionate Carnivore:

Or How to Keep Animals Happy, Save Old MacDonald's Farm, Reduce Your Hoofprint, and Still Eat Meat

"
Tuesday, September 18 7:00pm Free and Open to the Public
About "Sheepish":
It's been fifteen years since Catherine Friend left her quiet, urban existence and became the proud (if not slightly terrified) owner of two ducks, four goats, fifty sheep, and several acres of Minnesota farmland. Now, caught in a chronic love/hate relationship with her flock, Friend reevaluates life on the farm and discovers that her sheep-and sheep around the world-may be much more important than anyone gives them credit for.
Told with the same warmth and charm that characterized her fist memoir, Hit by a Farm, Sheepish: Two Women, Fifty Sheep, and Enough Wool to Save the Planet interweaves Friend's personal anecdotes-everything from her unhealthy fascination with knitting and how she overcomes a brief passion for the Facebook game "Farmville," to the perils of unauthorized sheep breeding and shearing day adventures-with insights
into the environmental impact of sheep and everything they produce.
Discover the advantages of having sheep as the planet's "self-propelled lawn mowers" and the scary truth behind "wrinkle free" clothing as Friend reveals what it really means to be "sheepish"-and how it might not be such a bad thing after all.
About the Author:
A former 'city girl,' Friend lives on a small farm in southeastern Minnesota, where she and her wife Melissa raise sheep and cattle. She writes adult nonfiction, fiction, and children's books. She was awarded a Loft/McKnight Artist Fellowship for Writers, and her adult adventure novels have won awards from the Golden Crown Literary Society and the Independent Book Publishers Association.
Friend has a M.S. in Economics and a B.A. in Economics and Spanish. She does chores, teaches writing workshops, and speaks at libraries, yarn shops and fiber festivals, professional organizations, and schools. She's discovered that farm chores and snowshoes make Minnesota winters bearable, and is especially proud she's learned how to take the wool from her sheeps' backs and knit it into very cool socks.
Also by Catherine Friend:
The Compassionate Carnivore won the Minnesota Book Award in General Nonfiction. Friend
tackles the carnivore's dilemma, exploring the contradictions, nuances, questions, and bewildering choices facing today's more conscious meat-eaters. The Compassionate Carnivore is "perfect for people who would like to eat meat but have moral, ethical, or health concerns about doing so" (Marion Nestle, What to Eat). Based on her own personal struggle, Friend's original, witty take on the meat and livestock debates shows consumers how they can be healthy and humane carnivores, too.
Hit by a Farm, was selected by the Minneapolis Star Tribune as one of the best books of 2006. The memoir is a hilarious recounting of Catherine and Melissa's trials of "getting back to the land." It is also a coming-of (middle)-age story of a woman trying to cross the divide between who she is and who she wants to be, and the story of a couple who say "goodbye city life" -- and learn more than they ever bargained for about love, land, and yes, sheep sex.
The Perfect Nest, her children's picture book, was chosen by the Wall
Street Journal as one of five best 'read alouds,' and was nominated for numerous state reading awards. It's the perfect read-aloud! A flustered cat is on the verge of crying fowl in a farmyard story that will crack kids up.

Dinner with the Author: Theresa Weir
"The Orchard: A Memoir"
Tuesday, September 25 6:30pm $35.00
In celebration of our ten year anniversary, we are having an author dinner with Theresa Weir on Tuesday, September 25 at 6:30pm. The Blue Heron Coffeehouse will be providing a multi-course fine dining experience (menu to be announced), where Theresa Weir will be reading from her book, The Orchard. Dinner is $35.00, $50.00 with wine.
About the Book: The Orchard is the story of a street-smart city girl who must adapt to a new life on an apple farm after she falls in love with Adrian Curtis, the golden boy of a prominent local family whose lives and orchards seem to be cursed. Married after only three months, young Theresa finds life with Adrian on the farm far more difficult and dangerous than she expected.
Rejected by her husband's family as an outsider, she slowly learns for herself about the isolated world of farming, pesticides, environmental destruction, and death, even as she falls more deeply in love with her husband, a man she at first hardly knew and the land that has been in his family for generations. She becomes a reluctant player in their attempt to keep the codling moth from destroying the orchard, but she and Adrian eventually come to know that their efforts will not only fail but will ultimately take an irreparable toll.
About the Author: Theresa Weir is a "USA Today" bestselling author of nineteen novels that have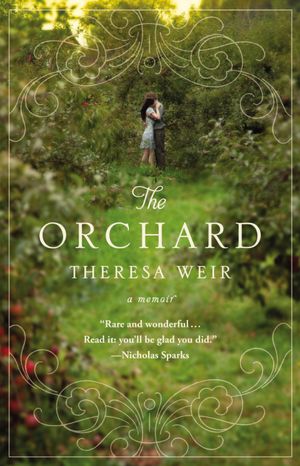 spanned the genres of suspense, mystery, thriller, romantic suspense, and paranormal; her work has been translated into twenty languages. Her debut title was the cult phenomenon, Amazon Lily, initially published by Pocket Books and later reissued by Bantam. Writing as Theresa Weir, she won a RITA for romantic suspense (Cool Shade) and the Daphne du Maurier Award for Bad Karma. She has also published as Anne Frasier. Her thriller and suspense titles have hit the "USA Today" list (Hush, Sleep Tight, Play Dead) and have been featured in Mystery Guild, Literary Guild, and Book of the Month Club. Hush was both a RITA and Daphne du Maurier finalist. Weir spent twenty years living on a working apple farm, and now divides her time between St. Paul, Minnesota, and a century-old Gothic church in rural Wisconsin.
The store's own Lisa Gray gives us her take:
When I picked up this book, I was immediately drawn in and questions started to form- why did a young girl want to marry so quickly? Why didn't she assert herself just a bit more into how her new family operated, especially when her whole way of being was at stake? But then I knew, as we all do, that the whys don't matter much when you are in the moment. Theresa re-counts this period of her life bravely...you can feel how hard it is to tell this story, to peel back the layers of the family secrets while revealing bits of herself at the same time.
Of course, the revelation of dangerous farming practices is interesting and important, but it always how we manage and cultivate the heart that most fascinates me.
Theresa Weir is a prolific and talented writer. She writes mysteries and thrillers and short stories and has published widely under the name of Anne Frasier. But, I have yet to move on because I am so taken with her personal voice that resonates clearly in The Orchard.

An Evening with Tom Berg
"Minnesota's Miracle: Learning from the Government that Worked"
Photo by Tom Olmscheid
On Monday, October 8, we will be hosting author Tom Berg for a reading from his book, Minnesota's Miracle. He will also be available for a signing of his book.
About the Book:
Social upheaval, political gridlock, and controversies over taxes, the environment, and an unpopular war: the state of Minnesota in 1968 was a lot like the state of America today.
A firsthand look into the political and personal mysteries and realities that make real and significant differences in people's lives, Minnesota's Miracle is a civics lesson and legislative primer with a rare kick--it's as rollicking as it is relevant. Berg tells the stories behind changes made in legislative policies and programs during a critical decade, describing the key players, their emotions, the politics they employed, their electoral wins and losses, the impact of national politics when Walter Mondale was elected vice president, and the role of important court decisions. It was a time of partisanship, high emotions, violent protests, heated controversy, and outright political fights over issues that continue to haunt us; but it was also a time when government functioned well, in what "Time Magazine" called "A State That Works." Berg's behind-the-scenes view of the "Minnesota Miracle" is a work of living history that offers
suggestions and as much hope as it does hard truths and cold facts.
About the Author:
Tom Berg is a Minneapolis attorney who was a member of the Minnesota state legislature from 1971 through 1978. He later served as the U.S. Attorney for the District of Minnesota.

Dinner with the Author: Peter Geye
"The Lighthouse Road: A Novel"
Friday, October 12 6:30pm $35.00
Continuing our festivities for our ten year anniversary, we are having an author dinner with Peter Geye on Friday, October 12 at 6:30pm. The Blue Heron Coffeehouse will be providing a multi-course fine dining experience (menu to be announced), where Peter Geye will be reading from his new novel, The Lighthouse Road. Dinner is $35.00, $50.00 with wine.
About the Book:
Against the wilds of sea and wood, a young immigrant woman settles into life outside Duluth in the 1890s, still shocked at finding herself alone in a new country, abandoned and adrift; in the early 1920s, her orphan son, now grown, falls in love with the one woman he shouldn't and uses his best skills to build them their own small ark to escape. But their pasts travel with them, threatening to capsize even their fragile hope. In this triumphant new novel, Peter Geye has crafted another deeply moving tale of a misbegotten family shaped by the rough landscape in which they live--often at the mercy of wildlife and weather--and by the rough edges of their own breaking hearts
Peter Geye was born and raised in Minneapolis where he continues to live with his wife and three
kids. He received his BA from the University of Minnesota, his MFA from the University of New Orleans, and his PhD from Western Michigan University, where he taught creative writing and was editor of Third Coast. He has also been a bartender, bookseller, banker, copywriter, and cook.
A Note from Chris:
Two years ago, I read Peter's first novel, "Safe from the Sea," and it became my bestselling novel that season. It helped that it was probably the easiest book to recommend to both men and women. It also helped that Peter joined us for dinner that year as well, and many of you met Peter. Well...."The Lighthouse Road" is another gem from one of Minnesota's most talented contemporary novelists. Don't miss this event...but if you do, for goodness sake buy the book.

Meet and Greet with William Kent Krueger
"Trickster's Point: A Cork O'Connor Novel"
Wednesday, October 24 4:00pm - 5:30pm
We are very excited to welcome William Kent Krueger back to Winona! Due to his already PACKED book tour (70 events in 90 days), this book signing will be held a little earlier in the day than our usual. Refreshments will be served, so please stop down, meet Kent, and get your latest installment in the Cork O'Connor series autographed!
About the Book:
"The dying don't easily become the dead."
The next novel in William Kent Krueger's New York Times bestselling series finds Cork O'Connor sitting in the shadow of a towering monolith known as Trickster's Point, deep in the Minnesota wilderness. With him is Jubal Little, who is favored to become the first Native American elected governor of Minnesota, and who is slowly dying with an arrow through his heart. Although the men have been bow hunting, a long-standing tradition among these two friends, this is no hunting accident. The arrow turns out to be one of Cork's, and he becomes the primary suspect in the murder. He understands full well that he's been set up. As he works to clear his name and track the real killer, he remembers his long, complex relationship with the tough kid who would grow up to become a professional football player, a populist politician, and the lover of the first woman to whom Cork ever gave his heart. Jubal was known by many for his passion, his loyalty, and his ambition. Only Cork knows that he was
capable of murder.
Full of nail-biting suspense, plus a fascinating look into Cork's teenage years in Aurora, a town blessed with natural beauty yet plagued by small-town feuds and heated racial tension, "Trickster's Point "is a thrilling exploration of the motives, both good and ill, that lead men and women into the difficult, sometimes deadly, political arena.
To learn all about Kent and his bestselling series, visit Kent's Website.

Dinner with the Cookbook Author: Brett Laidlaw
"Trout Caviar: Recipes from a Northern Forager"
Friday, October 26 6:30pm $35.00
The final author dinner in our tenth anniversary celebration is with Brett Laidlaw, author of the cookbook Trout Caviar: Recipes from a Northern Forager. The dinner will be on Friday, October 26 at 6:30pm.
The Blue Heron Coffeehouse will be providing a multi-course fine dining experience (menu to be announced) culled from the pages of his cookbook. Dinner is $35.00, $50.00 with wine.
Note: The chefs at The Blue Heron are very excited about this event, and told me they will be producing an exquisite menu with many ingredients foraged right here in Winona County!
About the Book:
Laidlaw cultivates relationships with specialty stores and artisanal purveyors to gather food that comes with a toothsome sense of place--fresh Lake Superior fish, pastured lamb, plump duck for rich confit. He gardens and frequents farmers markets to savor seasonal produce, from the earliest lettuces through the flavorful peak of tomato season and on to winter's store of apples, potatoes, and squashes.
But Laidlaw takes fresh a step further by foraging truly wild foods--chanterelles, nettles, berries, trout fresh from the stream. He combines the best of the best to create recipes such as Summer LakeTrout Chowder, Grouse in Cider Cream, and Grilled Dessert Pizza with Rhubarb-Honey-Thyme compote. Laidlaw also includes practical information about mushroom hunting, curing
bacon, laissez-faire gardening, and more.

Tapping considerable creativity in the kitchen and expanding the possibilities inherent in locally available foods, Laidlaw's recipes showcase the distinctive flavor and products of our northern clime at every meal.

About the Author:

Brett Laidlaw is a writer, cook, bread baker, trout bum, mushroom hound, and gardener. He writes the blog Trout Caviar and is the author of the novels Blue Bel Air and Three Nights in the Heart of the Earth. He divides his time between St. Paul and a rural Wisconsin cabin.

Continuing our festivities for our ten year anniversary, we are having an author dinner with Peter Geye on Friday, October 12 at 6:30pm. The Blue Heron Coffeehouse will be providing a multi-course fine dining experience (menu to be announced), where Peter Geye will be reading from his new novel, The Lighthouse Road. Dinner is $35.00, $50.00 with wine.
Author Dinner Season Tickets Available
Announced above are 4 author dinners (Sept 15, Sept 25, Oct 12, and Oct 26). Season ticket holders will be seated near the author at each dinner, and you save $5.00 on each ticket and $20.00 overall.
Season Ticket $120.00 (Normal ticket price is $140.00)
Season tickets must be purchased in advance, and will only be sold until the Jonathan Evison dinner on September 15th has sold out. That could be anytime now, do don't delay if you are interested.
Call the store for more information, or to reserve your season tickets today.