Last November, I reported on Fair Trade Translation, a service provided by two veterans in the translation industry, Gert van Assche and Daniel Marcu.
Fair Trade Translation allows you to upload MS Office files, text files, or (SDL)XLIFF files. These will then be analyzed and machine translated (by Google Translate, Microsoft Translator, or SDL Language Cloud, whichever provides the "best match"). The translations will be categorized into "bad" and acceptable, and you will be given an estimate of the quality of the machine translation so you know how profitable it will be to work on that file or project.
You can read the more in-depth description in the article that I linked to above.
There are a couple of things that have changed since I wrote the first article, though.
Most important is the price, which is now completely free. It looks like Gert and Daniel still have some bugs to iron out in how they communicate that, but as of now (and for the near and mid-term future), this service is free.
Also, the interface has changed significantly. It has become both more simple and more complex.
It's very simple when you first arrive. All it says is:
"Professional Translators: Are you getting the most from your work? Analyse and Optimize your translation job with Fair Trade Translation."
And then there is a chance to upload a file.
I'm a little underwhelmed by this. While it's charming to have British and US spelling mixed in this, it seems that we need a little more information for this new kind of service. Yes, Daniel and Gert have done a good job trying to explain their service on LinkedIn and other platforms, but my sense is that the typical translator needs to know a little bit more to understand what this is about. (Including, by the way, some privacy-related information with the data being sent to Google and Microsoft and all.)
So, I imagine that there will be more informative incarnations of the starting page.
Once you get beyond the first page, it becomes much more informative. The analysis page provides a lot of interesting and graphics-based info as in the following screenshot: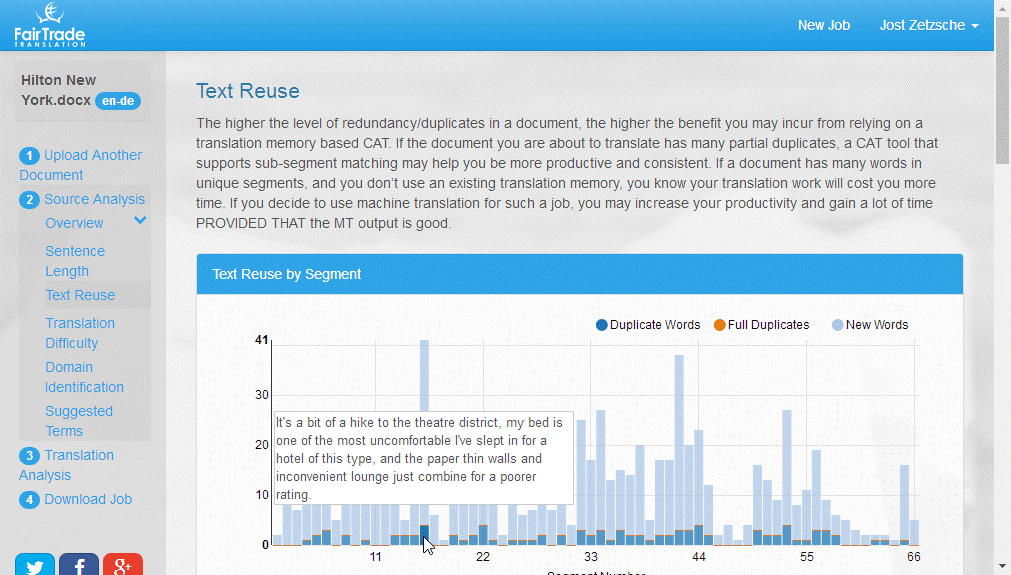 I don't necessarily always agree with the conclusions or methods of analysis, though. Take this one for instance:
"A sentence length analysis is the simplest way to look at a source document and estimate how difficult it is to translate. A document with many short sentences is likely to take less to translate than a document with long, rambling sentences."
Yes, "rambling" can be difficult, but "short" does not necessarily make for an easier translation.
Still, you can find some helpful pointers in the tool to see how difficult a new text might be -- especially if you are not intimately familiar with the subject matter.
And the machine translation? Typically as poor as one would expect, but the system was quite accurate in its assessment of which of the machine-translated segments were useful and which not (12 out of 66 segments in my sample file).
When I asked about the lack of transparency of privacy issues with the data, Daniel said the following:
"Individual translators did not express concerns about the confidentiality of data. You are right though: that is going to be important in the context of larger LSPs. We plan to make it explicit on a FAQ page once we begin focusing on that segment as well."
Again, I'm not sure that this is something I would necessarily agree with. I would argue that most translators are quite concerned about data confidentiality, but if that's the feedback he gets from his user group, then that's what it is.
Last time I talked about Fair Trade Translation, I closed like this:
"I'm not sure whether this system is going to completely change how most of us work -- it might mean some changes for some -- but what I really, really like about it is this: It's just so creative and it shows that we are doing very well if we have smart folks coming up with such smart solutions for us."
I couldn't have said this any better.