Photos from Holy Week & Easter Available
Thank you, Fred Allen, for capturing such wonderful photos at our Palm Sunday & Easter Sunday services! Click here to view the photos.
And thank you, Susan Evans, for capturing photos during our Easter Vigil Service! Click here for those.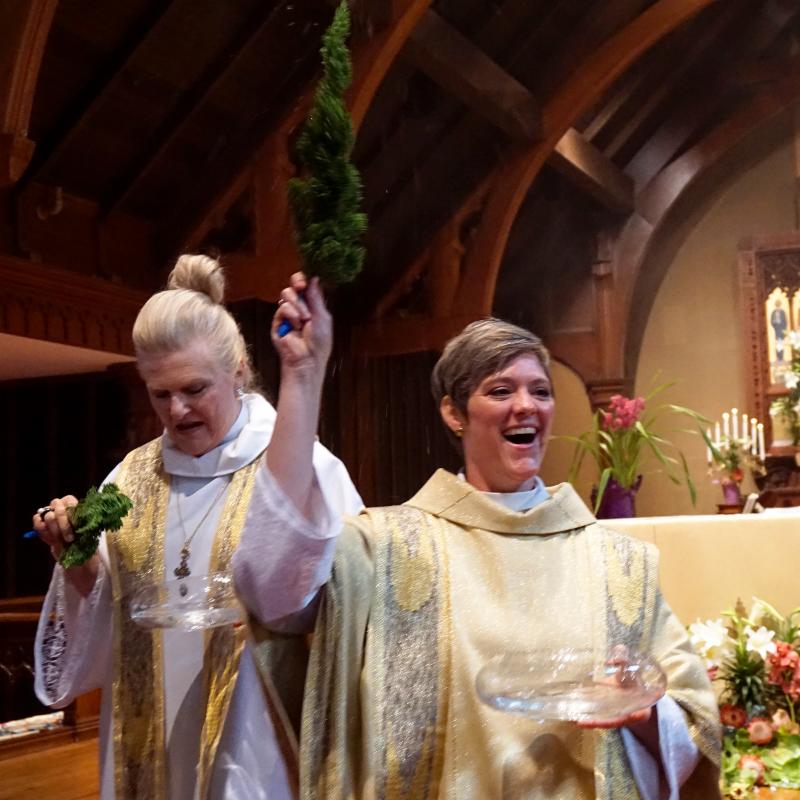 Mother's Day at Transition House
Next Transition House Dinner
Volunteers, Donations Needed for Both
| | |
| --- | --- |
| | |
| | Mother's Day gift bag assembly last year |
Next Sunday, April 10, is All Saints' Night at Transition.
We expect approximately 54 family members for this dinner. Donations, financial and food items, are needed. Please find David Boyd this Sunday after church at the Information Table on the patio to help. dboydinc@aol.com
Help needed for Mother's Day
. Living at the Transition House shelter for homeless families is a lot better than some other options, but for mothers it will be especially grim on Mother's Day. We plan to brighten their day at the All Saints dinner on Sunday, May 8 by giving each of the approximately twenty mothers living at the shelter a small gift bag with inexpensive presents and a one-off necklace hand crafted by parishioner artist and artisan Ken Jewesson. Please sign up at the Info Table to help by donating small amounts of money, personal care products or other gifts or your time to help assemble the gift bags. Parishioners Patrice Mueller, themuellerfamily@cox.net, and Amy Miller, amymariem@yahoo.com, are leading this effort and can provide more information.
Violence in the Holy Land Then and Now
Next Week, April 7th
Religious Studies Professor, All Saint's parishioner, and new vestry member Caryn Reeder, along with Bruce Fisk, will reflect on domestic violence and wars of conquest in the Bible and in the contemporary Middle East, drawing on their work and experiences there. Caryn lived in Jerusalem from 1999-2001 and led a student program in the Middle East in 2012. She spent a a year as a Fulbright Scholar in the West Bank in 2013-2014, teaching at a Palestinian university and conducting research. Her work examined women, children and war in biblical and classical antiquity. Event is 5:30 p.m., Thursday, April 7th at the University Club, 1332 Santa Barbara Street. Contact the church office for more information.
"5 Habits of the Heart That Make Democracy Possible"
New Adult Study Group Begins This Wednesday, April 6 after Eventide
Jesus' Resurrection left behind a
living field of consciousness that St. Paul called 'The
Mind of Christ.' Today's neuroscience holds hands with theology to show how we've all
been wired with the capacities that St. Paul was talking about.
Still, nothing much happens when we just know about something. It's only when we take the risk and muster the energy to try out these great teachings that we glimpse their
power.

So, we invite you to bring Easter's aftermath of resurrection living to explore the issues that are dividing our political life in this pre-election year - to take part in Healing The
Heart of Democracy by Parker J Palmer. The online journal Democracy & Education
calls it "one of the most important books of the early 21st Century".

We'll explore Palmer's five "habits of the heart" that can help us restore democracy's foundations when we nurture them in ourselves and in each other. We'll discover the
working links between the Mind of Christ and the Heart of Democracy.

Under the co-leadership of Pat McClure, Karen Teleen-Lawton, and Paul Collins, the 6-class series will begin after Eventide supper (from 7:15 to 8:45) on April 6th in the Parish House Living Room. The classes will run to May 18th - with a 'mid term break' on April 27th - and an optional Saturday retreat to follow. The book can be purchased online or at Chaucer's.

But whether you're reading the book or not, everyone is invited to join us for this adventure in spiritual and political skill building. Please sign up on the Heart of Democracy sheet on the Information Table after Sunday's services.
Journey to Ireland this fall! Reservations Due April 11th.
May the Road to Ireland Soon Greet You!
All Saints-by-the-Sea will be off to discover St. Patrick's Ireland from
October 16 - 25, 2016
on a faith tour designed by Collette.
Family Potluck at the Rectory
Saturday, April 10
Please join Rev. Aimee, Alyson, and Willa at the Rectory at 11:30 a.m. on Sunday, April 10, for potluck, fun, and fellowship! Meet and greet Sunday School families for food, games, and relaxation. Bring a dish and beverage to share and be prepared for a fun-filled time. A sign-up sheet can be found on the patio Information table after services. Friends and family members are welcome! For questions, please contact Rev. Vicki at church, vicki@asbts.org.
All Saints Food Wagon Ministry
We collect food for the hungry each Sunday. Food & items that you bring for the hungry will be gathered each Sunday at the entrance in our green food wagon and brought forward to the altar with our offerings and oblations to God. The food will be donated to Cafe Picasso Food Pantry at St. Michael's University Church (aka St. Mike's) in Isla Vista to serve UCSB and SBCC students struggling with issues of food insecurity.
Items needed:
Tide laundry pods
toothpaste & toothbrushes
feminine hygiene products (pads, tampons)
almonds & peanuts
dried fruit
crackers
corn & mixed vegetables (canned)
jelly/jam & peanut butter
rice
soup
tuna & chicken (canned)


Please, no beans of any kind at this time.
All Saints Day Trip - April 30th
RSVP by April 14th!
Join us for a day trip to the Huntington Library, Art Collections, and Botanical Gardens in Pasadena on Saturday, April 30th. The Santa Barbara Airbus will depart All Saints at 8:00 a.m. to arrive at the Huntington Library around 10:30 a.m. We will have tea in the Huntington Rose Garden Tea Room at 10:45 a.m. followed by private docent tours of the gardens from noon until 1:00 p.m. The rest of the afternoon is free to explore all that the Huntington has to offer. We have been assured by the staff that this is an ideal weekend to see the gardens; the roses should be in their glory of first bloom! For those who also enjoy shopping, The Huntington Store is a gift shop not to be missed. We will depart the Huntington around 4:00 p.m. and return to All Saints between 6:00-6:30 p.m. The cost of the day trip is $110/person. Join us for this lovely outing and don't forget to bring sun hats and cameras! The deadline for reservations is Thursday, April 14. Reservation forms are available on the patio Information Table after services. All are welcome! For questions, please contact Rev. Vicki at the church, vicki@asbts.org.
Progress being made to recruit June 7 Primary Election workers. A great big thank you to those parishioners who have signed up to be election workers for a precinct at the St. Mike's chapel in Isla Vista and to donate their stipends to benefit St. Mike's Episcopal Campus Ministry at UCSB. The required training for all election workers whether experienced or not will be from 9am to Noon on Tuesday, May 24 at the First Pres. Church. We need more full and half-day volunteers to fill open positions. Please sign up at the Info Table. David Boyd, dboydinc@aol.com is the contact for more information.
Photo of the Week
A service pup & her new bunny enjoying the patio on Easter Sunday.
Outreach Golf Tournament is May 2nd!

Golfers, Volunteers, and Auction Items Needed!
Have you signed up? Golfers & Volunteers Needed!
12th Annual Jim Bower Community Outreach Golf Tournament
May 2, 2016
La Cumbre Golf Club
4015 Via Laguna; Hope Ranch
10AM Tournament Check In
11AM Tournament Tee Off
Tournament fees include golf with cart, lunch, and drinks on the course. Participation costs $200 per golfer, if payment is received by May 1, 2016. Payment on tournament day will cost $250 per golfer.
This event continues to serve as the primary funding for our Outreach programs. Registration and Questions:
Call - 805-560-6185; Email - mrosespec@aol.com
An Update from Rwanda...Visiting Holy Cow, Betsy & Grace
Last week our Rwanda Program Director, Justin, drove 9 hours through the mountains, in the rain, on his birthday, to visit Abakundana - our Pygmy community who received the All Saints cows. He sent some wonderful footage, which was edited into this little video:
The cows All Saints donated are VERY pregnant - as you'll see in the video - they're due any day now...so the village will need three more names!
As Christians we are called to care for our brothers & sisters in need. There are a variety of feeding ministry opportunities to live out this calling. Contact David Boyd at dboydinc@aol.com for more information about any of these meaningful ministries.
Transition House: Every 2nd Sunday of the month at 5 p.m.; prepare & serve a simple meal to emergency shelter residents. Volunteers & food donations needed.
Carpinteria Food Distribution:
Volunteers needed to organize and give free fruit and veggies to some of our less-fortunate brothers and sisters in Carpinteria.
Community Kitchen: Every 1st, 3rd, 4th & 5th Tuesday at 10:30 a.m.; serve a simple lunch at Casa Esperanza Homeless Shelter.
Victoria Hotel: Every Tuesday & Thursday evenings; drive Victoria Hotel manager to Community Kitchen to pick up hot meals to veteran, disabled, and low-income residents.
Christian Formation is open to everyone at every stage of the faith journey!
Centering Prayer & Healing Presence:
Every Sunday Fall through Spring, alternating Sundays, at 9:15 a.m. in the church office conference room. Contact Pat McClure for more information, 969-1426
Bible & Babble:
Every Tuesday at 6 p.m. Contact The Rev. Vicki for more information, vicki@asbts.org
Sunday School, Sept-May:
Meets during the 10 a.m. service in the Parish House. Children pre-K to 8th grades.
Education for Ministry (EfM):
Theological education at a distance. Local seminar group meets weekly Sept to June at Trinity Library. Contact Robert Brown for more information, 895-3620.
Christ-Centered Prayer:
Every Wed at 5 p.m. and Thurs at 10:30 a.m. in Parish House youth room. For Wednesday group contact Jaque Reed 969-4409, for Thursday Group contact Jane Murray 684-4405.
Men's Bible Study:
Every Wednesday at 8:15 a.m. in Parish House youth room. Contact Ken Jewesson for more information, kfjewesson@cox.net or 687-1683
All Saints-by-the-Sea now offers online giving.
Convenient. Easy. Secure.

Give out of God's love and gifts in your life that others may feel Christ's love and grace.
Looking Ahead...

April 3 - No Sunday School

April 6

- Adult study, 5 Habits of the Heart, begins

April 6 - Eventide resumes
April 7 - Violence in the Holy Land Then & Now event at 5:30pm
April 10 - Sanctuary Tours after both services
April 10

- Family potluck at the Rectory at 11:30am

April 10 - All Saints' Night at Transition House -donations needed
April 11 - Reservations deadline for Ireland trip
April 14 - Reservations deadline for day trip to the Huntington
April 30 - Day trip to the Huntington
May 2 - Outreach Golf Tournament - Golfers, Donations needed
May 8 - Mother's Day Dinner at Transition House - volunteers needed
Because we all deserve a chuckle now and then...
There are many more items for your attention than we can comfortably fit in the email each week. Please click on the headlines below to view some of the stories from the All Saints website and from around the country and the world!
Panorama: Blogs of the Episcopal Church
- Various opinions and viewpoints of Episcopalians, as well as discussions of personal faith journeys, and conversations about the mission and ministry of the Episcopal Church.