DFM Accepts
SNAP Benefits
The Durham Farmers' Market proudly accepts SNAP benefits. To use your EBT
card at the Market, please visit the Market info table
at the center of the Pavilion.
The Double Bucks Program allows SNAP customers to receive double the amount of money they spend on tokens for purchases up to $10.
The Market is working
closely with RAFI as our fiscal sponsor. Read more about
the program and our partnership
HERE
.
Thank you to everyone who donated to the Double Bucks program! We couldn't do it without you!
Farmer Foodshare Donation Station
The Donation Station
Program collects donations
of fresh food and cash from customers at the Durham Farmers' Market. The
money is used directly
at the Market to purchase food from farmers for
those who are hungry
in our community.
Farmer Foodshare's mission
is to connect our local
farmers with those
who need food! Please visit
or volunteer at our Durham Farmers' Market
Donation Station!
And don't forget to participate in the Donor Rewards Program. Give a suggested donation of $3-$5 and
receive a stamp on your card. Once you've collected enough stamps, you will proudly earn your Farmer Foodshare
T-shirt! Swing by the Donation Station for
more information!
SUPPORT YOUR FARMERS!
NOW AVAILABLE
AT THE MARKET
STRAWBERRIES
HERBS
CAULIFLOWER
FLOWERS
PASTURED MEATS
CARROTS
EGGS
ARTISAN BREAD
CHEESE
SUMMER SQUASH
PLANT STARTS
HOMEMADE PASTA
HOMEMADE JAM
10% Campaign

The 10% Campaign is a project of the Center For Environmental Farming Systems (CEFS). The campaign encourages you to spend 10% of your existing food dollars to support North Carolina food producers, businesses and communities. Why 10%? In North Carolina, we spend $35 billion on food every year. If we spend 10% of our food dollars on local product, we can infuse over $3.5 billion into the local economy. As avid supporters of the Durham Farmers' Market, you already know the many advantages to shopping locally. So, why join the campaign? It will re-affirm your commitment to shopping locally and it sends a strong message to policy makers about the importance of local foods! For more information
visit: www.nc10percent.com
Join us on Monday, June 12th from 6:30-7:30 PM at
Liberty Warehouse Apartments
for a simple, seasonal meal prepared with fresh food from the Durham Farmers' Market. There will also be delicious mead samples from Durham's
Honeygirl Meadery
! This is a free community event that is open to the public as well as Liberty Warehouse residents.
Please don't forget to check out our Sprouts Kid's Club
crowdfunding site and make a donation if you can. We need your help to sustain this program, and we have a long way to go to reach our fundraising goal!
See you tomorrow!
Missives from a Market Farmer:
More on Beets
Missives is a series of short articles by Judy Lessler, a DFM farmer, on the history, cultivation, and preparation of the items sold at market.
The scientific name for table or garden beets is Beta vulgaris, subspecies, vulgaris. Vulgaris does not translate to vulgar. Rather it means common, usual, or common place. Therefore, Beta vulgaris, subsp. vulgaris would be, in the common vernacular, Plain-old beets of the usual type.
There are four agriculturally important cultivars of plain-old beets: garden or table beets (the common place plain old beet); sugar beets, from which 20 percent of the world's sugar is produced; chard or leaf spinach; and mangel-wurzel, which is a fodder crop for cattle. The wild type, which is the ancestor of all our domestic cultivars, is the sea beet. Its subspecies name is maritima yielding Beta vulgaris maritima or Plain old beet of the sea, which was an inspiration to Ernest Hemingway.
Plants (and animals as well) are considered to be in the same species if they can 1) mate or cross-bred, 2) produce viable offspring who resemble their parents, who 3) can then produce additional viable offspring. In some instances, it can take months or years to complete this assessment. For example, donkeys and horses can produce viable offspring, usually called mules, a strong sturdy animal. Horses are 18 months old before they are mature enough to become pregnant; thus, determining whether mules were fertile took at least two years.
But we have wandered away from beets. The point is these cultivars of beets are in the same species because they will crossbreed and produce viable plants. If you want to experiment, you can grow chard, garden beets, and mangel-wurzel next to each other, save seeds, and see what you get. If you like one of these new types, you could propagate it and sell it as your own variety. If it was wildly popular, you would have enough money to buy Trump Tower, if it was ever for sale.
Developing your own cultivar will take you some time because this species is a biennial and does not flower until its second summer. If you plant your mixed variety plot in 2017, you will need to keep the plants alive until 2018 and gather their seeds to plant in 2019. Next you must grow, harvest, prepare, and eat to identify a winning new variety. Make sure you keep good records and leave some of each kind of plant alive so you can start to propagate the winning cultivar in 2020. It will be a while after that before you can buy Trump Tower.
I admire plant breeders and the people who figured all this out.
Coming soon-a beet recipe from 50 BCE. I found it this week but want to test before distributing it.
Best Regards,
Judy
Saturday, June 10
Join Erin for a home pickling demo and learn everything you need to preserve your favorite fruits and veggies!
Saturday, June 17
Chat with the Master Gardeners from 8 am-noon.
Saturday, July 15
Save the date for Tomato Day, one of our favorite celebrations of the year!
VEGETABLES:
Arugula, Asian Greens, Asparagus, Beets, Broccoli, Cauliflower, Cabbage, Chard, Collards, Cucumbers, Dried & Fresh Herbs and Spices, Fennel, Garlic, Greenhouse Tomatoes, Hakurei Turnips, Kale, Kohlrabi, Lettuce (many varieties), Radishes,
Scallions, Spring Onions & Garlic, Squash, Zucchini, Squash, and more!
FRUIT:
Strawberries, Blueberries, Black
Raspberries
,
Raspberries
MEATS AND EGGS:
Pork, Beef, Lamb,
Mutton, Chicken, Veal, Duck Eggs, Chicken Eggs
FLOWERS:
Baptista, Bachelor Buttons, Peonies, Tulips, Snapdragons, Sunflowers, and more!
CHEESES:
Fresh and Aged Goat and Cow Milk Cheeses
PLANTS:
Vegetable, Flower and Herb Starts, Bedding Plants

SPECIALTY ITEMS:
Kombucha, Granola, Nut Butter,
Pasta, Flour, Cornmeal, Baked Goods including Pies, Breads, Cookies, Pastries, Empanadas, Jams, Jellies, Pickles, Preserves, and more!
Produce availability depends on weather conditions.
Please
pre-order here
by **11 AM** and we will hold your order at market until 5:30.
Fire up the grill! Smoked Sausage Special... 2 pkg Polish and 2 pkg Green Pepper & Onion ... 16 links for $32
We also have great tasting smoked boneless pork chops, ground beef, and hot dogs!
Let us know if you have any special requests for cuts we don't usually offer... we can get what you want within a few weeks!
Click
here
to see everything we
have:
Free Range, Pasture-Raised ** CHICKEN **

Fed Certified Organic Feed

100% Grass Fed, Pasture Raised ** LAMB & YEARLING MUTTON **

100% Grass Fed, Pasture Raised ** BEEF **

Free Range, Pasture-Raised ** BRAISING DUCK **

Deli Meats: Salami, Bologna, Sliced Ham, & Hot Dogs

Soup, Stew, & Stock ingredients

Never Sprayed Produce

Ground Chicken Pet Food

Free Range and Pastured Hen & Duck Eggs
Pro-rated rolling sign up for our Warm Season CSA- Save 10%!
10% off purchases of $100 or more!

NEW THIS WEEK!
We are now digging more fresh potatoes and harvesting our spring cabbage.
PRODUCE
We will have beets, cabbage, sweet onions, potatoes, celery, green garlic.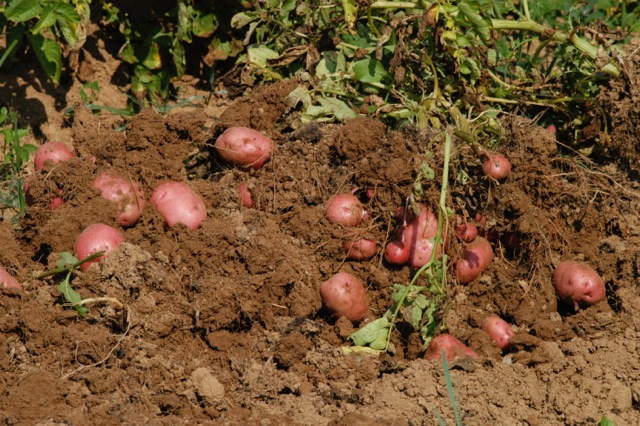 GARDEN PLANTS and MORE
Last call for our starter plants (while supplies last). We will have tomatoes, peppers, herbs and blackberry plants for your garden.
FROM OUR KITCHEN
Jams and Jellies! We have our award-winning strawberry jam. Also available are apple jelly and peach mango and sweet onion jam.
All of Hurtgen Meadows produce, plants, fruits and flowers are naturally grown using sustainable practices - no synthetic pesticides, herbicides, or fertilizers are ever used on our farm. We'll see you at the market!
We are a small, family-operated creamery in Cedar Grove making Italian-inspired Cow and Goat-milk cheeses. We hand craft all our artisan cheeses, packing each with love. We bring the whole family to the market so get ready to meet the kids and our cheese-makers!
Come taste all of our
delicious cheeses including
our
Freshen
(
cow milk)
Pimento, Herb Garlic,
and Chive flavored; our bloomy-rind cheese,
Cottonbell
(
cow milk)
; our lightly smoked, meltable fan favorite,
Campo
(cow milk)
; our decadent ash ripened and award winning,
Rocket's Robiola
(cow milk)
; our milder take on a beer washed Taleggio,
Lissome
(cow milk)
;
Nimble
,
beer washed
(cow & goat milk)
; and our aged, bees wax dipped,
Winsome
(cow & goat milk)
.
For more about our cheeses, creamery, and us, please visit our
website
and join our newsletter mailing list. E-mail questions and special orders to
Curd@BoxcarrHandmadeCheese.com
or call 919-732-9079.
Austin, Dani, Samantha, Alessandra, & Lily
Parking & Street Information
The Market is located at 501 Foster Street in the Pavilion at Durham Central Park.
Parking can be found along the street around the pavilion. There are also public parking lots along Foster Street and on Morgan Street near the Carolina Theatre.
Handicap parking is available on Foster Street, right next to the south entrance of the pavilion.
Durham Farmers' Market Animal Policy
Please note that the Durham Farmers' Market does not allow dogs or other pets in the Market area during Market hours. Service animals are exempt from this rule.
Leashed pets are welcome elsewhere throughout Durham Central Park.