OTRTV.com Newsletter July 2012



The Secret Art of Pool DVD Now Available from OTR!
Hello My Friend,

This is a fantastic DVD filled with knowledge in it, the DVD is 2 1/2 hours long so you get a ton of information for the money. Lee Brett from England has coached many top players and you can see some of the testimonials below along with a 15 minute video. The video is $49.95 shipped in the US, add $10 for international orders. The knowledge Lee gives is worth much more and with the DVD being 2 1/2 hours long you will need to watch it a few times to take it all in. Supplies are limited, I only have 5 left at the moment so get yours before they are gone. If you do not use Paypal just email me for other payment options. To order via Paypal just CLICK HERE!


Lee Brett "The Secret Art of Pool"
TESTIMONIALS


Darren Appleton said:
I have known Lee Brett for around 2 years, he has given me lots of advice regarding my cue action, and told me what I should do to improve my grip. After receiving a second opinion and trying what he said, my results have been amazing in the past few months, and I feel like I am finally dominating pool. I am a perfectionist and always searching for improvement. but this new technique of mine is the best thing I have discovered so far in my career, and so I wouldn't have any hesitation in sending future players and professionals Lee's way, technically and fundamentals he is a very good coach.

Mike Dechaine said:
While is Vegas I had the pleasure to take time with Lee to work my game. Although I won the Ultimate Ten Ball Championship, I felt like there was something "off" with my fundamentals. Come to find out, there were some things wrong. Within 2 hours we worked out all the kinks and I felt confident again. I suggest Lee Brett to anyone that wants to better in this game, its well worth it.
Shane Van Boening said:
You changed my stroke thanks. If anyone wants good advice or needs help, Lee Brett helped me with my problems.
John Morra said:

Hi my name is John Morra,
I'm from Toronto Canada and I'm 21 years old, I've been playing pool since I was 5.
I met Lee Brett a year and a half ago, whilst he was coaching out of shooters pool and snooker room. Lee taught me quite a few things, that I still and will always use to better my game.
Lee has a very good approach as far as to teaching the fundamentals of pool and snooker. He taught me for about 1 month, before I went back on the road in America. But what I've learned has gone a long way for my game and it is very basic but effective. Lee is very good at communicating with players and gives a good sense of inspiration and drive to whoever is willing to listen.
I compete all over the world, and many players I compete against know Lee and what he teaches, and I'm appreciative to have worked with Lee.
Your Pal,


Fast Lenny


_________________________________________________________________________________
Well these matches are ready for your viewing pleasure on DVD. These are the final 3 matches of California Billiard Club in Mountain View featuring John Schmidt, Francisco Bustamante and Scott Frost. Yes, the game everyone was talking about with Schmidt and Frost is on there where Scott owed 9 balls!, this is a must see match. DVD's come in paper cases and are no commentary, just great one pocket like the ones sold last year which were so popular.

The price is $15 per DVD with free shipping or buy all 3 for $30 plus $3 shipping, if you do not use Paypal just email me and I will give you my address for check or money order payments. Please check out our other DVD offers below.

Click Here to Buy All 3 DVDs for $30.00
Click Here to Buy Frost vs Schmidt for $15.00
Click Here to Buy Frost vs Bustamante for $15.00
Click Here to Buy Schmidt vs Bustamante Finals for $15.00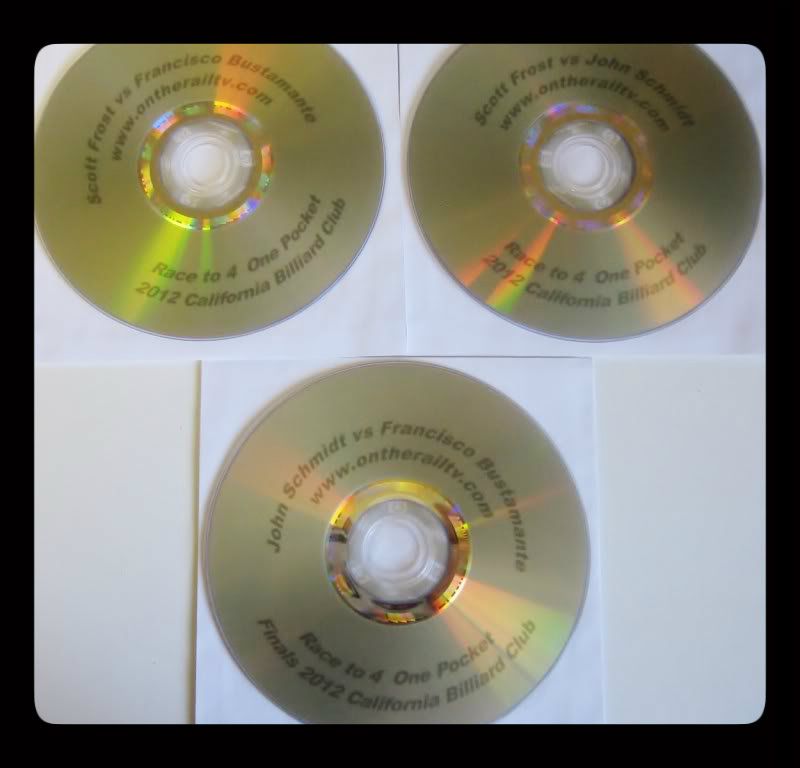 _________________________________________________________________________________

BREAK & RUN, a 3-disc instructional box-set geared towards advanced and expert level players. Featuring 13 of the world's top international players, the series addresses concepts and techniques that were previously unavailable in instructional media.
Content includes information on expert level breaking, offensive and defensive pattern racking, reading racks, pattern play, advanced position play, 8, 9, & 10ball strategy, kicking & banking systems, etc.
Starring Alex Pagulayan, Darren Appleton, Mika Immonen, Karl Boyes, Rodney Morris, Raj Hundal, Earl Strickland, Chris Melling, Donny Mills, Jayson Shaw, Dennis Hatch, John Morra, and Jason Klatt. With a cumulative 11 World Championships and 11 US Open titles, there is no better group of players from whom to learn.
DISC 1 - CHAPTER LIST:
1. Opening Credits
2. Introduction
3. Advanced Fundamentals (with Morris)
4. Pattern Play & Cue Ball Control (with Hundal)
5. Kicking & Banking (with Pagulayan)
DISC 2 - CHAPTER LIST:
6. 9 Ball - Breaking & Strategy (with Immonen)
7. 10 Ball - Breaking & Strategy (with Appleton)
8. 8 Ball - Breaking & Strategy (with Boyes)
9. End Credits
DISC 3 - CHAPTER LIST:
10. 13 Runouts with Instruction (all 13 players)
11. 3-Rail Kicking System (by Nathan DuMoulin)
12. Behind-the-scenes footage
13. Outtakes
FORMAT:
- NTSC and PAL (format shipped automatically)
- Running Time: Estimated to be 200+ mins
- Not Rated
- 16:9 Widescreen Format
- DVD-5 Factory Replicated
*all contents are subject to minor changes
BREAK & RUN: Instructional DVD Trailer

For our valued followers of On The Rail TV.com I am able to offer this DVD box set at 20% OFF!

The regular price is $99.95 but just click the link below to purchase via Paypal for only $79.95 for this 3 DVD Box Set with FREE shipping! If you do not use Paypal then just email me back for check or money order payment options. Please add $10 for orders outside of the US to make up for shipping cost.

We have a shipment coming in from Run Out Media as we speak so please allow 5-7 business days for delivery due to the holidays. Thanks for looking.

Click Here to Buy Break & Run for 20% OFF Now!

_________________________________________________________________________________

This is an awesome deal that I will only do for a limited time, video previews below. You get 12 DVDs for $100 Shipped! If you do not use Paypal just shoot me an email and I will give you check/money order info. If you would like to buy these individually just go to the OTR website and look in the links at the top of the site.

Click to Buy via Paypal!

Power One Pocket

Frost vs Reyes Disc 1 and 2

Frost vs Joyner

California Billiard Club 1 Pocket Matches Listed Below
Scott Frost vs Alex Pagulayan
Alex Pagulyan vs Brandon Shuff
Scott Frost vs Brandon Shuff
Scott Frost vs Santos Sambajon
Sylver Ochoa vs Rafael Martinez
Mitch Ellerman vs Ike Runnels
Scott Frost vs Rafael Martinez
Sylver Ochoa vs Scott Frost

Earl Strickland vs Rodney Morris Hill-Hill 10 Ball


Mitch Ellerman sick shot vs Ike Runnels
Nice Safety Play by Earl Strickland against Rodney Morris
Scott Frost vs Efren Reyes 1 Pocket
Scott Frost vs Cliff Joyner
Power One Pocket featuring Scott Frost





__________________________________________________________________________________