Contact Info
Phone:
250-590-3488
Email: info@alteregofitness.ca
Upcoming Classes
Don't delay - Call today!

The NEXT Training Session planned is:
A
ugust 20th - September 14th
Mon/Wed/Fri - 5:30 AM

These 1.5 hour classes are similar to our regular 6-Week Training Sessions.


Tues/Thurs - 5:30 PM
These 1-hour "Body Blitz" classes are quite popular and may fill up quickly.
Call NOW to reserve your place.
And, if you're concerned about the Summer sun, the Early Morning classes (5:30 AM) are the best opportunity to avoid the heat.

Workout Tricks
Fitness Tip
Remind yourself that,
more often than not,
fitness and weight loss
take serious time.
For some, it can take up
to a year of committed exercise before they
start to see the results they're after.
Also note, after starting
a new fitness regime,
you may initially put on a few pounds because lean muscle develops at a
faster rate than fat is shed.
It may be helpful for the initial starting period to set goals that relate to effort,
not results.
Please "like" us on Facebook
to receive more
frequent tips.
Greetings!
Here's a brief look at what we've got for you in this issue:
ARTICLE - Tips For Staying Motivated
A recent article on the FoodMatters.tv website listed their "Top 10 Food Additives To Avoid". While we agree with a majority of what they've detailed, there is some disagreement (from various sources) on the validity of some of what's presented. Read more . .
Workout Tricks (Fitness Tip)
Each month, we share a fitness related tip/suggestion/tidbit. These may be specific to a particular exercise, or may be more general in nature. Read more . .

Food For Thought (Nutrition Tip)
Each month, we also share a nutrition related tip/suggestion/tidbit. Again, these may be specific to a particular food group, health issue and/or may be more general in nature. Read more . .
Tips For Staying Motivated
While I was going through some old running and fitness magazines, prior to putting them in the recycling, I came across an article from January 2001 that's still quite relevant today.
It's a list of the "Top 10 Tips For Staying Motivated". So, with a little "literary license", I'll paraphrase a few of them as they relate to Alter Ego Fitness Experience and our boot camp classes.

1. Know your mission.

If you're going to carry through with your fitness regime, it's important to understand your motivation.

So, focus on the goals you set for yourself when you started. What's your reason for doing this? How will it improve your quality of life? Make a list of those reasons and read them once a day, or whenever you feel tempted to skip a workout.

2. Dangle a few carrots. Make sure your goals are within reach and gradually "up the ante" so you stay challenged. At the end of each week or month, celebrate your successes with a healthy reward - a massage, a new pair of running shoes or an extra hour of sleep.

3. Figure out the "hows" and "whens". Remember, "If you fail to plan, you plan to fail". Don't be that person. Your health and fitness is important. For some, physical activity needs to be scheduled in their plans. If you're one of those, think of your workouts as an important appointment that can't be missed. You wouldn't blow off a specialists appointment just because you didn't "feel" like going or you were "too busy", would you? You'd find a way to get there. Do the same with your workouts.


4. Track your progress. For some people, a wo
rkout journal (like the one provided in our Training Manuals) can help them stay focused. They'll tend to s
tay w
ith things longer when they can see how much they're accomp
lis
hing.
It may help to record each workout, including things like what yo
u did, the duration and how you felt after
wards.

5. Do something active EVERY day. Doing a little activity each day, even when you've got a time crunch, will help keep your mind and body in exercise mode. It's much easier to get back on the wagon when you haven't fallen off completely. Even if you don't have time for a full workout session, put in a solid 20 minutes of activity. The important thing is to keep moving.

6. Be a problem solver.

You'll face the same barriers as you did previous to embarking on a healthier lifestyle, you just need to find ways to overcome them.

Don't let temporary set-backs get in the way of your long-term goals. Be prepared for those inevitable "bumps in the road" that can occur and come up with creative solutions to ensure you get in your exercise. Always have a Plan A, Plan B, Plan C, D and E.

7. Think like an athlete. People who exercise regularly don't wonder IF they should do their workout. They know that they MUST do it. Over time, it will become as automatic as getting out of bed and going to work. Be protective of your workout schedule and put boundaries on areas of your life that may tend to interfere with your fitness.

8. Find a "training partner". It's harder to blow off a workout if you know that someone is counting on you to be there. Plus, working out with others can be fun and push you to try a little bit harder. For our clients, this is easy. Every one in the class is supportive
of the others and WILL miss you if you
don't show up.

9. Believe that change IS possible. Stop thinking that you're destined to be out of shape, or, making excuses like "it's just my body type, there's nothing I can do about it." It's easy to fall into feeling like you don't have control over your life. But, if you have the philosophy that this IS within your control, you WILL make it happen.

10. Have FUN! Bottom line, you have to like it if you're going to stick with it. If you find an activity that you enjoy doing, you'll get better results, and prevent the boredom that can be the ultimate motivation killer. This is why we strive to make each workout enjoyable for our clients. (Come on, you know you love it!)


Food For Thought
Nutrition Tip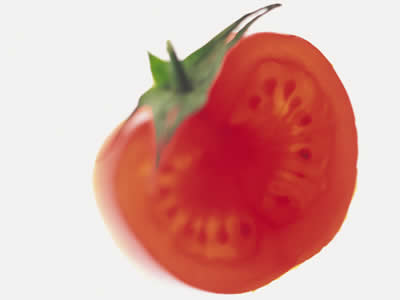 Think Tomato!
Looking for a "heart healthy" food choice? Think tomato!

This fruit, which many consider to be a vegetable due to its lack of sweetness, should be one of your summer season staples.

Chopped in salads, added as a condiment to your burger, cooked in a meat sauce or eaten fresh by itself, a ripe tomato in summertime is a delicious and healthful treat.

Tomatoes are:
Low in calories.
Excellent sources of vitamin C, and provide vitamins A and K, potassium, manganese and fiber.
A source of lycopene - researchers have linked lycopene (a carotenoid that gives tomatoes their color) with a lowered risk of heart disease as well as being helpful in lowering high cholesterol.
To get the full health benefits of tomatoes, remember that carotenoids are fat-soluble and are better absorbed when eaten lightly cooked and paired with healthy, monounsaturated fats such as extra virgin olive oil.
Please "like" us on Facebook
to receive more
frequent tips.