Laughter in the Park 2012 is made possible in part with public funds from the Manhattan Community Arts Fund, supported by the New York City Department of Cultural Affairs and administered by the Lower Manhattan Cultural Council. Additional support includes a donation by Madison Square Garden and social media sponsorship via Scoutmob.
sunday, june 24 / 2p
tompkins square park, old bandshell lawn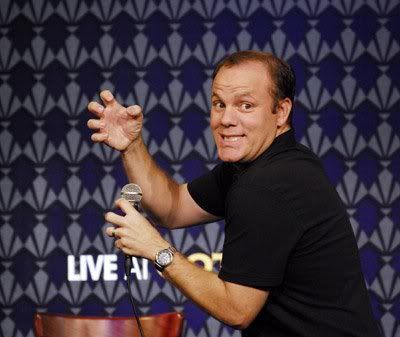 Noted comedian and TV personality, Tom Papa was personally chosen by Jerry Seinfeld to serve as host of NBC's "The Marriage Ref," had a recurring role opposite Julia Louis-Dreyfus on the CBS series "The New Adventures of Old Christine" and his own show "Come to Papa." As a veteran stand-up comedian, Tom has made numerous appearances on the "Tonight Show with Jay Leno," "Late Night with Conan O'Brien" and "Late Show with David Letterman" and has recorded two stand-up specials on Comedy Central as well as opened his one man show "Only Human" at the Montreal Just for Laughs Comedy Festival. In 2011, Rob Zombie directed his next special, "Tom Papa Live in New York City". On film, Tom has starred opposite Matt Damon in the Steven Soderbergh film, "The Informant," and stars opposite Paul Giamatti in the animated feature, "The Haunted World of El Super Beasto," as the voice of El Super Beasto. Tom's other big screen credits include the films "Analyze That" opposite Robert DeNiro and "Comedian."
PERFORMERS
MICK DIFLO
has performed at top comedy clubs across NYC including Caroline's where he recently headlined as part of their "Breakout Comedy Artist" series and Gotham Comedy Club. Mick is a contributing writer to The Complete Idiot's Guide to Jokes and Jest Magazine.
ROGER HAILES has written for NBC's Late Night with Jimmy Fallon and VH1's Best Week Ever, as well as a number of series on MTV. He has been featured on Comedy Central's Live at Gotham, Chappelle's Show and VH1. His voice can be heard in numerous commercials and video games, and he has been named Time Out New York's comedian of the week. Additionally, Roger has performed in the Edinburgh Fringe Festival, where he garnered rave reviews. Roger is currently a writer and performer for "Hoppus on Music" on Fuse TV.
VIC HENLEY
is the
co-author of a national bestselling book with fellow comedian Jeff Foxworthy, Vic has appeared on HBO, CBS, NBC, FOX, MTV, BRAVO, CMT and just about every other stand up comedy show on television. He was a VH-1 VJ and has his own Comedy Central Presents half hour special as well as performances on The Late Show with David Letterman and The Tonight Show with Jay Leno.
KENNY JOSEPHS is a rising comedic star and regular performer at top comedy clubs in NYC and across the country. He has worked with numerous noted comedians including, Greg Giraldo, Tracy Morgan, Norm MacDonald, Jim Norton and Kevin Hart, among others.
JOHN F. O'DONNELL has been featured as one of Comedy Central's Fresh Faces of Comedy and nominated for an ECNY award in the category of Best Emerging NYC Comic. He has co-headlined NYC's Comix Comedy Club, Seattle's Comedy Underground, and Austin's New Movement Theatre. John currently co-produces an annual show called FIFTY FIRST JOKES, which has been nominated for an ECNY Award in the category of Best Variety Show and Best Comedy Event
central park, mineral springs
jermaine fowler
For the season's premiere, NYLaughs proudly presents Jermaine Fowler, rising star and cast member of the remake of the iconic comedy series "In Living Color" which is set to air on June 17. Acknowledged in the New York Post's 50 Funniest Jokes alongside David Letterman and Jay Leno and winner of the Rooftop Comedy Silver Nail Award, Jermaine appears as a regular feature on CollegeHumor.com, SyFy's "Insane or Inspired," Adult Swim's "The Eric Andre Show," and was recently chosen by ABC to act in their 10th Annual Diversity Showcase. As a performer in festivals across the country, Jermaine is currently on tour with Comedy Central
.
PERFORMERS
HARRISON GREENBAUM has been named one of 2011's "Comics to Watch" by Comedy Central. His list of achievements includes winning of the 2010 Andy Kaufman Award, the 2011 Magners Comic Stand-Off, placing in the finals in the New York's Funniest Stand-Up Competition (part of the New York Comedy Festival) as well as in the finals of the New York Comedy Contest in 2010, placing in the semi-finals of the Boston Comedy Festival in 2009 and being deemed "the hardest working man in comedy" by the NEW YORK DAILY NEWS.
LIZ MIELE started doing stand-up at 16 and now at 24 she is the creator and star of the weekly web series "apt C3" and a regular at some of the best clubs in New York City. Her stand-up has been featured on Comedy Central's "Live at Gotham," Comedy Central's "Root of all Evil" Promo, Late Night with Conan O'Brien, the Daily Show with Jon Stewart, and more. She has been profiled by the NYTimes, NYT Magazine, Time-Out NY, in NY Press' "Off Color Comedy," AM-NY's "Go Underground," and the 2004 Humor Issue of The New Yorker "On the Bark."
LORI SOMMER, dancer, actress and stand-up comedian, is a showbiz triple threat. Lori is a founding member of The Red Tie Mafia Improv Troupe, in residency at the world-renown Gotham Comedy Club and The Living Theatre.
SHENG WANG has toured with the "Comedians of Comedy" and American Eagle's "Campus Comedy Challenge" and appeared on Comedy Central's "Live at Gotham," the AZN Network, and the "Just for Laughs" comedy festival in Montreal. In 2011, Sheng's half hour comedy special aired on Comedy Central and he was also awarded with a holding deal from NBC. More recently, Sheng taped for John Oliver's Standup Show.

PLEASE DONATE

NYLaughs, Inc. is a 501(c) 3 not-for-profit corporation that wants to change the cultural landscape of the Big Apple through humor. We seek to change the perception of the comic arts and provide laughter for free to New Yorkers on a consistent basis by producing outdoor comedy shows throughout the City's public venues. NYLaughs strives to make New York a better place by strengthening the human connection via laughter. We want to make laughter part of the daily urban experience.

To support this worthy cause, please donate to NYLaughs' performances via NYcharities.org