First Friday Track Race Spectacular
Incredible Racing and Free Beer: TONIGHT!
Friday, October 4th, 2011: 7:30PM-9:30PM
Update: Kids' tickets are now only $1!!! Plus, First Friday will have a LIVE DJ.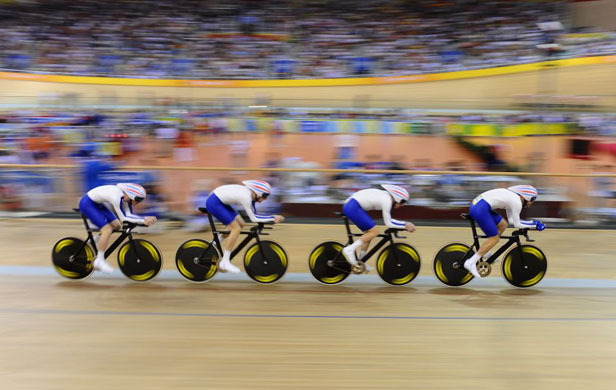 What is First Friday?
First Friday is a family-friendly event for cyclists and non-cyclists alike. This 'Six-Day' Race themed night is a celebration of the sport of cycling including...
-Exhibition Velodrome Racing with Colorado's Best Racers
-Fun and Safe Kids Races, ages 2-10 (appox.)
-Popcorn, just like the movies!
-FREE BEER, from Longmont's Oskar Blues Brewery
As always 'First Friday' will be a blast! Plus, don't forget about our Tykes race! Special thanks to Mark Conlin Photography, CrossPropz, Pactimo, and Oskar Blues Brewery for sponsoring this special event.
Double Your Money!- Risk Free...
Place wagers on you favorite racers to double your money towards a Boulder Indoor Cycling Gift Certificate. If your racer doesn't win, you get your money back as a Gift Certificate. Upcoming First Fridays will also have great prizes available, too! See our 'bookie' at First Friday for details...
Still haven't been to 'First Friday'?
Come join us...
Admission is $10 and we'll supply the beers! (Feel free to bring extras too). The show will include exhibition racing from some SERIOUSLY FAST track racers. Doors open at 7:00pm, and the show starts at 7:30. Racer warm-up is 7:00-7:30, and everything should be wrapping up by 9:15 or 9:30pm.
Kids tickets (12 and under) are $1. Don't forget about our kids races!
Please help make this event EXTRA special by bringing your friends, family and co-workers, we're hoping for a crowd of over 300, but only you can make that happen!
The fine print: 21+ ONLY to drink, please bring a photo ID. $10 admission for CASH ONLY: +$5/group for credit card payments. Please feel free to leave a tip on your way in/out for the volunteers and racers! BIC will match the tips, up to $100.